It's first come, best dressed for the reigning champions this season.
Ante Juric's title-defence squad came first, unleashing their whopping great W-League squad before most teams had announced a single signing.
Somewhat unsurprisingly given the confidence that must be streaming around that dressing room, Sydney were also very well dressed indeed.
No less than three current Matildas grace their lineup this season, alongside some choice internationals and a fair swathe of young talent.
Perhaps most pleasingly for Juric is the retention of their championship squad, with 15 players from last season re-signing by September 25.
The advantage that gives the defending champions cannot be overstated: there have been some big movers and new arrivals in the off-season at Sydney's premier rivals, but no other club can boast the depth of planning and organisation in pre-season the Sky Blues can.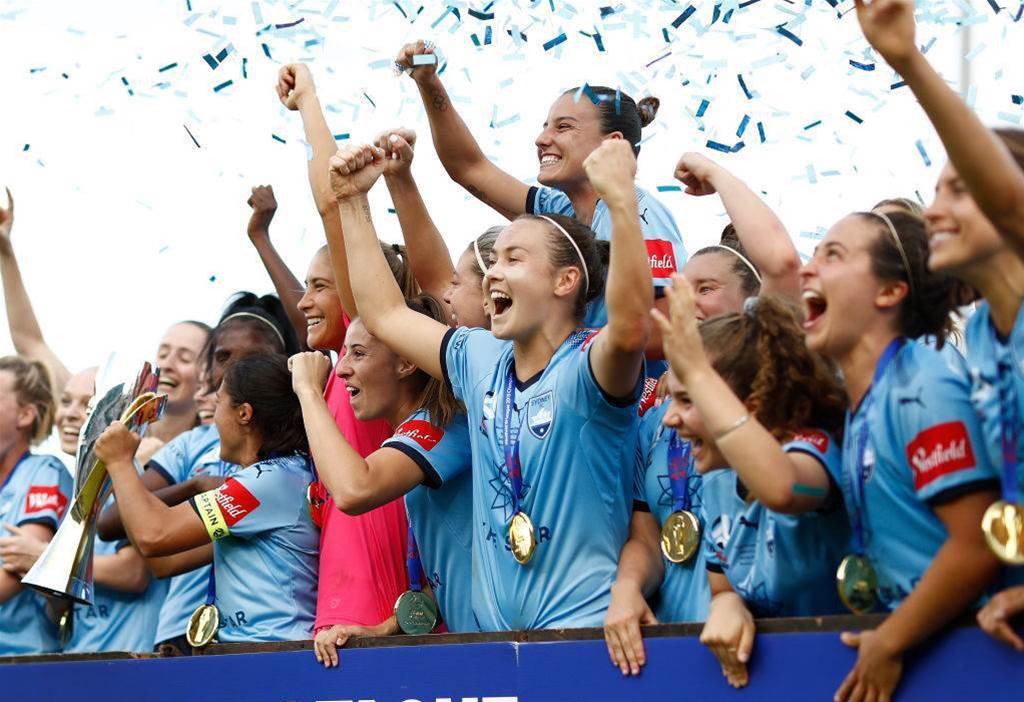 WHAT DID WE LEARN FROM LAST SEASON?
Well, to start off with the obvious they're an exciting attacking outfit.
28 goals in the regular season shared the honours with Perth Glory but Sydney shared the load considerably more often, with Caitlin Foord their top gun with nine strikes, compared to Perth's top-heavy 13 for Kerr.
They paved an interesting route to the Championship, however. They struggled against both Melbourne clubs throughout the season, picking up a single point from four matches.
This enabled Melbourne Victory to coast through the season fairly comfortably in first place, while Sydney had to do their damage in the finals.
Their biggest performance was arguably Brisbane away in that tense semi-final, where a tactical masterclass enabled them to marshall a 2-1 victory, Brisbane only stealing a consolation back at the death.
Some might see them as lucky for drawing infamous-chokers Perth Glory in the Grand Final, where an all-out shootout with careful man-marking on Kerr won the day.
But that would be taking away from Juric's sensational ability to make a squad of clear individuals - the brunt of whom arrived in the off-season - work fluently as a team.
As captain Teresa Polias tell us, preparation is key.
"At Sydney we've got a really good coaching set-up and they know what they're doing, but I think it's just a matter of us as players coming in and being ready to fire," she says.
"You can't just come in after your holiday and start from scratch, you really need to come in with a bit of preparation."
Given the breadth of that Championship-winning team is now bedded firmly in the Harbour City, we can extrapolate that Juric won't change much heading into this season. But they do have another weapon upfront that may just shake things up a little...
THE STRENGTHS
Without Savannah McCaskill's goals at the back-end of last season, Sydney lacked a traditional striker, with midfielders and wingers like Lisa De Vanna, Princess Ibini, Foord and Sofia Huerta taking up the goalscoring attack.
This season they've recruited Adelaide United's reigning goalscoring powerhouse, Veronica Latsko, in the hope of taking the pressure off their midfielders. It will be very interesting to see how she operates in a very different attacking set-up.
We know she's deadly in front of goal and she worked well with the likes of Michelle Heyman, but how you fit so many attacking weapons into the frame now you have a traditional point at the end of the pyramid could prove a challenge for Juric.
It might be a case that too many cooks spoil the broth. But after 28 goals last season without Latsko (who notched nine for the record), it's likely they'll simply overpower most sides.
"Being Sydney FC, we do usually attract some key international players too," Polias says.
"We're attracting a lot more foreign players now, every team has at least three or four players every season, so in that regard it's helped increase the depth and competitiveness of the league… it's vital to our league surviving and being competitive across the board.
"The next obvious step is to extend the season and make sure that we're playing a full two rounds… I just don't understand why that part of it hasn't progressed… it just needs to be made to happen.
"It needs to be a priority in order for the league to continue to grow. I've said that for the last few seasons and it hasn't happened yet, so I'm not going to lose any sleep over it.
"We don't know what the decision makers have decided, but I just hope it's being seriously discussed."
THE CHALLENGES
It's becoming harder to pick out a traditional weak link in this squad. Aubrey Bledsoe is nailed-down in that goalkeeping position, the likes of Ellie Brush, Shadeene Evans and Alanna Kennedy add versatile, threatening defensive-to-attacking weapons and everyone from centre-midfield on are title-winners in their own right.
It's no wonder most of our team are tipping them for Premiers (story to come). But once again it comes down to those shoddy starts and dismal away records. One win, one draw and four losses on the road last season isn't a Premiership winning record.
Pack in as many stars as you want, how do you overcome that mental fragility?
POLIAS SAYS, WE'RE IN IT FROM THE BEGINNING THIS TIME
"Every year we're expected to be up there, and we haven't missed a finals series yet and that will never change," she beams at us confidently.
"We're a club with huge success and high expectations across the board. Every year the team that's put together is expected to win big things, and it won't be any different this season".
"In recent years we've made life a big hard on ourselves at the start of the season. The year before last we had three or four straight losses, then last season we had a good start in the derby and then a horrible run, and we had to claw our way out of a hole the last two seasons.
"A huge goal for us this season will be to start the season hitting the ground running, and not getting ourselves into holes… so however we go about that, I'm sure Ante has a plan."
"This year's preparation was a bit different because of the World Cup, I think that had a big role to play… the bulk of our squad will be here, but there is a big chunk of players that are overseas that generally do miss the majority of the preseason anyway."
WHAT JURIC SAID
"I'm delighted to have the majority of last season's title winning squad back with us for this season," Juric said after the squad's announcement.
"A lot of our players will be a year older and a year wiser from their experience of winning the Championship last season and to able to maintain that consistency in the squad is fabulous.
"We will be working hard in the next few weeks to prepare ourselves for the upcoming season and prepare for the challenge of winning the 2020 title."
KEY PLAYERS
Veronica Latsko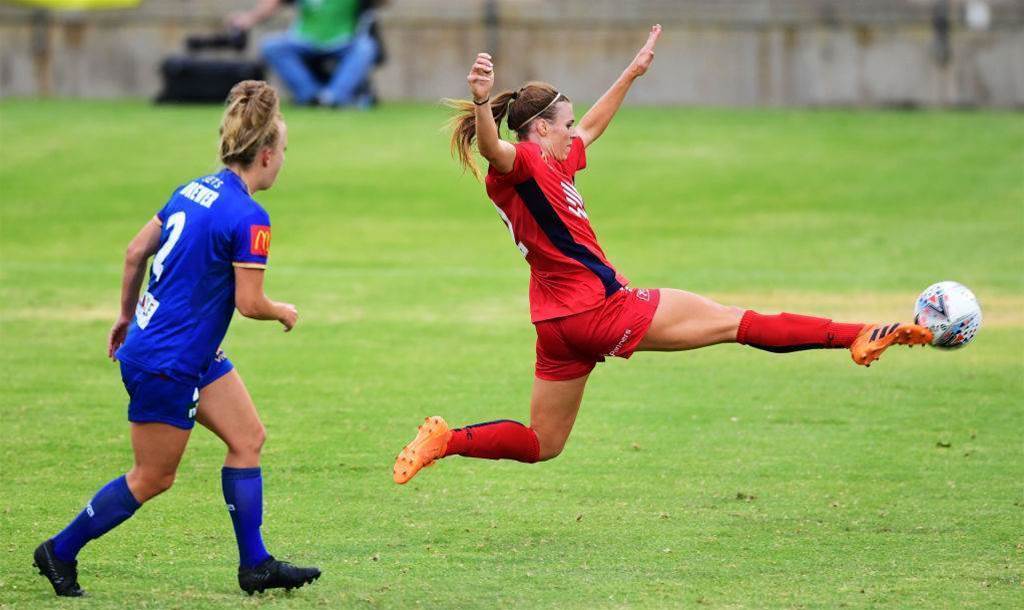 The equal-second highest top scorer in the league last season, how Latsko pairs up with Foord and shares the goalscoring responsibility will be key to Sydney fulfilling their title expectations this season.
She has the pedigree, experience and the W-League expertise to make a running start, which will be key for Sydney after their recent beginnings to campaigns.
The US international is still trying to forge a successful career at parent club Houston Dash, so now 23-years-old these W-League soujourns are becoming particularly vital for building rhythm and entering the next gruelling NWSL season full of confidence.
Caitlin Foord
What more can we say about Foord? We've been focusing on the Matildas icon during the off-season because she has a massive role to play in the upcoming campaign.
With Kerr's departure, Foord becomes the pre-eminent show-stopper in the competition, the marketing focus and Australian hero that will put bums on seats.
She's also a massive goal-scorer for the Sky Blues and has drawn a little controversy at times due to Juric's positional swaps. A very interesting season for Foord.
Alana Kennedy
With all the focus firmly upon Sydney's star-studded attacking lineup, it literally goes without saying that Alanna Kennedy's role in marshalling that defensive line is crucial.
She has the talent amidst her in that back third but it's on her to provide the experience. Last season she balanced this responsibility perfectly, while also providing her usual dynamic goalscoring threat from set pieces.
ONE TO WATCH
Princess Ibini
Another Matilda with a point to prove, Ibini has been a household name among W-League fans for quite some time now and brought in 2019 as strongly as we all know she can, picking up the NAB Rising Star award for January.
But ultimately, there is still some work to be done in Ibini's career, if the 19-year-old and six-cap Matilda is going to accomplish the career she's capable of. Now a veteran of 35 apperances for Sydney, she has tougher competition for her place in the side than ever.
She needs to make that role her own and add more goals into her game. This season is the time to do it.
THE SQUAD BEFORE US
Copyright ©The Women's Game All rights reserved.