From Grand Finals to near oblivion: Galaxy United are a club that have experienced the highs and lows the world game throws at us. But things are looking up for the Geelong based female-only club.
At the junior level, powerhouse Victorian clubs like South Melbourne, Calder and NTC (FFA's centre of excellence) all have excellent junior programs.
It's a wonderful opportunity for young Geelong girls to take the step up from local league to the NPLW system where they can be exposed to higher level opponents, receive more coaching and also get opportunities to be selected for higher honours.
Speaking of which, as Casha mentions, Galaxy juniors Natalie Picak, Malee Siketa and Vanessa Mazeraki were all recently picked to play in the NTC program for 2020.
A fantastic achievement and a clearer pathway to one day, maybe playing for the Matildas.
Galaxy Under 12s star player Hannah Skotnica is only 12 years old and was a fraction too young to make NTC's Under 14s team for 2020, however she will get there one day.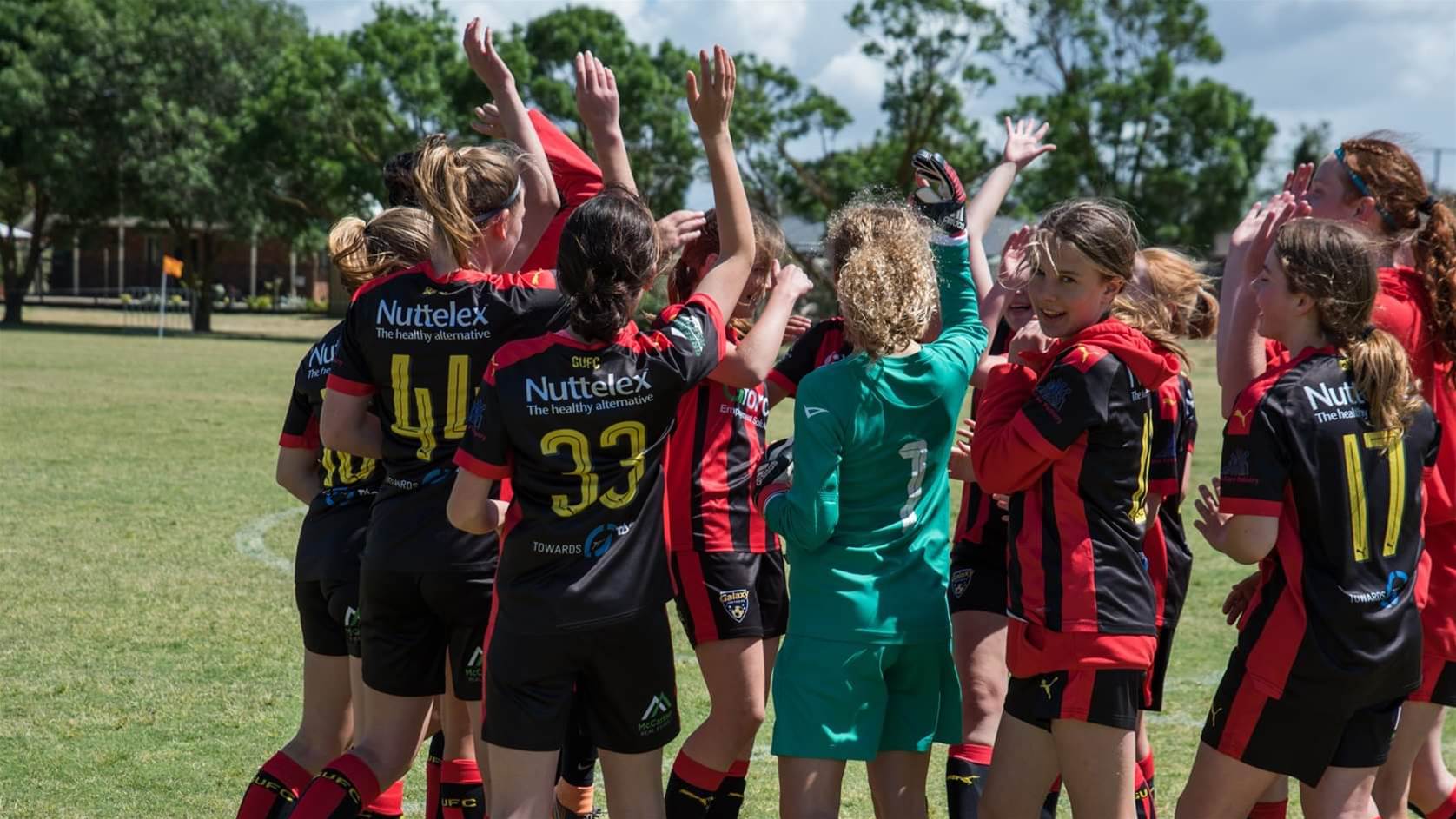 Hannah, a North Geelong Warriors product, has already trialled at the likes of English clubs West Ham and Liverpool and is an example of the talent in Geelong and at Galaxy United.
Josie Lonsdale from the Galaxy Under 16s made the last stage of NTC trials and has proven to be a player to watch for the future as well.
Many of the girls in the four Galaxy youth teams have represented Victoria in various national tournaments in indoor and outdoor football.
They have more than held their own and this is a testament to the girls themselves as well as the programs they have been involved in at the local GRFC level and at a Galaxy.
Casha hopes the success of players like Pratt and Merry will inspire other young ladies in the Geelong region to achiev their potential.
"I hope it does inspire more girls to try and play higher levels," he said. "The girls that are now at NTC are Galaxy products.
"They've come through our programs. Lots of dedicated hours by many people went in to the girls to help them achieve their dream, or at least so far the start of it.
"If those girls become Matildas some day it'll be great for the club. And there's still more coming through, the programs are doing their jobs."
An important feature of Galaxy's youth program is the improved quality of junior coaches available at the club.
The likes of Callum Lupton, Frank Fierro and Roberto Antonini are well respected and have helped players take their game to the next level. Casha has been involved in the junior program for a number of years and has plenty of valuable intel on the youngsters coming through the club.
In further exciting news, Galaxy have signed the highly respected Bianca Celano-Witte as their technical director for 2020. Celano-Witte comes with a wealth of experience and by all accounts has already settled in well at Genis Steel Pak.
All in all, Galaxy United are a club that is making the Geelong region better. The club will fight on.
Copyright ©The Women's Game All rights reserved.