From Grand Finals to near oblivion: Galaxy United are a club that have experienced the highs and lows the world game throws at us. But things are looking up for the Geelong based female-only club.
It's fair to say NPLW club Geelong Galaxy United have had one hell of a roller coaster ride throughout their four-year existence.
From making back to back senior Grand Finals in their first two seasons to nearly going broke and not existing at all, the female only club has experienced it all. Most importantly though, they have shown plenty of resilience.
Late in 2019, the club was delivered a crippling blow when FV withdrew their senior NPLW licence for 2020. For any other club it would have been the last rites.
But not for Galaxy United.
Rather than lament, the club has committed to fighting tooth and nail to give females in Geelong the chance to achieve their potential.
A new committee headed by new President Branko Krstevski have big plans for the future. Whether it will be successful or not only time will tell, but one thing is for sure, just like Caitlin Pickett chasing a seemingly lost ball the club won't give up.
Galaxy's newly appointed senior coach Rob Casha admits it has been a challenging time for his club but insists the fighting spirit at Genis Steel Park will hold the club in good stead.
"It's been quite amazing, considering what happened to the senior side of the club ,its definitely brought the club closer together," insisted Casha.
"The threat the pathway could go made everyone sit up and ask how they could help, which is a huge positive.
"Everyone seems to be digging their heels in, working hard and rallying behind the badge, the junior players especially. It's a really good place to be around at the moment, lots of positive energy."
It is fair to say the Geelong region has not embraced a club that many see as a threat or rival rather than a genuine elite pathway for female footballers to achieve their potential.
Some of the criticism has been warranted, however much of it unfair.
For young girls to get better, they need to play a higher level of football. It's common sense.
The NPLW system has W-League players and Matildas as well as a legion of foreign stars who play football at a much higher standard.
It's only logical that senior Geelong footballers will be more likely to achieve their potential if they play in such an environment.
Galaxy goalkeeper Emily Kenshole is an example of someone who has benefitted from this. The former Bell Park junior won herself a W-League contract with Melbourne City two years ago on the back of a stellar 2017 season for Galaxy.
Caitlin Pickett, from Surfside Waves, won herself a scholarship at the University of Wyoming in America in 2018 and represented the Australian Under 19 Schoolgirls two years in a row.
The training and development she received at Galaxy played a major part in this achievement. Pickett was signed by powerhouse South Melbourne for the 2020 season.
This year, the likes of former Deakin Ducks local league players Imogen Pratt and Christie Merry have taken their game to another level. The training they have received as well as the quality of opposition they have faced have made them much better footballers.
"Christie Merry is great, she came to us wanting to improve and she did that," Casha said proudly.
"Take nothing away from her though, she worked hard to get where she's is, it didn't just happen. And without the pathway, she might of just stayed comfortable."
Galaxy youth products and Geelong bred juniors like Claudia Casha, Tegan Visser, Ciara Major, Ashleigh Pickett and Coco Cummins to name a few, have already experienced senior football.
Meanwhile, the likes of Bridget Baldasso will get there soon enough. It is clear Galaxy are a club that is enhancing female football in Geelong.
Casha admits the club has to do more work to win over the Geelong region but is confident it will happen sooner rather than later.
"That's a tough one," he said.
"Football wise we don't sell ourselves well enough. We've got the runs on the board considering our short life.
"Emily Kenshole was signed by W-League clubs, Caitlin Pickett played for Australian School Girls all thanks to exposure while playing for Galaxy.
"Even Julia Budiongo was selected by the Young Matildas program after Galaxy plucked her out of State League.
"Numerous juniors have played rep football and even recently players have been selected for NTC. These are just a few of many more coming through the program.
"We definitely need to work harder at our relationship with in the region and connect better with our community.
"We need to become more accessible to clubs who need assistance with training. The current board has already started that dialogue with clubs, so the process has begun."
At the junior level, powerhouse Victorian clubs like South Melbourne, Calder and NTC (FFA's centre of excellence) all have excellent junior programs.
It's a wonderful opportunity for young Geelong girls to take the step up from local league to the NPLW system where they can be exposed to higher level opponents, receive more coaching and also get opportunities to be selected for higher honours.
Speaking of which, as Casha mentions, Galaxy juniors Natalie Picak, Malee Siketa and Vanessa Mazeraki were all recently picked to play in the NTC program for 2020.
A fantastic achievement and a clearer pathway to one day, maybe playing for the Matildas.
Galaxy Under 12s star player Hannah Skotnica is only 12 years old and was a fraction too young to make NTC's Under 14s team for 2020, however she will get there one day.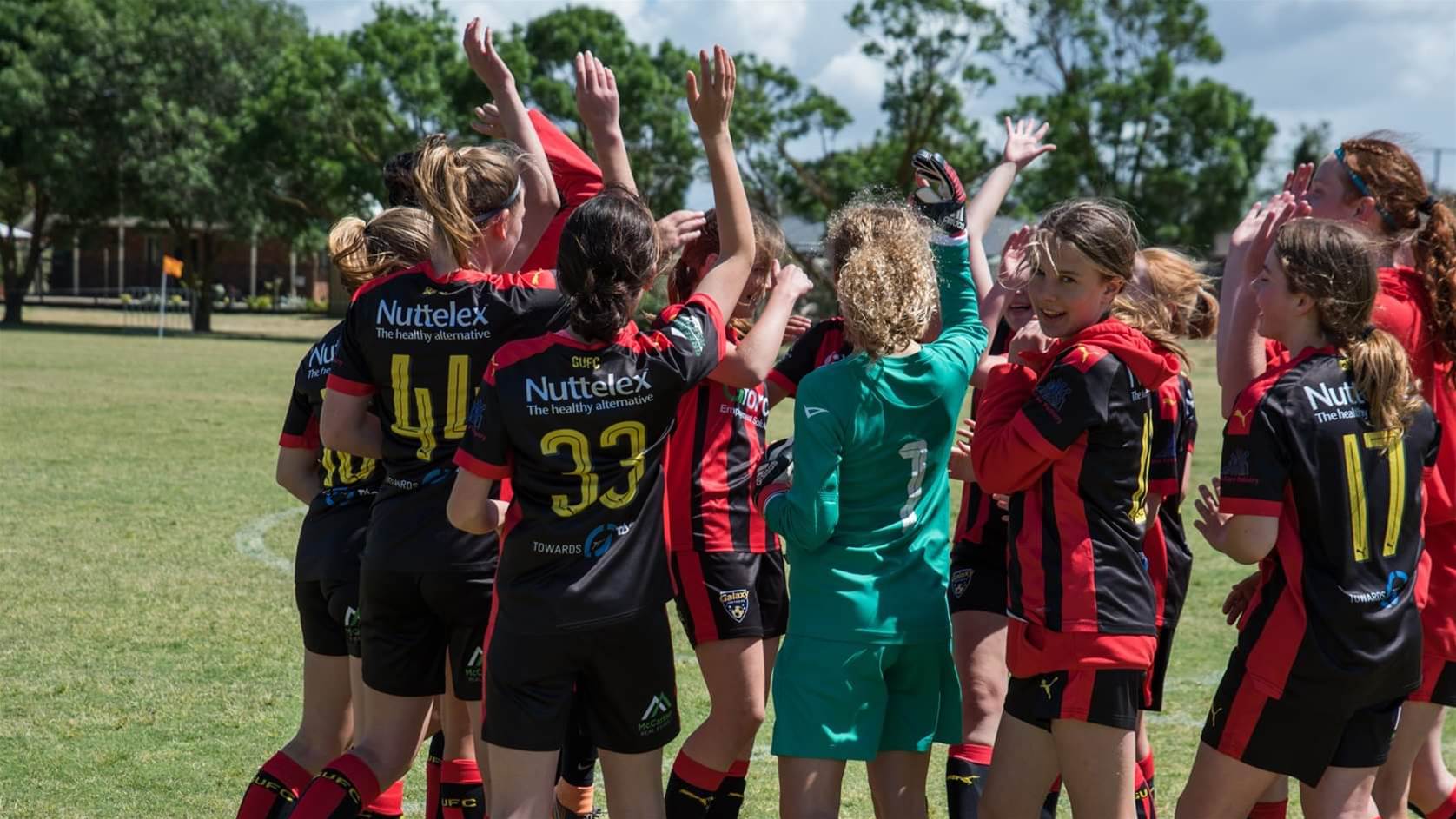 Hannah, a North Geelong Warriors product, has already trialled at the likes of English clubs West Ham and Liverpool and is an example of the talent in Geelong and at Galaxy United.
Josie Lonsdale from the Galaxy Under 16s made the last stage of NTC trials and has proven to be a player to watch for the future as well.
Many of the girls in the four Galaxy youth teams have represented Victoria in various national tournaments in indoor and outdoor football.
They have more than held their own and this is a testament to the girls themselves as well as the programs they have been involved in at the local GRFC level and at a Galaxy.
Casha hopes the success of players like Pratt and Merry will inspire other young ladies in the Geelong region to achiev their potential.
"I hope it does inspire more girls to try and play higher levels," he said. "The girls that are now at NTC are Galaxy products.
"They've come through our programs. Lots of dedicated hours by many people went in to the girls to help them achieve their dream, or at least so far the start of it.
"If those girls become Matildas some day it'll be great for the club. And there's still more coming through, the programs are doing their jobs."
An important feature of Galaxy's youth program is the improved quality of junior coaches available at the club.
The likes of Callum Lupton, Frank Fierro and Roberto Antonini are well respected and have helped players take their game to the next level. Casha has been involved in the junior program for a number of years and has plenty of valuable intel on the youngsters coming through the club.
In further exciting news, Galaxy have signed the highly respected Bianca Celano-Witte as their technical director for 2020. Celano-Witte comes with a wealth of experience and by all accounts has already settled in well at Genis Steel Pak.
All in all, Galaxy United are a club that is making the Geelong region better. The club will fight on.
Copyright ©The Women's Game All rights reserved.