A revamped and ready-to-roll Brisbane Roar are looking to build on last season's success with new head coach Jake Goodship.
After a second consecutive top-two finish and narrowly losing their semi-final against eventual champions Sydney FC, there's little doubt the Brisbane Roar will be among the top teams fighting for this year's silverware.
The Roar were hugely successful under Mel Andreatta. Winning back-to-back championships and three premierships, they'll hope to build on that record with new head coach Jake Goodship.
The former Young Roar coach will now step in, coming off the back of a championship winning season in the Foxtel Y-League earlier this year. But winning isn't all Goodship will be focusing on this season.
"I want to be successful, but we also want to improve," said Goodship.
"I am keen to be successful on field, but success also comes from pushing players to the next level, improving their games and progressing to places like the Matildas squad."
"There's great staff and it's a great playing squad – I'm excited to move forward and build more success here with the squad."
While there may be a new face in charge, much of last year's squad remains the same with Leah Davidson, Indiah-Paige Riley, Hollie Palmer, Kaitlyn Torpey, Georgina Worth, Allira Toby and Natalie Tathem all returning to wear the orange jersey. 
Mackenzie Arnold, Katrina Gorry, Elise Kellond-Knight, Clare Polkinghorne,  Hayley Raso and Tameka Yallop, all returning to the squad with experience from the recent FIFA Women's World Cup. 
Polkinghorne will take on an additional role as assistant coach in what will be her 12th W-league season. 
"I'm really excited to be back for another season. We're building a strong team here with plenty of experienced players which will be massive for us to improve on what we achieved last year," she said.
WHAT LAST SEASON TAUGHT US
It's hard to take too many hard-and-fast lessons out of last season given the influence Andreatta's approach had over this team, but suffice to say the cavalry is back in Brisbane and the talent on offer remains a show-stopper.
Brissie are just beginning to form a habit of strong regular seasons and late final chokes. The performance in front of a home-crowd against Sydney FC in last year's finals was a telling one - just as they had the season prior, Brisbane couldn't handle the pressure and faltered to the eventual champions.
But despite the end of season hiccups, there are so many positives to take out of Brisbane's resurgence over the past two seasons from the dark days of 2016/17 and that progress shows no signs of slowing down.
Last season taught us that their home form needs a lift and they could do with a consistent big-game goalscorer. But on the back of her last two years, Allira Toby is one of the league's most underrated strikers and surely a Matilda in the making.
Meanwhile, the current Matildas contingent and internationals like Carson Pickett - who all seem to live and breathe Brisbane - just keep growing.
WHAT JAKE GOODSHIP TOLD US
"Brisbane Roar has continuously shown itself to be one of the W-League's strongest clubs, throughout the competition's history, and we're setting up well for another big season.
"It's an exciting opportunity for myself and we'll be looking to continue building following our success in recent seasons.
"There's a great mix of experienced and season players and up-and-coming local talent so there's plenty of be excited about for those in orange.
"We believe our supporters are by far the best across the W-League and we can't wait to be back out playing in front of them."
The Strength
The balance of youth and experience in the squad gives this Roar outfit the type of depth seen in their premiership-winning seasons.
With foundation players in key areas of the park, their playing experience will not only help improve the younger members of the team, but their combination play will allow the Roar to move the ball up the park quickly and effectively. 
Having the majority of the squad returning to Brisbane from previous seasons, the girls will know how each other play, and will be able to work as one collective unit. They also get one extra week to prepare, after they received a bye in the first round.
The Roar had a goal difference of only one at the end of last season and will be looking to improve on that number with the addition of the club's leading goal scorer, Tameka Yallopup front.
She'll have her work cut out for her though as back-to-back club golden boot winner Toby will also be hungry for goals.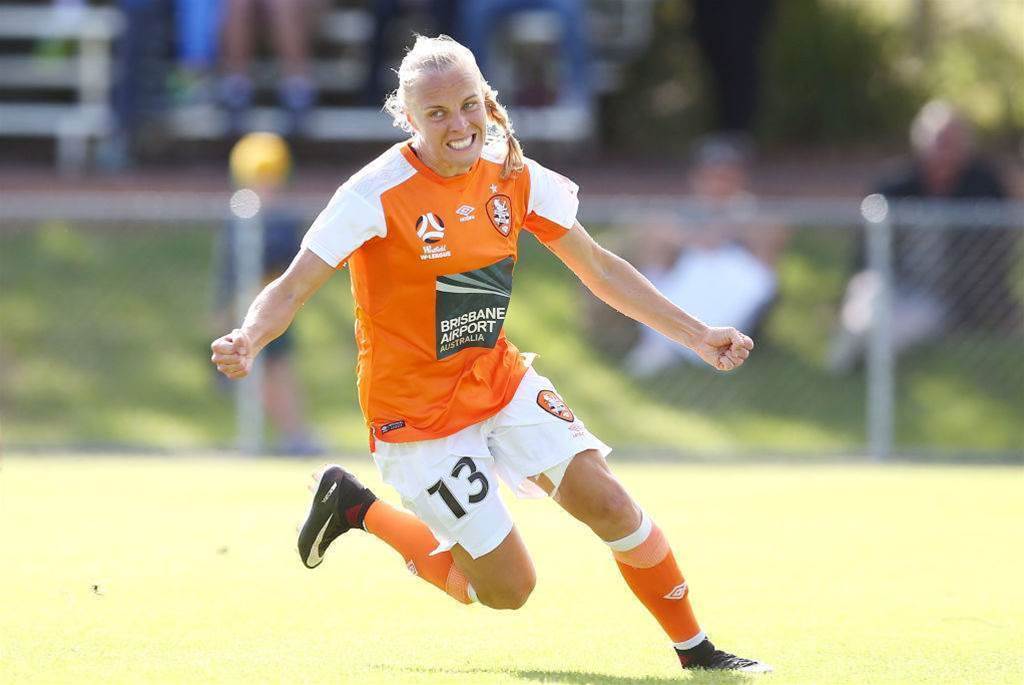 The Challenge
While much of the squad remains the same, it's a large adjustment for any team when they receive a new coach. Learning each players strengths and weaknesses and how they work best as a team will be the Roar's greatest challenge this season.
It might be a steep learning curve, but goalkeeper Georgina Worth says the team is up for the challenge.
"It's quite exciting to have a new head coach who I have heard great things about. It's a challenge but I'm sure all the girls will put their best foot forward."
Key Players
Clare Polkinghorne
The leader of the pack, the Roar's captain has always been leading from the back line. As one of the most experienced players in the league, Polkinghorne will not only remain rock steady in defence but also share her expertise with the rest of the squad as assistant coach.
Coming off the back of a strong but unfortunately disappointing world cup campaign with the Matildas, Polkinghorne will be ready to pounce on any ball that comes her way.
Elise Kellond-Knight
Making her return to Brisbane after a stint at Melbourne City, Kellond-Knight will be a force to be reckoned with in the middle of the park. 
Alongside former teammates both club and international, Kellond-Knight will be the gateway between the Roar's defence and attack allowing for smooth transitions across the grounds. 
Her command of the midfield won't only set up the strikers, but will also set herself up for some shots on goal.
Allira Toby
Back-to-back golden boot winner at the Roar Awards, Allira Toby will again be hungry for goals. 
She'll have some friendly opposition this season with Tameka Yallop and Haley Raso both in good form and hunting for the perfect goal scoring opportunity. "It's an expectation on my behalf and I'm hoping to put a fair few in the back of the net."
One to Watch
Indiah-Paige Riley
With an abundance of great attackers in the squad this season, Indiah-Paige Riley will be one to keep an eye on.
Having taken out the Breakthrough player of the year award last season, Riley will be keen to back up her stellar performance and prove herself among some of Australia's best attackers.
Despite only scoring one goal last season, Riley is able to read the game well and make key passes and crosses creating great opportunities for her teammates. 
Coming into the new season she is ready to take her game to the next level.
"Its really exciting to get back with the girls, build on what we did last year and hopefully go a step further."
THE SQUAD BEFORE US
Copyright ©The Women's Game All rights reserved.