Entering a five-a-side competition was just going to be a bit of fun for six Australian footballers but it turned out to be an experience of a lifetime.
However, it wasn't just any local five-a-side tournament but it was Red Bull Neymar Jr's Five Competition, the largest competition of it's kind in the world. 
Adelaide Comets Mellanye Targino, Alexia Scalzi, Victoria Mansueto, Stephanie Christensen, Sarah Chappel joined their Melbourne-based teammate Abbey Flight entered the tournament in 2018 for a bit of fun. 
"At the start, we didn't know anything about (the competition), we just thought we would give it a crack," captain Mansueto said.
However, a few months later, the starlets found themselves being flown to Brazil to compete against top international teams. 
It all started when Comets coach Tony Mansueto suggested the competition to the team and got them interested in the possibility of playing street soccer.
The format is pretty simple; each match runs for 10 minutes with no goalkeepers with teams losing a player every time the opposition scores.
The team with the highest score or number of remaining players move on to the next round.   
The Comets had never played in organised five-a-side competition before and they surprised themselves when they went through the entire tournament in Adelaide undefeated.
"It was a little shock to us all as we entered for a bit of fun," Chappel said.
"It didn't really hit us until the finals were over in Adelaide that we all realized that we were going to the next stage in Sydney."
The national finals in Sydney would see the overall champions represent Australia and score an all-expenses-paid trip to the World Final in Neymar's hometown of Praia Grande in Brazil.
The Comets went into Sydney with the same mentality they did in Adelaide, just giving it a crack but they did much more than that. 
They became the inaugural Australian Champions of the female division.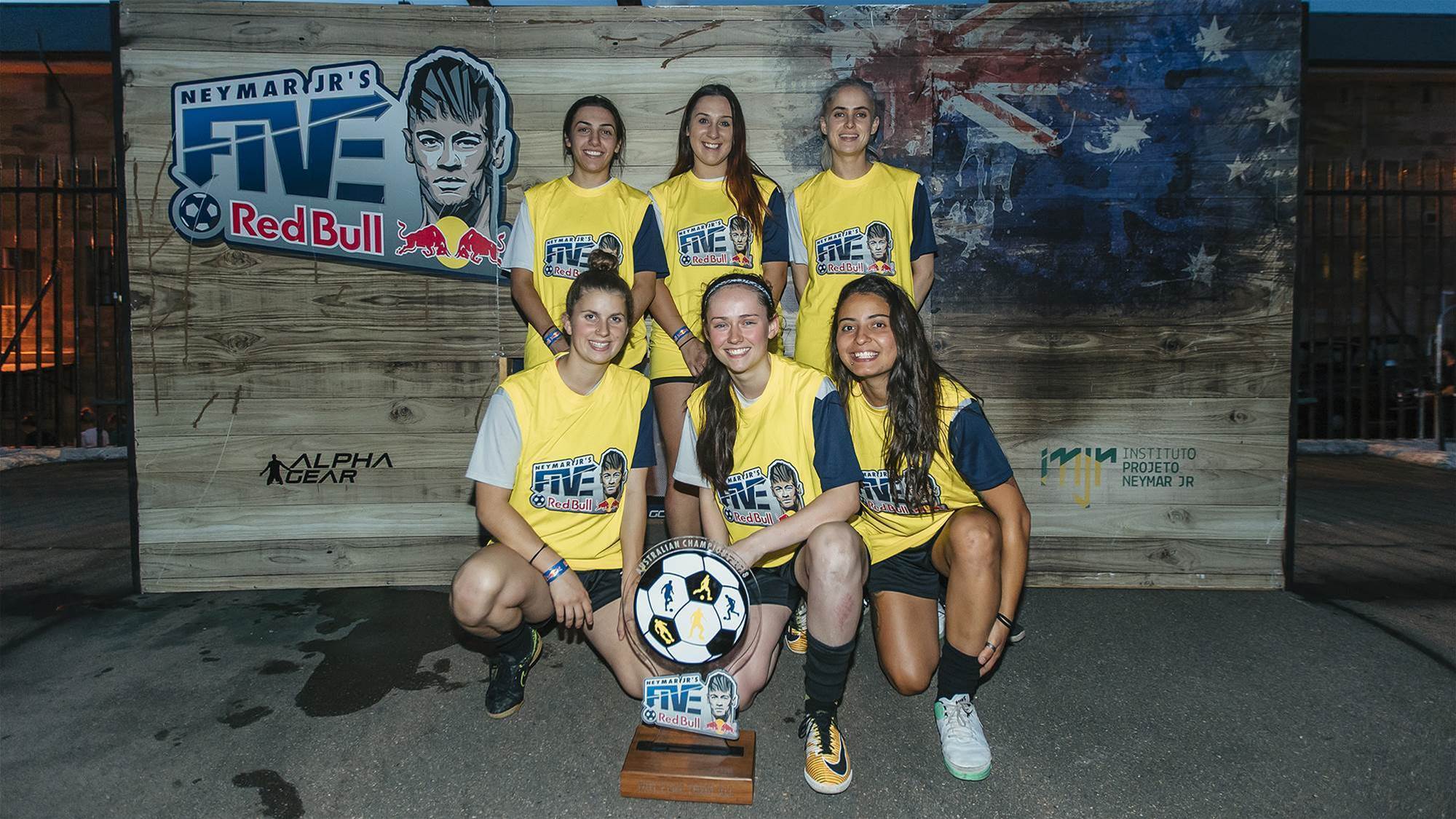 Supplied by Red Bull
"We were all in shock and both nervous and excited about what was next to come for us. We never thought we could win and get a chance to head to Brazil," Chappel said.
"It was such an amazing experience that Red Bull had given to us and we could not thank them enough."
While the side wanted to win at the World Finals, just like all the other teams there, they also wanted to enjoy the time they had.
So that's what they did.
"We came up with a game plan that worked for us but went into the experience wanting to have fun and make memories that we may not have gotten the chance to do again," Chappel said.
The Comets were unlucky to be pair against two of the strongest teams in the competition with the eventual winner being Resenha 013, who represented Brazil.
This year marks the fourth edition of the competition and will see hundreds of teams from over 60 countries compete. The stage is set at Parramatta Gaol for the qualifiers and Australian National Final which will take place from May 27-31. 
If you're thinking of entering Chapple has some words of encouragement. 
"Just do it, that's what we did and look how far we got! We enjoyed every moment of it and loved that we won too," she said.
Copyright ©The Women's Game All rights reserved.