A world away from the mysterious jungles of Borneo, in the quiet bayside suburb of Sylvania Waters, a truly special team is battling to imprint not only themselves, their club and their home, but their entire sport on the map.
If Rugby Union is increasingly the little brother of Rugby League (older as it may be), then Rugby Sevens is a distant cousin, little-noticed and barely thought of outside the Olympics.
And women's rugby sevens? Well, perhaps it's best put in blunt terms: even in Australia, one of rugby's undisputed heartlands, there are only 16 professional women in rugby sevens nationwide.
To survive in such a boutique competition, let alone be noticed within the cut-throat Australian sporting market, female rugby-sevens competitors have to achieve something beyond extraordinary.
But if you're a young girl with an infatuation for rugby sevens, wondering whether a career is remotely possible? Well, it turns out the Rebelettes have produced a pretty convincing script to follow.
"It started from scratch,"  Rebelettes captain, Olivia White reveals.
"I had no ball skills whatsoever. Last year I was watching my boyfriend playing for Southern District, sitting there with a couple of the girls in the crowd and we looked at the game and we all thought 'We can do that.'
"Little did we know how much hard work…gosh, and just how enduring the sport is."
While the 26-year-old is quick to emphasise how hard the Rebelettes have had to work (proudly encompassing the same fiery, pioneering demeanour as their 1960s soul-acapella namesakes), they haven't waited long to reap the fruits of their labour.
Last year, in their first Shute Shield season – the second tier of women's sevens in Australia – the Rebelette's amateur invitational team, who Olivia insists were simply formed to "test the waters" finished second in the league.
This season, they're dominating in first place. But as a still fully-amateur side, the experiences they've acquired along the way have been groundbreaking for women's rugby.
"We started as an invitational team to see how we could go against the others, but that soon solidified into our own team," White continues.
"Two years later, we're  proud to say that we've sent two teams to the last three tournaments. Our fan base is growing and participation has grown exponentially – it's fantastic for the sport."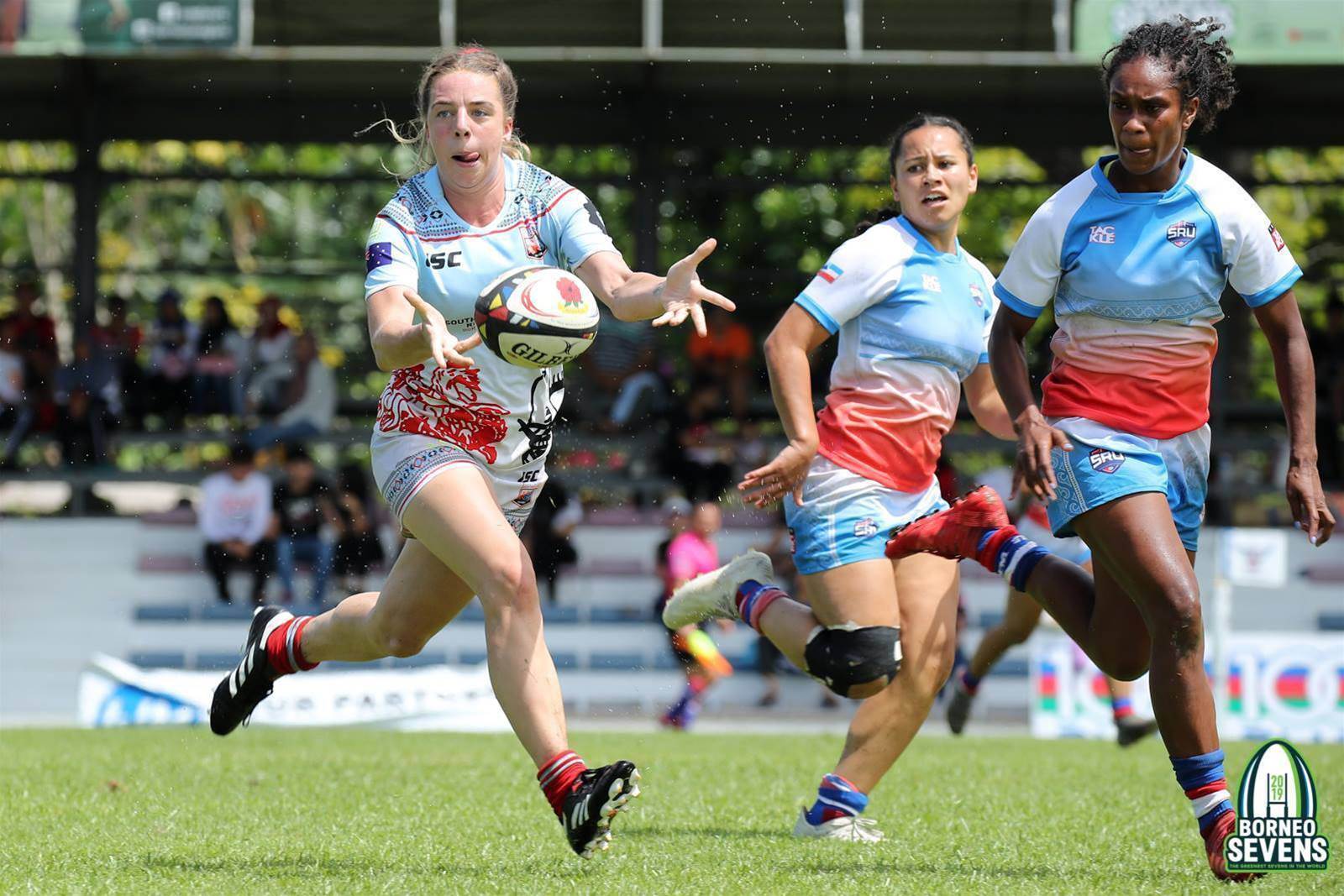 After their early league success, a spray of regional tournaments followed, with the team sensationally taking out competitions in Scone and Lake Macquarie.
It was a remarkable series of wins that few at their parent club, the prestigious Southern Districts, could have predicted.
The women's side had been formed out of the blue and in many ways, out of the way of the club's established men's union teams.
Their coach – the former men's team captain – has proven an unlikely source of inspiration, taking the role after a debilitating injury required a painful shoulder reconstruction. Living vicariously through his eager subjects, he instilled a level of professionalism the Rebelettes took to enthusiastically. 
Now, in their debut season, they were upstaging their male counterparts. In their 30-year history, Southern Districts had produced numerous Wallabies and won prestigious trophies…but they'd never seen a rise quite this dramatic.
As Nay admits, there's something different about the Rebelettes.
"I'm direct, I like to set expectations early so there's no queries later on," Nay says.
"My expectation is that we work really hard, so I constantly refer back to them when they're not being met. But coaching women is a little different to what I've been exposed to my entire life, I find that they're a lot more accepting of learning.
"In men's rugby, they tend to develop habits...I guess it's a physical, egotistical element that they've developed from under-6s all the way through. Women are starting later, so they haven't developed those bad habits.
"They're willing to learn, so you're able to deliver information softer. Men have a much shorter attention span."
Self-belief can be born in two ways, through exemplary and immediate success, or the resilient overcoming of persistent, world-wearying obstacles. The Rebelettes somehow managed to achieve both.
As amateurs they took up the challenge of competing in a unique yet oft-ignored sport, one that is not only distinctively physically demanding but literally never sleeps – women's rugby sevens operates all year round.
"In traditional sport, you have six months on, six months off," Nay says. "Sevens isn't like that, so it's about shifting expectations. We might have a down period for a month, then we're back up, always down then up."
When asked what allowed the Rebelettes to exceed so quickly in a field littered with challenges, where so many others fail, Nay pauses for a moment.
"It's a hard one to answer, I guess it's an exceptional culture," he says.
"The expectation is, if you're a part of this club, you're a full part. The girls are included in game day rosters, they're expected to pull their weight, sell raffle tickets, prizes – it has a positive effect on how tight-knit the club is.
"They see each other more outside of training than they do there, the culture that's being built has been massive – we're one of the most integrated clubs in the league, with men and women part of the same team.
"People come along and they expect high quality coaching and training – which we can give – but they don't expect the culture. That's what makes us such an attractive proposition."
For White it's a much easier question. While Nay has set the standards, White has been on the firing line, drilling the ethos into her teammates from the coalface. She's the one who puts in the hard yards, but also gets to reap the sweetest rewards.
"It's an easy one for me," she laughs, unaware of her coaches' deliberation moments earlier.
"It's born out of experience and camaraderie, a sisterhood we call the Rebelettes. They're all my best mates: we don't just hang out three times a week at training and work off our backsides, we hang out on the weekends and have a few cheeky beers here and there.
"We've got a unique bunch of individuals with our eyes on the prize. As corny as that sounds, it's true, we rally together no matter what happens in our personal lives and we treat it as professionally as we can."
But in February this year, the Rebelettes became more than just a tale of domestic success, in the vain but future hope of professional careers.
After sleepless nights wondering if they'd ever field a team, the back-breaking effort in trying to reach the highest levels, the days and nights spent fundraising, selling tickets, manning the door at trivia nights and scrounging for dollars and cents among their families – they earned the chance to take the Rebelettes "on tour".
One of the world's premier club competitions is the Borneo Women's Sevens, a major event for the tens of thousands of rapturous fans on the heavily segmented and remote island of Borneo - shared between Indonesia, Malaysia and the Kingdom of Bhutan.
While Sylvania Waters is known largely in the Sutherland region for its man-made lakes, stately shopping village and groundbreaking 90s reality TV series, Borneo is one of the oldest, untouched, and most unique places on earth.
It took the squad of 25 women and girls over eight months to raise the $20,000 required to enter the tournament, with a large chunk courtesy of their law-firm sponsor, Workplace Law.
Even as buoyant as they were from the runaway success of their debut season, it was a near-impossible challenge for the still-amateur side.
In the humid, temperate climate, the Rebelettes would be facing the best clubs and players in the world, fully contracted professionals, Olympians and world-champions. But as White explains, and the world now knows, you just can't beat a close group of mates from the Shire.
"To sum it up in a word? Unbelievable," White says, for the first time a little short of description.
"A few months prior, we were a team that, honestly, were struggling. So when we finally got it together, we wanted to take the Rebelettes international.
"When we were doing our preparation, we were more focused than we had ever been and when we finally left, we had an amazing uniform with a Bornean rose. We felt integrated with the culture of Borneo.
"It was a symbol of our respect for the country, but also of the club's respect for us - it was completely around us with fundraising. It felt like we were truly part of the club, rather than just an add-on."
Against the odds, a determined Rebelettes outfit would make the tournament final, beating the world's number one-ranked Japanese professional side along the way, before falling at the final hurdle.
They'd finished second in the Shute Shield and had lost a nailbiter, in front of 10,000 screaming Bornean fans, to end their Sevens experience.
But their campaign had changed the squad for good. Now runaway leaders in the 2019 Shute Shield, the Rebelettes are more than just a bunch of hard-working mates – they're born winners, as White says, "with their eyes on the prize".
"When we arrived it was wild, a shock. Some of our junior girls were shocked to see how lucky we were," she beams.
"When we finally took to the field, it was fierce competition – three contracted teams, paid to play, and then us Rebelettes, training three to four times a week, jousting them with our skill and performance.
"In the final we competed against world champion players and it showed us what it's like at the next level. It drove our hunger to compete.
"$20,000 is no mean feat, you can't do it with one, you can't do it with a small group. The club had to be behind us completely, the boys had to support us on a Sunday and we had to wrangle all the spare change from our family."
Nay adds: "It's an experience none of us will ever forget."
"Fundraising first – they were able to raise $20,000 and work quietly for over eight months to pull that off.
"The tournament was something the players had never experienced, nearly 10,000 screaming fans trying to reach through security and touch them as they got off the bus, trying to get in the ground, the lap of honour after the final taking over two hours because of photos and autographs…it was a humbling experience for the girls, who had never had the opportunity to go overseas.
"Now they know what's out there globally in this sport."
So what next for White and co?
"I'm not exactly a spring chicken but I like to think I make it up for it with gameplay smarts," she says.
"I've been playing for three years – not the longest time compared to others in the national team – but the bulk amount of training and gosh, the amount of sevens I watch? Every world series I'm tuning in despite the time difference!
"With all the different tournaments I'm involved in, I'm still one of the veterans of the squad. I've been lucky enough to be selected for Australia before at development level, but I'd love to have the call-up to wear the green and gold and get an official cap.
"The Olympics are around the corner, so now's the time to put in the hard work."
But while the future looks bright for White at a personal level, there's a long way to go for women's rugby sevens.
While they've had to fight for their opportunities, not all teams have been as lucky as the Rebelettes, and not all clubs as open or well-resourced as Southern Districts.
She believes Australia has a lot to learn from its Asian counterparts as it looks to establish itself as an Olympic heavyweight for years to come.
"I think you can categorise the challenges into two core factors," she continues.
"First is the battle for participation with two other sports – after the Rio Olympics, media hype rallied behind the Pearls and the sport was in its prime.
"But following that, the NRLW and AFLW have done significantly better from a following perspective, so now some of the players who are doing really well within our league are snatched up and scouted by other codes.
"The biggest challenge for me personally, is trying to get the major clubs to buy in to the women's side of the sport. To add perspective, we're lucky that we're one of the clubs on a similar competition level, that can receive that support…that can even have a team or anyone interested in developing a team.
"To provide that for our catchment area is a massive challenge for the sport and one that will continue unless we get people to fall in love with the sport like we have.
"Funding is the issue. Australian rugby sevens, bless its cotton socks, is struggling with that. There's a total of 16 women in Australia contracted full time, so it's a challenge when you look at the population and try to boil it down, telling us all 'Look, there's only 16 opportunities.'
"That's the point of difference, realistically if that pool of 16 was opened up to 30, our national team would perform even better. Everyone's accountable for their performance. The gap between the Rebelettes and national team is substantial, but it only takes one tournament, two days of amazing skill and a few power plays for them to notice you.
"With live streams and tech, you're able to get noticed. You can provide a mixtape," she laughs, "a playlist of your best action on the field. That's how you bridge the gap."
There is one private organisation helping to bridge the funding divide. The Rebelettes, for all their hard-work and countenance, are quick to thank their principal sponsors – Workplace Law – for making the club's rapid rise possible.
They're quickly becoming a symbol of all that is possible in women's sport, with a little helping hand.
"Workplace Law has been a huge part of the Rebelettes' success, not just through the funding but the other elements they bring to the table – they help us get exposure and they both introduce us to, and assist us to apply for, grants for facilities like women's change rooms," Nay says.
"All that work wouldn't have been possible without them."
White adds: "Workplace Law were the backbone behind it.
"They've provided us the equipment the boys have that we didn't use to have access to – everything from professional playing kits to a branded marquee, sun smarts and all that," she grins.
"We want to promote them in any way we can because they've backed our dreams."
Copyright ©The Women's Game All rights reserved.