As the Head, Office for Women in Sport and Recreation in Victoria, Dr Bridie O'Donnell has been invited to provide opening remarks at the Women in Sport Summit next month.
If you're not yet familiar with O'Donnell's role, it was created in part as a response to the Inquiry into Women and Girls in Sport launched in late 2014. The report specifically sets out a five year game plan for Victoria across four themes with nine specific recommendations written to change the culture.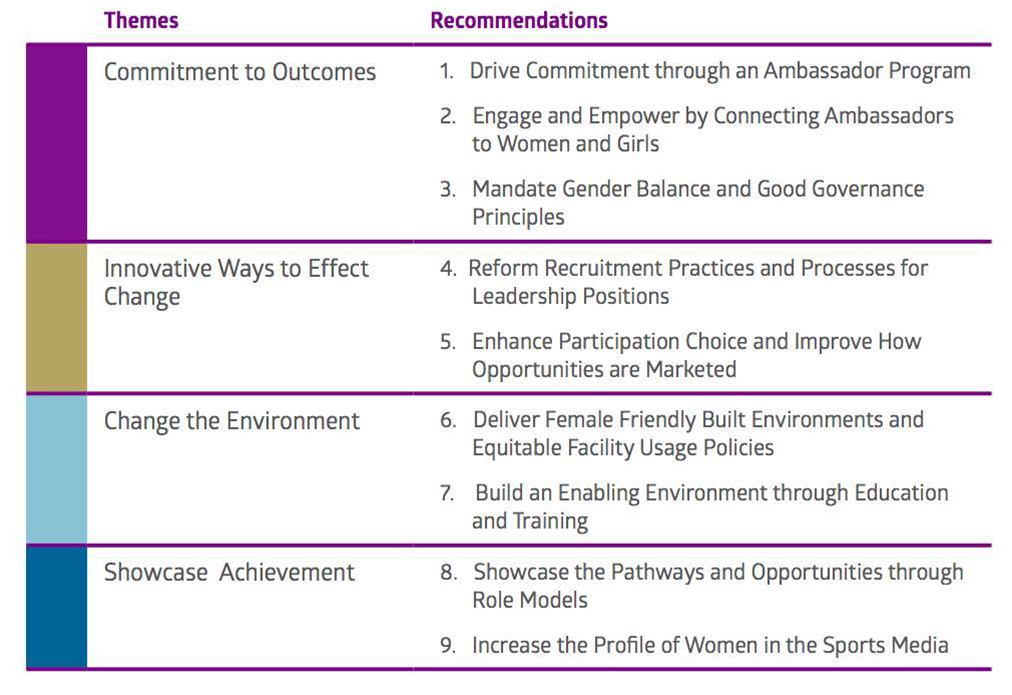 The link between this and the Women in Sport Summit, as O'Donnell highlights, is that:
"Rapid growth is not being matched by a rapid support, intelligence, investment and the right people being around it so the sumimit is expected to bring together some of the right people," O'Donnell said.
Other than board quotas, the nine recommendations which came out of the inquiry are quite intangible in terms of measurement.
"They were things like change the environment through innovation, offer better marketing opportunities for participation and showcase achievements," O'Donnell said.
"While there were a lot of suggestions of whether or not those things should be delivered with KPIs, like make the ABC and SBS report on x percentage increase of women in sport, those things were not part of the recommendations."
As a higher achiever, O'Donnell wants this to be successful but when she arrived she was overwhelmed with how dysfunctional elements of Victorian sports were, citing a lack of communication, support and money as well as not enough resources or money. 
Yet despite this, O'Donnell notes that sport was thriving and people wanted to do it.
"There's a lot of goodwill and there are a lot of champions [volunteers and paid] but they're not always in the right jobs. They're not always able to call upon the investment or the support from government or the leadership that they need.
"What I'm doing now is working through where are the gaps and what is the government's responsibility.
"For me at the moment, my three major priorities are around participation, leadership and facilities. Where are women visibly leading sport?
"We have nowhere near enough women in leadership roles everywhere, from grassroots to high performance. We saw in the Commonwealth Games, 50 percent of the medals were won by women, 10 percent of the coaches were women.
O'Donnell would also like to see more support for women looking at going into coaching or already in coaching by creating pathways for them and most importantly not being yelled at by those on the sideline.
"Some years ago, a young female umpire was vilified by a sidelined parent," she said.
"In that case, there was a failure of governance by that organisation to adequately support this girl who had been educated and employed by that sport, but when it came to a conflict, she wasn't supported by her organisation or its Board, so nothing happened."
Another key area driving O'Donnell is around facilities with issues such as no field lighting which has meant less use of facilities during the year, clubs not having change rooms for men and women, or not having change rooms in general.
"We can say bright and shiny toilets and change rooms aren't everything, but they are a damn good start. If your daughter, or friend or sister or girlfriend feels safe enough to go and play and get changed and have somewhere to go afterwards to shower and be part of that club and have a beer or a lemonade, she's going to feel like she's in the community and fabric of that club as opposed to well I'll just drive home in my uniform and not part of the club.
"The idea around change that we're seeing is that we need to change culture about what is appropriate and what's normal. I mean that from a base level of respect for all people and inclusion of all people. 
The rate of change is something which O'Donnell has quoted, stating that at the current rate, change or more specifically, equality will take 177 years to attain. Is what we're doing and seeing enough?
"What I think we're seeing is very small incremental change which very often we don't notice as quickly," O'Donnell said and then went on to reference the mother of Transcend Foundation ambassador Georgie Stone who said.
"If you had asked me even five years ago, would we be sitting here with a foundation to support trans people and my daughter being an ambassador for a pride round and being visibly and emotionally accepted by an enormous community, I never would have imagined".
"While it feels like there's lots of resistance to change and there's not enough respect and inclusion, we're actually changing incredibly quickly and I have no idea what it's going to look like in five more years."
O'Donnell's drive and passion is clearly evident, arguing that we need to stop comparing male and female athletes as they're different physiology.  
"Start looking at the performances for what they are.
"I think we're already seeing that and we're also seeing how social media has totally revolutionised professional women's sport and it has also brought more professional women's sports people to the fan base.
"So young men and women can now interact with Morgan Mitchell on Instagram and think, 'I know who that is. She's the gorgeous black girl who's really fast'".
A final point around showcasing, and perhaps a key element of the Women in Sport Summit itself is around showcasing, not just the athletes, but the administrators and the volunteers as well.
Change Our Game identified 12 high profile ambassadors, who are athletes, administrators, CEOs and role models.
Kitty Chiller is one of them. She's there as a leading administrator who has been a former athlete, Olympian, Chef de Mission, and is now the CEO of Gymnastics Australia. Then there's also AFLW marquee player Katie Brennan, ex Matilda Tal Karp and Monique Hanley.
There is also the Change Our Game champions program, so modelled on the Male Champions of Change. Comprising of eight sporting CEOs from Victoria, seven men and one woman, based on the eight highest participation sports in Victoria.
Stand with #ChangeOurGame Champions...We will not support the vilification of or discrimination towards any CEO based on personal attributes that stand outside their professional conduct.
Full statement -https://t.co/x5ThxV7O1C
Add your name to the list via the comment section pic.twitter.com/pcg8yMpmFk

— ChangeOurGame (@ChangeOurGame) June 13, 2018
"They're looking at their own organisations, how can they be more flexible, how can they provide more opportunities to the women who at Bicycle Network or Gymnastic Victoria or Tennis Victoria," O'Donnell said of the program
"It's really important for us to showcase all the types of contributions that are made."
For all the positive mantra and best intentions, there are still times when you have to call out where something isn't good enough. O'Donnell isn't at odds with how to approach that.
"I was invited to attend a Weary Dunlop luncheon for Rugby Australia and I rang Tim North, the Barrister QC who's on the board of the Rebels and said. 'I'm happy to come to this lunch but I'm not going to come unless you get a woman speaker.'
"So they changed it and they invited one of the women from the Sevens team. The women's Rugby Sevens team are the best performing team in your code in the world. Get a player from that team to talk. You've got a female CEO and you don't even have her talking."
And with the momentum and the positive intent of so many people, change was made.
The Women in Sport Summit will take place at the MCG in Melbourne between August 21-23.
The summit highlights the key areas where female audiences, athletes, and executives are growing and changing the business of sport. 
Copyright ©The Women's Game All rights reserved.