Almost 10 years ago, the first season of the W-League kicked-off, much to the delight of women's football fans in Australia.
Almost 10 years ago, the first season of the W-League kicked-off, much to the delight of women's football fans in Australia.
There has been a steady growth of fans over nine seasons, and with the recent publicised success of the Matildas, fan bases have started to increase once again.
But if it weren't for fans, women's football would not be where it is today in Australia and while the game is not perfect and there is a list of things that could be improved, nothing can beat the loyalty and support of fans throughout these 10 seasons.
Still, there seemed to be one thing missing from the W-League.
For a number of seasons, the A-League has had active supporter groups, who have created memorable tifos and chants, but providing an atmosphere on game day isn't the only thing they do.
They also provide engagement and push their clubs to do something about problems the game is facing, or even address club issues.
While active supporters from the A-League side of the club have tried to be there for their W-League teams, it has not worked the way fans of women's football have wanted it to.
So in 2012, Melbourne Victory started their own W-League supporters group, which garnered great support from local football supporters. Unfortunately, after a few seasons, shifting locations and internal changes at Victory, the group went their separate ways.
Canberra United also supported an active supporters group for a number of years called 'The Back Bench'. The club provided them with banner making equipment and helped promote. Again, unfortunately, with the departure of key individuals who formed The Back Bench, the group went their separate ways.
So could it ever work again? Could the W-League see another active supporters group? And if it did, where should fans look to model their active supporters base?
The answer is the National Women's Soccer League (NWSL) who has one particular group of supporters that can't be compared to any other in women's football.
The Portland Thorns' supporters groups, Rose City Riveters have made their home of Providence Park a feared ground because of the sound supporters create.
"The first time I experienced it, you try to stay focused, you try to focus on the game, but at the same time, it's hard not just to take it all in and be blown away by the mass support," Parsons said in a phone interview to The Washington Post. "But it's real support, it's not just numbers sitting in the stands. They are singing nonstop all around the stadium."
At the initial meeting to create a supporters group, only 45 people attended, and it was enough to start a functional supporters group by the first game of the season in 2013. Now they have even applications for fans to be part of the groups.
https://twitter.com/PDXRivetersSG/status/888981385100140544
But it's not just the active supporters the Thorns have built. Last season, the average home attendance was 17,653 with the second closest being Orlando Pride with 6,186.
So why does it work?
"First, we have a great, rich soccer history here. Second, we have a really, really special venue. We have a great organization. But what it really comes down to is you have a city who loves their team," Mike Golub, president of business for the Timbers and the Thorns told The Washington Post in June 2017.
So no one would have thought that halfway across the world a group of fans would be inspired to emulate them.
In October 2017, a group of Brisbane Roar W-League supporters decided it was time to change the way women football fans in Australia supported their teams.
Historically, Brisbane has been a city dominated by rugby league, on a Friday night during the NRL season, over 30,000 fans can be found at Lang Park. While the Queensland Roar (now Brisbane Roar) was introduced to the city over a decade ago, football has never been centre stage and they've had to fight for every inch of coverage. In fact, some people living in Brisbane and the wider region of South-East Queensland didn't even know Roar had a women's team.
Fans have had to deal with no direct buses to Lang Park for the early double header kick-offs, a lack of marketing and recognition of players from the club, and no support from the active A-League group, The Den.
So it was time for a handful of long-time supporters to take action to see what they could do to improve support for the Brisbane Roar.
At a fan-planning workshop, a group of 20 supporters came together to give their ideas to improve the W-League team across engagement, merchandising and grassroots support. A week later, a group of 14 supporters in the back meeting room of a café in the inner-suburbs of Brisbane formed The Roar Corps.
The Roar Corps, just like the Rose City Riveters, wanted to have a functional team ready to go by the first home game of the 2017/18 W-League season and they debuted at the first Brisbane Roar home game against Perth Glory.
While Brisbane lost that game, The Roar Corps gained momentum and future games have seen them become more popular.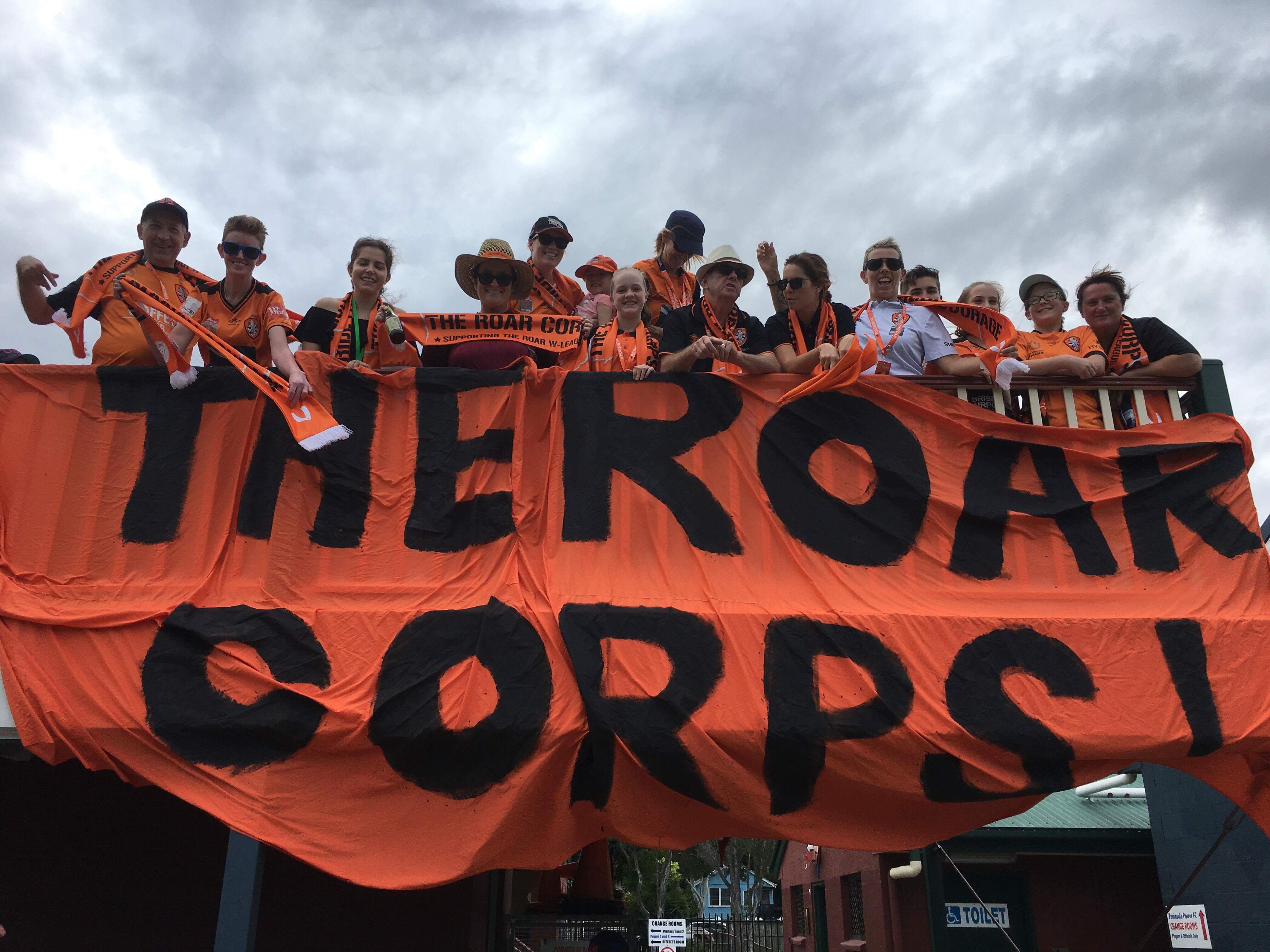 It has also changed the atmosphere of home games; their chanting has even been heard multiple times through SBS Viceland and Fox Sports coverage.
Active supporters can make the game more positive and exciting, even if the team is down, which has made a difference for both other supporters and for the players on the field.
The Roar Corps not only want to inspire and encourage other fans to create their own active supporters groups for their team to increase fan engagement and atmosphere at games but also push their clubs to fix the issues involved in women's football.
This type of engagement is different from fans just expressing their displeasure with the game. It means having a relationship with the club to be able to have a plan in place to help fix issues such as having their club push Football Federation Australia for a full home and away W-League season or ensuring the W-League side has adequate training facilities.
So this is why active supporters for W-League teams are so essential. They become a much-needed boost of support; a direct line from fans to the club, to ensure the future of the women's game is going in the right direction.
Copyright ©The Women's Game All rights reserved.