It's the age old question in women's sport.
It's the age old question in women's sport.
Yesterday Stephanie Chalkley-Rhoden reported on ABC online that an Australian Sports Commission report had found that the percentage of television sports news coverage of women's sport had declined in the last decade from 11% to 8.7%.
This is in spite of "the ongoing successes and strong participation levels of women in sport."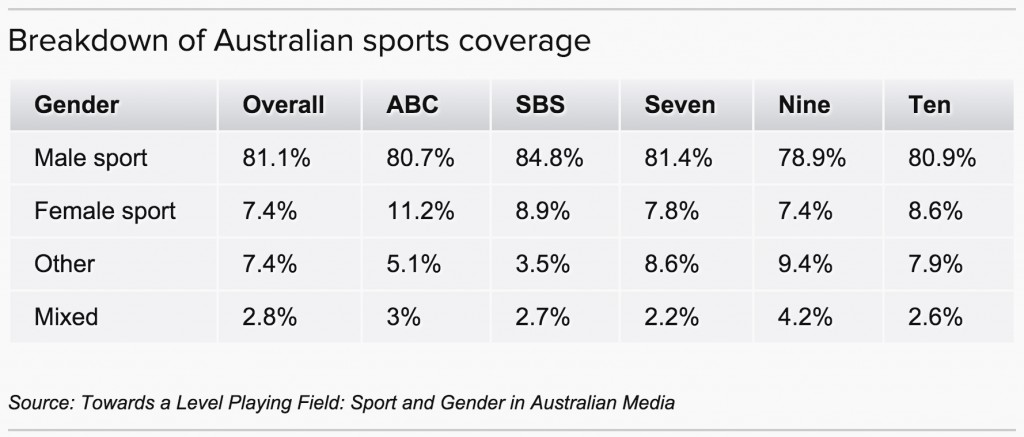 It seems every year there is this discussion about the under-representation of women's sport in mainstream media. Yet despite the earnest debate nothing changes; in fact the ASC Report highlights that it is regressing.
Whenever this discussion occurs a consistent retort is that "nobody cares about women's sport".  So is that the reality or the fallacy? And what role does the media play in the 'lack of interest'?
The media
While the 8.7% is all coverage including print and broadcast, the main concerns are in relation to broadcast of women's sport.
Last year ABC itself announced the axing of the W-League and WNBL from its broadcast schedule. A bitter and significant blow to both sports that has wider ramifications including the ability for teams to attract sponsors.
Broadcasts, especially free to air broadcasts of women's sport are crucial but they are just a part of what constitutes adequate and interest provoking coverage.  It is also about everything else in the lead up to the broadcast event and in the aftermath.
Take the A-League for example.
Fox Sports (one of the FFA's broadcast partners) shows all five matches of the round live equating to 10 hours of actual live action.
However around that is Kick off on Friday night (30 minute round preview show), Matchday Saturday (30 minutes), A-League on Sunday (30 minutes) and Shootout (1 hour round review).
On top of the actual broadcasts that is an additional 2.5 hours of programming - almost an additional 30% of air time devoted to the A-League.
Add to that the minutes on Fox Sports news bulletins and on their website there is a further 50 A-League related articles (just this week) and even more video pieces.
This is only fair. To keep fans informed, to build emotional investment in teams, to keep the sport in the forefront of minds and to build momentum to matches about to commence, this round the clock coverage is vital.
And that is the problem for women's sport.  In the tokenism of coverage, there is little (and in most cases none) of this supporting, momentum building reporting.
The end result is that when there is a broadcast on for women's sport, few outside of the die hard supporters are aware of it and thus the viewing numbers are low and used as further justification for why women's sport are not provided more coverage.
"See no-one watches or cares."
Take for example the 2015 FIFA Women's World Cup (yes it's a World Cup year!).
The number of times The Women's Game are asked if the WWC will be televised, and who is televising it, is disheartening.  For the record SBS have the rights to the FIFA World Cup, Women's World Cup and the various youth world cups.
However, whether watching SBS TV or on The World Game website (SBS's football news site), very few would have knowledge of this.
Compare that to the men's World Cup in 2014 when there were frequent advertisements on TV, updates on their TV show and podcasts and you couldn't miss it on the website.  They even had a tab for easy access under which there were sections for the teams, fixtures, photos and blogs.
The World Cup front page alone had over 35 Brazil 2014 related articles and that is not including the blogs, videos and social media content on Twitter and Facebook.
Two months out from the WWC and there is not even a tab, nor is there a schedule of matches.  In fact finding any Matildas or WWC news takes concerted effort which on the internet means no-one will really bother.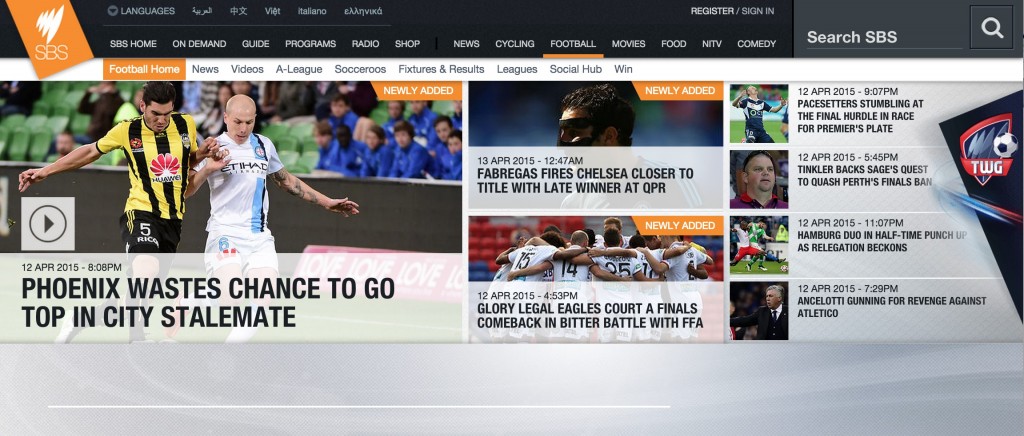 The inevitable result is that the viewing numbers may not be favourable and thus the prophecy (fallacy) is fulfilled.
Governing bodies
While it's easy to place all the blame on the broadcasters and newspapers, that is does not tell the whole story. Governing bodies also have to answer some hard questions as well.
Again, unfortunately, football is a perfect case study.
Hands up who knows how many matches the Matildas won in their recent 6 week tour of Europe? *crickets*
How about an easier question; hands up if you knew the Matildas HAD a 6 week tour of Europe? *louder crickets*
Okay, how about the Germany v Socceroos. We all know that result right?  In the 2 weeks and 6 days of Matildas active and match related time (excluding the AIS training time), there were 8 emails sent out in relation to the Matildas and their matches.
On the Matildas website there were 10 articles related to the tour and 11 football related videos.
Compare that to the Socceroos active time for their European tour (which coincidentally was the same time period).  I can't tell you how many emails as I unfortunately deleted them all but considering there were daily updates with audio and video, there were significantly more than 8.
In addition to this 39 articles appeared on the Socceroos website along with 53 pieces of video content (whether via Fox Sports or FFA TV).
It is not just about the numbers, which are stark, but it's about the effect of those numbers.
The daily media updates provided injury news, squad changes and other key information out of the camp that the media then relayed in articles.
Further the 53 pieces of video content with various Socceroos players provide content to provide 'colour' around the games.  The FFA's media partners Fox Sports and The World Game created 61 and 44 pieces of colour content, respectively, around the tour.
The numbers for Matildas colour content were 0 and 1, respectively, although admittedly a number of media organisations (including The World Game, Fox Sports and the SMH) published the FFA match reports in their entirety.
Considering the above, it is difficult to blame them when there is no content to produce the colour.
How can it get better?
So we come back to the original question; what comes first, the media coverage or the interest?
Well it's arguable that with increased coverage will come the fans but there actually needs to be a concerted effort that goes beyond tokenism.
For that to happen the sporting bodies also need to buy in, to do more.  One sport that appears to be doing it right is netball with Netball Australia chief executive Kate Palmer saying:
"It's never a right to get that media coverage ... we need to do a good job of marketing our sport so we get that sort of product."
With the changing media landscape, there are less people to cover more areas and low hanging fruit (men's sports) is where media will, rightly or wrongly, focus their attention.
One way to change that is to make it easy for them to create the content. Providing timely and regular media releases with quotes, images, audio and video are a start.
Meanwhile from the media / broadcast organisations there needs to be an understanding that they drive the agenda and interest. Of course they already know this.
How many times are we saturated with ads and content for a particular sporting event when it comes to men's sport?  Interest can be built and women's sport can become successful profit making ventures.
The US Women's National Team went from being "the greatest team you've never heard of" to one who makes a profit for US Soccer thanks to regular attendances of over 15,000 and has television ratings almost on par with the men's national team.
https://twitter.com/DasGherkin/status/585469236044288001
Meanwhile England last year saw 55,000 attend England v Germany at Wembly Stadium and the national team has also seen an increase in media coverage. The same can be said of the work done by the French Football Federation and French broadcasters in relation to their women's national team.
The key is that it doesn't happen instantaneously but rather through prolonged and constant coverage.
Sure women's sport is not for everyone (and those people will vocally tell you that) but there ARE people interested and more would be interested if they knew about it. For those who are already interested, the dearth of content is not going unnoticed.
The reality is we can't truly gauge the interest in women's sport when there has been minimal effort to showcase it.
And the level of effort is there in the stark, demoralising single digit numbers.
Copyright ©The Women's Game All rights reserved.