Following 12 months of behind the scenes discussions and negotiations by the W-League Working Party, for the first time the players of the W-League will be protected by a Collective Bargaining Agreement (CBA).
Following 12 months of behind the scenes discussions and negotiations by the W-League Working Party, for the first time the players of the W-League will be protected by a Collective Bargaining Agreement (CBA).
The CBA has been approved by the FFA and the PFA's W-League members and will go into effect just in time for the momentous 10th season of the league.
According to PFA Player Relations Executive Kathryn Gill, the PFA undertook extensive market and competitor research.  As a result, many of the provisions and policies mirror those available to players of other women's sport leagues in Australia.
So let's break down the CBA's key components with Brisbane Roar forward Amy Chapman, member of the PFA Women's Football Committee, providing insight into the players' positions.
WHAT IS THE TERM OF THE CBA?
The CBA will run for a term of
2 years
covering the 2017/18 (Season 10) and 2018/19 W-League seasons.
It will expire in June 2019 as will all of the CBAs for the Socceroos, Matildas and A-League.
The joint expiration date will mean that Professional Footballers Australia will be negotiating new CBAs for all four entities in line with their "Whole of Game" strategy.
While a majority of the terms remain consistent across the two years, the employment terms increase on a sliding scale for Season 10 and Season 11.
EMPLOYMENT
Minimum Salary
Last season the
W-League adopted a minimum player allowance
for the first time.
It ensured that all players signed to a W-League Amateur Contracts were to be paid a weekly allowance.  The payments were between $60 to $150 per week of 16 weeks.
In their 2016 Roadmap for Women's Football in Australia, the PFA noted that the minimum salary needed to be $11,334 per W-League season based on
the National Employment Standards and Fair Work Act

Minimum statutory rates of salary permissible for adult employees

PFA research as to the number of hours players commit to per week (22 hours)

Shorter contracts (where seasons overlap) would give rise to a pro rata reductions
The new CBA advances the 2016 steps significantly with all players signed to a W-League contract now guaranteed a minimum salary of $10,000 and set to increase to $12,287 in Season 11.
This is forward progress for the W-League in light of the steps taken by the other women's leagues in recent years.
League
Minimum Salary (2017/18)
Maximum
Super Netball
$27,375
$67,500
State League Cricket
$25,659
-
Big Bash League
$10,292
-
W-League
$10,000
-
AFLW
$8,500
Priority Players: $12,000

Marquee: $27,000
$0 player contracts are now a relic of the W-League past.
"We are not playing football for the money. We were just looking at how were we going to make sure that we are not losing players from the game early."

"This kind of platform we have used in the CBA is to bring the bottom up.  It just really allows for a level of professionalism moving forward and it means that the girls can sacrifice and commit to a bit more time to the W-League."

"Currently a lot of players are working full time and we are losing a lot of players early including to other sports. If we can make it feasible to keep doing this year after year, as well as have a career on the side, it makes it more enjoyable for the girls and we keep the best footballers in the game for longer."  

"The more quality footballers we have in the game, the more the sport will lift domestically."
Base Player Payments
While there has always been a salary cap for the W-League, the unspoken reality was that very few clubs reached the cap.
Further, several clubs just made the minimum salary cap spend of $50,000.  Often that spend went to international players with many of the local players signing $0 player agreements for the season.
The new CBA has provisions for a vastly increased minimum base player payments.
Initially this will be aided by an increased dividend from the FFA from $50,000 to $150,000 to participating clubs.  The amount is less than the stated goal of $175,000 as outlined in the PFA's women's football blueprint.
The payments to the W-League clubs are consistent with the FFA covering a substantial portion of the salary cap for the 10 A-League clubs.
"There is always going to be discrepancies between each club and how much money they want to put forward to women's football."

"We came in with the angle of bringing the bottom up to make sure the minimum standard is there. At the top end, clubs can pay their players more but it is about having a standard across the board for all."

"We based this on the minimum wage and looked at how many hours were committed weekly so its not just a number we plucked out of the air."
Minimum League Spend
The PFA's 
Roadmap
stated a goal of total league spend to be 
$4.64M
.
While this current CBA does not reach that goal it is again another significant step in the right direction.  The 2017/18 total league spend on player salaries will increase from $450,000 to  $1.62M.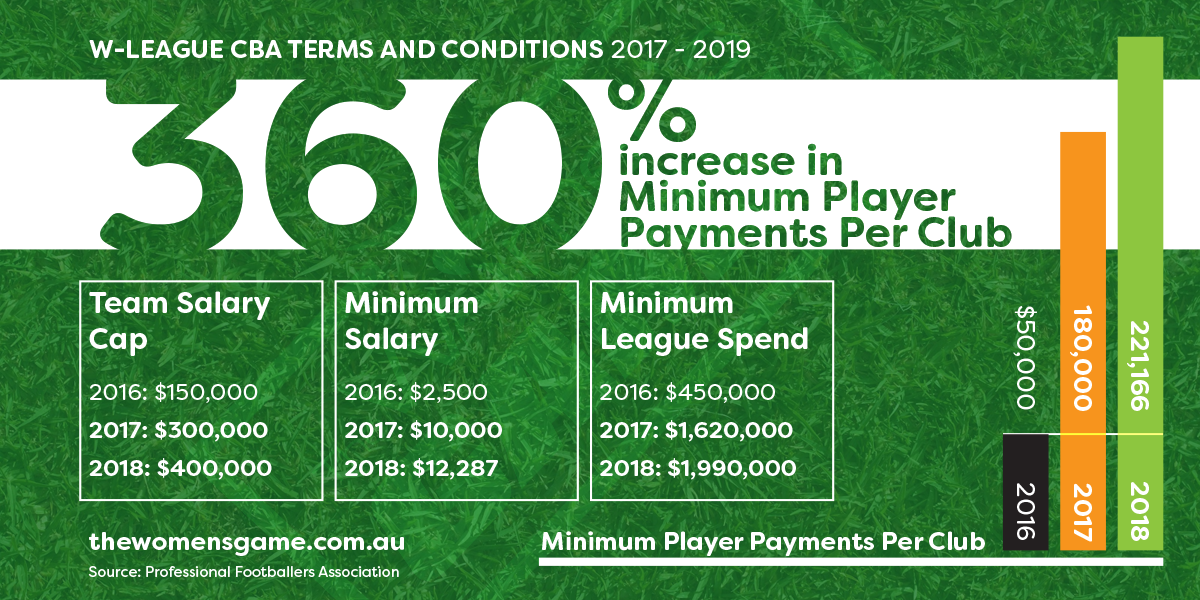 BENEFITS
While salary is a key component of the CBA, there are other benefits that are also significant.
Income protection
The CBA has provisions for increased income protection in the event of injuries.  The protection is for up to
$1,500
per week and covers football and non-football income protection if a player is injured due to football and unable to work.
Income protection has been a source of anxiety for players in the past as articulated in our 2015 piece on W-League pay and conditions.  In summary, the low salary in the player contracts meant that players were in essence punished twice in the case of injury. Not only were they unable to play football but they also lost income from their regular employment with no avenue of recompense while they recovered.  This provision addresses this concern.
"Playing high level sport you are always putting your bodies on the line.  In women's sport, and women's football is no different, 90% of us are working on the side as well."

"It is important to us to know that if we get injured and couldn't work at our other job, we could have some income coming in."

"We need to have that security to know that (a) we are not going to lose that other job and that we can have some protection.  I feel like this is a professional standard that should have been in many years ago but it's good to see it was included moving forward"
Maternity Policy
In the past there has been discussion about a maternity policy at Matildas level but that discussion has rarely surfaced publicly in relation to the W-League.
The policy at the moment is basic and provides for an airfare and room funded for players travelling with a child 3 years old or younger. 
That there are provisions for maternity is another advancement for the W-League with other sporting leagues also grappling with how to provide a robust maternity policy for its players.  For example, AFLW provides a carers allowance for players travelling interstate who have a child under 12 months old.
A number of mothers have already played in the league - Melissa Barbieri, Heather Garriock, Renee Rollason - and with many players starting their W-League careers at young ages, having a strong future maternity policy is crucial if the league is to encourage experienced players back into the game.
"This definitely still needs work but we needed to start somewhere."

"It all comes back to how do we keep our players in the game.  All other businesses and industries have some sort of maternity policy. The game invests so much in us, I think its essential we offer this to our players to have them return."

"This will be reviewed in the future."
Health Insurance
"This time around we just wanted it to be discussion point, we wanted it to be on the table."

"There is a currently an expectation that every player has private health insurance and that may not be feasible for everyone."

"We weren't able to in this timeframe come up with a solution but it is something that should be looked at closely."
Health insurance is one of the biggest expenses for athletes due to the fact that they require comprehensive insurance in the event of injury. Comprehensive insurance can be as expensive as
$200 per month
. On a minimum salary of $10,000 that is close to quarter of their salary.
The current CBA does not expressly address the issue of health insurance only stating that the FFA will use best endeavours to find a sponsor to subsidise player private health insurance costs.  
Again this is an issue that many sports are grappling with.  The current AFLW deal also sees the players cover their own costs when it comes to health insurance, while the cricketers health insurance costs are covered by a Female Private Health Insurance Scheme thanks to a $500,000 contribution by the Australian Cricketers' Association.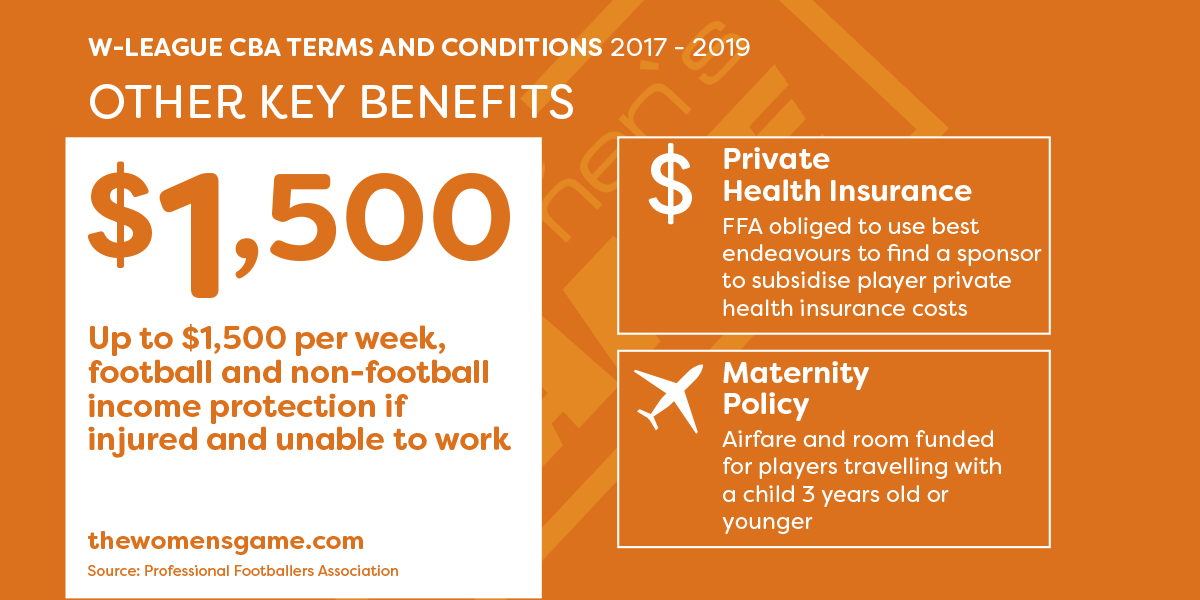 PROFESSIONAL STANDARDS AND COMPETITION STRUCTURES
Player Contracts
For the first time W-League players will sign professional player contracts instead of the W-League Amateur Agreements.
The contracts allow for a 23 week period (season + 6 weeks pre-season) instead of the current 16 week period.
The contracts are similar in form and content to the current Standard A-League Player Contracts which will mean that they will be subject to the FIFA international transfer system.  It may mean that for the first time, W-League's clubs rights will be the pre-dominant rights as to say an NWSL club (currently NWSL clubs loan back Australian players to their W-League clubs).
Further, the CBA now allows for multi-year contracts with Laura Alleway the first player to sign such an agreement after joining Melbourne Victory this year.
The multi-year contracts are a great step for allowing for certainty and security from the player and coach standpoint but also from the supporter viewpoint.  One of the often voiced complaints in relation to the W-League from a supporter viewpoint has been the continually player movement. While this won't put an end to it - restriction of trade - it will most certainly mean that many of the key players, "marquee" players if you like, will be signed to a club for more than one season.
Squad sizes have also increased under the CBA with a minimum squad size of 18 and maximum of 23 (up from 20).  The rationale here is that a bigger squad is better for player safety.  18 of the contracts will be professional contracts with another two amateur contracts available to players who are looking at playing college football in the United States.  The amateur contracts are provided on an "oft in" basis.
"Previously it hasn't been clear in terms of the length of the contract.  One team would start a season two weeks out, another team starts the season 15 weeks out."

"I think it was essential that we have a base salary based on hours and therefore we required a standard contract length."  

"Previously we would have 8 week pre-seasons but our contracts would only start week 1 of the regular season."

"I think it is a fantastic step forward that we can start offering multi-year contracts and it's just aligning us with the rest of the world in terms of professionalism."
Minimum medical standards
"This was absolutely essential."  

"It is important to note that many clubs were doing it well and some clubs weren't doing it that well."  

:We just needed to bring in a base and bring the minimum standards up." "This minimum just means that we can move forward with confidence and looking forward to seeing those standards in place."
One of the more concerning reports released by the
PFA was their 2015/16 Injury Report
.  It highlighted that the medical standards of the W-League were less than ideal and highlighted a need for minimum medical standards.
The new CBA has provisions stating that the A-League minimum medical standards are to be adopted by all clubs.
These standards are:
Medical Testing: Prior to the state of the season each play must undergo a medical assessment.  No player can participate in training or matches unless their medical assessment has been signed off by a Club Doctor.

Club Doctor: Each Club will have a specialist sports physician with the correct certifications.  A different physician is required for both the home team and the away team in an A League match.

The home team shall ensure that first aid supplies and medications appropriate for the types of injuries that may be sustained during a match are provided. There shall be an ambulance available at each match.

Club Trainers

Club Physio: Each club shall have a registered physiotherapist available to players immediately prior to, during and after training and at all matches.

Player Medical Records: Club doctors, physiotherapists, and trainers shall keep accurate records of players' injuries, illnesses, physical complaints, diagnostic tests, medical advice provided and treatment.

Player's right to a second opinion

Player's right to surgeon of their choice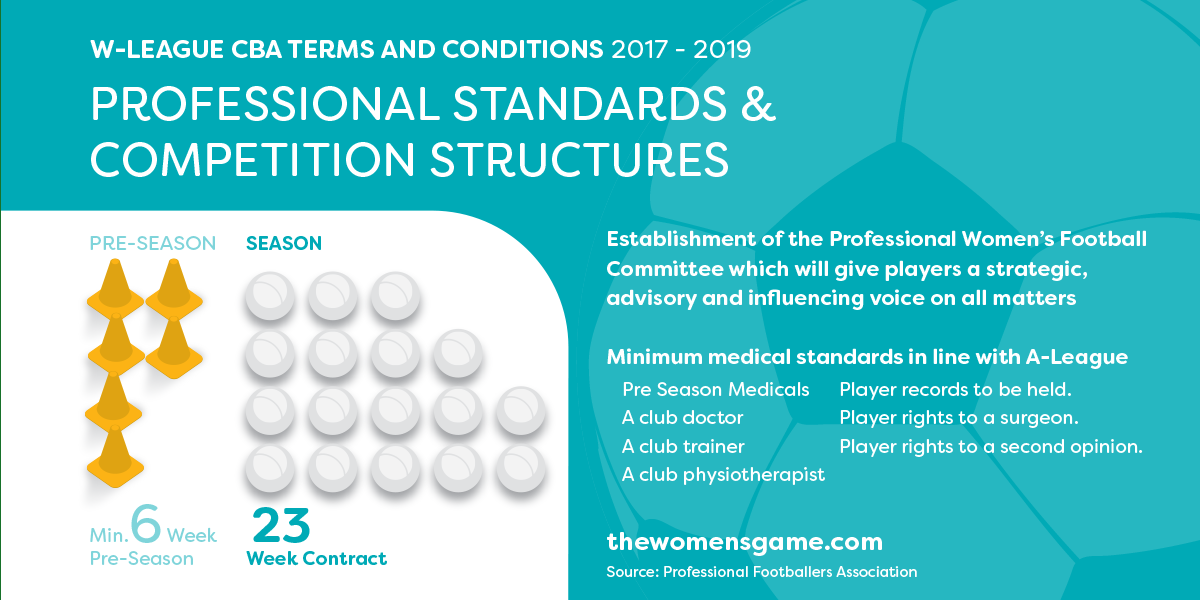 PFA AND PLAYER DEVELOPMENT
"The PFA have been fantastic in this whole process of being the voice of the players."

"They have really stepped forward and the FFA were on the same page on this - it was more about the logistics of getting the game there.  "

"This CBA demonstrates the commitment from both organisations to move the game forward which is fantastic."
The PFA are also providing their benefits to the W-League players including:
access to existing Player Development Program

$100,000 contribution to the Player Development Program

Football boots and runners provided (in line with the AFLW deal)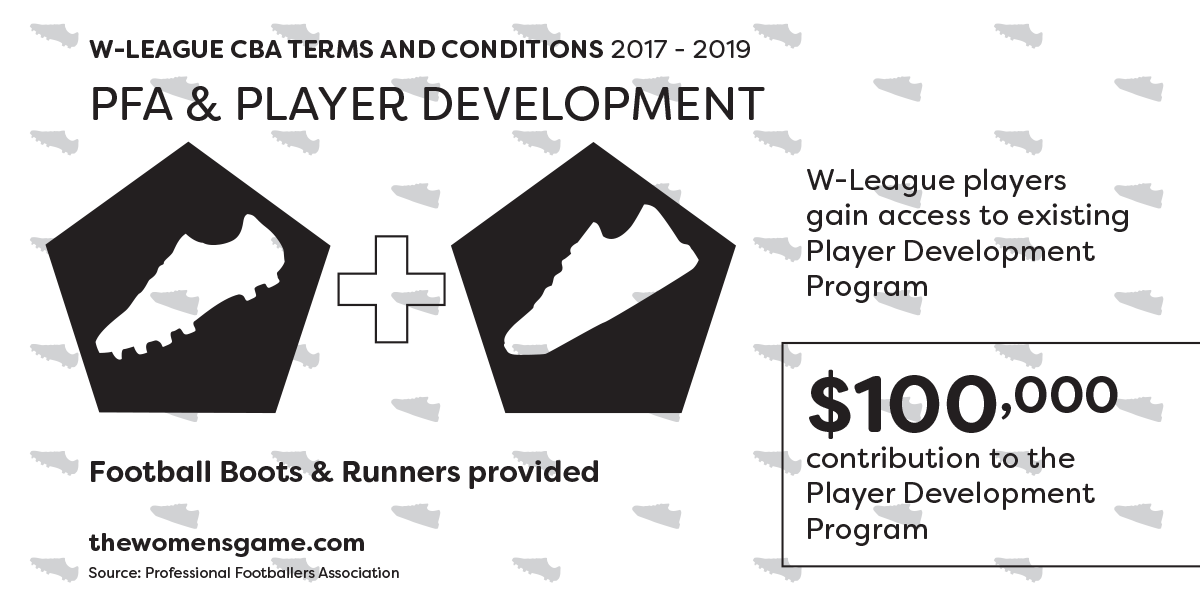 Copyright ©The Women's Game All rights reserved.