Uzunlar imparting her knowledge at Parramatta | (Credit: Simon Chillingworth)
At 23, Servet Uzunlar has nearly experienced it all on the international and the domestic football front.  Now the experienced Matilda is preparing for a new challenge as she becomes a foundation member of the W-League's newest club; the Western Sydney Wanderers.
"I just wanted a bit of a change up.  A different team, different coach, a different environment just to challenge myself," said Uzunlar of her switch to Wanderers.
"I had played for Sydney FC for four years.  Also outside of Sydney FC, I trained every day, every month, year in and year out with the same bulk of players and coach for six or seven years."
Starting up a new club from scratch is certainly that challenge.  With only a couple of week's notice, head coach Stephen Roche has had the unenviable task of pulling together a competitive squad for the upcoming season.
Uzunlar joins newly retired Matilda Sarah Walsh at the Wanderers with a host of current Matildas including Teigen Allen and Catherine Cannuli rumoured to be pulling on the Red and Black.
Alongside those national players a host of footballers in, or previously in, the elite pathway are tipped to form the Wanderers inaugural squad.  Although tight lipped about the final 20 player roster, Uzunlar is confident that Western Sydney will be more than competitive.
"Stephen Roche has already coached the Central Coast Mariners in the W-League and he has some great experience there.  We also have got some good state league footballers and some promising the young girls."
"It will be refreshing team with some fresh players mixed in with experienced Matildas.  I think it will be a good mix and we will definitely be competitive."
While Walsh appears the natural choice for the captaincy, with over 30 Matildas' caps to her name and big game experience, Uzunlar looms as potential vice-captain or leader within the new team.  It's something that has real appeal to the outgoing defender.
"It's nice to be considered and be regarded as an important part of the team," she said.
"I hope that I can give the team some sort of leadership and I hope to help guide it down the right path, football wise and in every other aspect."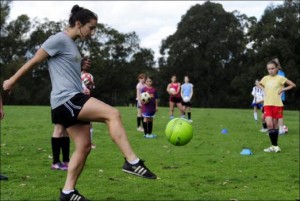 The Wanderers will have to wait until the second round of the W-League to play in front of their home fans.  Fans that the club and Uzunlar herself have been working hard to cultivate.
Earlier this week she led the NSW Sport and Recreation football development clinic at Parramatta Stadium giving tips to 21 aspiring footballers.  It's an area she is passionate about.
"It's really important that we have the community behind us," she enthused. "I think Western Sydney are doing a great job in facilitating that engagement."
As for her expectations for the season?
"Top Four would be great of course. In fact, winning it would be great!"
"But I just looking forward to playing good football and building a cohesive team."
The Western Sydney Wanderers will present their full squad today at 4.30pm at Prince Alfred Park, Parramatta.
Copyright ©The Women's Game All rights reserved.