The yanks are coming and they're bringing the NWSL quality with them, let's just hope they don't forget the massive atmosphere as well!
MELBOURNE VICTORY'S AMERICAN POWERHOUSES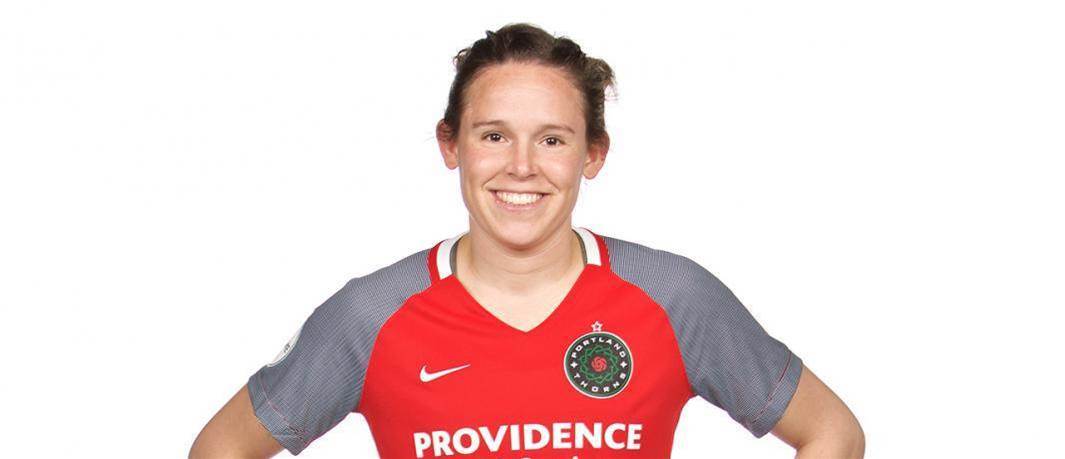 The latest club to jump on the NWSL import bandwagon is Melbourne's own Big V, who yesterday in one fell swoop announced the massive signings of US trio Darian Jenkins, Hayley Hanson and Emily Menges.
Each comes from a different NWSL club, with NWSL Shield and Championship winner Menges the biggest coup of the lot. Menges may look like the girl next door, but mark our word's, she's a no-nonsense defender with over 120 NWSL appearances under her belt and at 27-years-old is in the peak of her career.
Jenkins and Hanson, however, are up-and-comers. But we've been impressed by the ability of W-League clubs to secure top-notch young Americans before and given the scope of Victory's scouting arsenal, we're tipping they've watched more than a few highlight videos for these two.
Jenkins is a 23-year-old striker and lightning quick, she was drafted in 2018 to the NWSL and has played for big clubs so far, while Hanson is a fully-fledged US international and has captained their U/23 side.
They have solid top-flight experience between them and bring real quality to Victory, who before these signings seemed to be leaning a little heavily on Natasha Dowie to bring the star power.
The US trio really look to have secured things in all areas of the park for the reigning Premiers. It's interesting to see how Dowie and Jenkins combine, with the US import's electric pace - in addition to the dynamism of a certain Jenna McCormick - likely to provide another dimension to Victory this season.
CANBERRA UNITED'S BIG NAME MARQUEES
It's heartwarming to see the league's only standalone W-League club ramp things up a notch with flashy imports this season, especially after Heather Garriock's side limped into eighth place last time around.
They may be as top heavy pinwheel but Garriock's hoping if they spin fast enough they can swallow up every opponent around them. And you know what? With Katie Stengel barging her way though opposition defences this season they might have a point...
Stengel is set to become the league's most formidable striker this season, as she brings a wealth of W-League and international experience to the side. She also follows this pattern of recruiting US stars in their peaks, another 27-year-old in red-hot goalscoring form who's one of the top picks for the golden boot this season.
But she's not alone. Simone Charley's arrival may have gone a little under the radar (to be fair, it's their fourth big-name striking signing, there are only so many adjectives you can put in a headline) but she shouldn't have.
Charley is another Portland Thorns import who brings youthful exuberance and big-game atmosphere to Canberra. She may still be at university but she's spent a year competing in front of 20,000 packed crowds in NWSL finals against the best players in the world.
As she says...
"The NWSL gave me the opportunity to learn a lot from some of the best players in the world.
"Just the knowledge and experience I've gained from there is something I believe I can build off of while in Australia."
ADELAIDE'S INFLUENTIAL AMERICAN
We want to take a moment here to rehash our talking points about Adelaide's young US gun Mallory Weber, who had an incredible youth career and now has to prove why she was so highly touted as a youngster.
We've spoken at length about how Mary Fowler needs a top-drawer striking influence in that Reds dressing room if she's going to become the W-League star we all know she can become this season. Weber has to be that influence.
She's only 24-years-old but she's got a drawer-full of US youth caps and some tough NWSL experience under her belt. She hasn't had it easy at some of the league's top clubs, she's been shipped around and found it hard to build on her prolifacy at college level.
So she becomes the perfect - and in many ways, the only - striker for Fowler to learn off in that team. But she's also going to be a hardy goalthreat herself if she can find her scoring boots.
MELBOURNE CITY'S SECRET ANGENT YANK
Only a club with the resources of Melbourne City could manage to fly Lauren Barnes in under the radar by disgusing her beneath the signings of World Cup winner Yakari Kinga and someone called Lydia Williams...
But Barnes deserves a moment in the spotlight because while other teams have splashed the marquee cash on the who's who of NWSL striking talent (we're looking at you, Wanderers) City have re-signed one of the premier defenders in the competition.
Barnes was key to Melbourne's resurgence towards the end of last season and given her experience and influence over the squad, you know that she's not going to accept another near-miss come W-League finals time.
Barnes was also one of the key reasons why a club that couldn't buy a goal last season ended up finishing above Adelaide United, a club that had the second highest goalscorer.
There's a lot to be said about Barnes that we don't have room for here, but suffice to say, she'll do her talking on the pitch this season.
SYDNEY'S AMERICANS SAVE THE DAY
As far as US imports go, they don't come much bigger than the current NWSL goalkeeper of the year, a Hope Solo-esque intimidatingly talented shot-stopper by the name of Aubrey Bledsoe.
It's a credit to Ante Juric and co that they were able to lock-down Bledsoe, who would have had her pick of Europe's top clubs, for another season with the Sky Blues.
We've talked about her at some length as well recently but because there simply wasn't space in our Sydney preview to discuss Sydney's star US imports, here's where we can gush.
Bledsoe is your typical tactical keeper. She organises a defensive line so proficiently she literally becomes another centreback, rushing out with poise and confidence to nip dangerous situations in the bud before a save becomes necessary.
But she can save them too, just check out this for a second...
Oh it's gonna be a good derby, we tells ya.
But Bling FC aren't done yet. They've also re-signed Sofia Huerta, the dual Mexican-US international who's so good that let her play for two national teams.
Huerta comes back to the W-League showing that she can play just about any position on the park, bringing a sense of defensive tactical prowess to what is otherwise a very attacking skillset.
She's upper her goalscoring of late for Houston Dash, possibly a leftover from her prolific end to last season with Sydney, meaning she is quite literally a triple threat.
Between Sydney and our next club, the pick of the NWSL are right here in the W-League this season.
WESTERN SYDNEY HAVE ARRIVED
We heard for a very long time that the Wanderers were going to be good this year. The W-League's sleeping giants have awoken, they all said. They're finally going to take their proper place at the mantle of the league's powerhouses, they reckoned.
But until October 29, it all sounded like a lot of talk, no action. Well, they made us eat those words.
Lynn Williams, Kristen Hamilton and Denise O'Sullivan (who we're not going to mention again because she's Irish) all arriving on the same day is the equivalent of your birthday being on Christmas...and Lynn Williams coming to your party.
Can we just say that again, Lynn Williams is coming to the W-League. Lynn Williams!
The US superstar is clearly the biggest name in the competition this season after the departure of Sam Kerr and for good reason, she has a wonderfully rounded game and while she'll score a bagful of goals, she'll create moments of brilliance just about everywhere around her.
But the best thing about Williams' arrival is it almost made us forget about Kristen Hamilton, who is arguably just as deadly a striker.
For most of North Carolina Courage's championship season this year, she was actually our pick for closest contender for the golden boot.
It's unlikely that the Wanderers will even create enough opportunities this season for Hamilton and Williams to finish off, they're that deadly. But it will be fun to watch them try.
BRISSIE'S FEEL GOOD HERO
Let's never forget one of the W-League's favourite daughters, Carson Pickett, who encapsulates all that's fantastic about women's sport.
We love making talented foreigners honorary Aussies. If they're from New Zealand, we just call them Australians and hope no one will notice. But rarely do they actually seem to love the land down under as much as Pickett does.
Among all the high-profile Matildas in Brisbane this year, Pickett truly appears in her element. She brings a calming effect to the Brisbane backline, with years of experience across the NWSL lending her a sense of that seems to wash over her teammates.
Much like Barnes, once again, she'll be invaluable to a Brisbane side that seem star-studded, are today.
Copyright ©The Women's Game All rights reserved.