Melissa "Bubs" Barbieri has always been a fighter.
Melissa "Bubs" Barbieri has always been a fighter.
Maybe it's her Italian blood, maybe it's just her nature, but ever since she pulled on her first football boots the 33 year old has had to fight for everything she has achieved in football.
She had to fight to play at all, then to remain on the national team when a misdiagnosed hamstring injury in 2000 almost ended her career.   Now she is fighting to return to that same team.
Less than three weeks ago it looked like a return to top class football would be the fight she would lose.
"I nearly didn't have a club," remembers Barbieri.   "I asked for a second consideration and was finally able to find some common ground with a club."
That club is Adelaide United, 726km away from Barbieri's home city of Melbourne, Victoria.  While exciting news, the reality is that Barbieri and her 7 ½ month old daughter Holly will have to pack up and move to Adelaide for five months without husband Geoff Hudson.
But as always the former Matildas captain is ready to fight for her dream return. A journey that started as soon as she gave birth to Holly on January 20 this year.
Makes me that much stronger
Although her voice is full of love for Holly, Barbieri doesn't sugar coat the difficulty of the first 12 weeks after birth.
"It's definitely one of the hardest things I've ever had to do in my life," she said.
"But it's all worth it when you feel the joy, the love, all the good things that come with having a baby.  It's all worth it."
Holly was delivered by caesarean,  meaning Barbieri was restricted for the first six weeks post-delivery.  She candidly recounts that those weeks were some of the toughest of her life.
"It is probably one of the hardest things to do because your emotions are running high and there are a lot of things you have to cope with apart from sleep deprivation."
"And then you cry all the time.  You cry when you are happy, you cry when you are sad."
"You cry when you look at your baby who is beautiful and you cry when your hubby gets to sleep all night and you don't."
There to assist Barbieri during this period was her husband, who took four months leave from work, and her mother, who provided close to 24/7 support. Even months on with Hudson back at work, Barbieri states she "still relies really heavily on [her] Mum's support."
Despite her initial misgivings, the fog did eventually begin to clear, and naturally the goalkeeper's mind returned to her other great love, football.
Makes me work a little bit harder
After a medical clearance six weeks post delivery, Barbieri began to chart her return to the game.
If I had lost any interest once I had had Holly I think I would have retired.  But the entire time I was pregnant and the time after I had Holly I was still thinking about football.
She started with light, low impact exercise and  multiple sessions of yoga.  At the 12 week mark, her fitness regime increased and just 3 ½ months after giving birth, Barbieri was back on the pitch and between the sticks for her beloved Box Hill United in the Victorian Women's Premier League (WPL).
They lost 5 – 0.
"I'd like to think that not many of those goals were my fault," she laughed, recalling her comeback.  "But it was a nice little reminder of the level you need to be at to play this wonderful game."
It was also a reminder, if she ever needed it, that a return to the very top, to the Matildas, was going to be a monumental task.
"I am still getting back to 100% fitness.  The body takes a real hit during the 9 months. It takes a toll on the joints and ligaments."
"Reaction time as goalkeeper is a big thing as you have to get your senses nice and sharp.  So I am still not 100% there but it's a process and it's still coming along."
To assist this process she has teamed up with former Australian international goalkeeper Jeff Olver.  Olver, who played 54 times for Australia including a quarter final at the 1988 Seoul Olympics, reached out to Barbieri when he realised she didn't have a goalkeeping coach.
Regarded one of the greatest goalkeepers this country has produced, Olver has volunteered his time, a gesture for which  Barbieri is extremely grateful,  emphatically stating she has "already learnt more in a couple of sessions than in the last 10 years of being a goalkeeper."
With a near complete Victorian WPL season under her belt and training sessions three times a week, Barbieri believes she is at 80% but feels confident she will regain that 20% by the commencement of the 2013-2014 W-League season.
It makes me that much wiser
Like other  Matildas before her, Barbieri has had to travel this road virtually alone, despite teammate Heather Garriock also giving birth around the same time.
As with Garriock, federation support has been conspicuous in its absence.
"Any sort of support would have been great," she recalls.
In her time away from the game she lost her spot in the team, the Matildas captaincy and, most significantly, a national team contract and the income that came with it.
"The idea that you could have a baby and then completely have nothing coming out of it is quite daunting."
The only moment where palpable anger and frustration resonates in her voice is when she speaks about being written off.
"The hardest part is that you have fight a bit of discrimination.  People thinking that because you have had a baby, you're not the athlete that you were."
"I actually think that you are 10 times the athlete that you were before, because pregnancy shows you what you are capable of under immense pressure."
So thanks for making me a fighter
Then again being written off, being underestimated has always driven her and it drives her again.
With Adelaide United and its coach Ross Aloisi, another known fighter, Barbieri has another crack at her dream, and she knows it's her last.
"I just wanted to at least be given the opportunity [to come back]."
"My motivation is always to be number one, because if you are prepared to sit on the bench then you are not doing anyone justice."
For all her determination and grit, Barbieri is well aware of the daunting task ahead.  Australia currently is well stocked with goalkeepers.  Lydia Williams, Brianna Davey, Mackenzie Arnold and Sham Khamis have all demonstrated their ability in her absence and are all fighting for the few available positions.
Whether she does return to wearing the number 1 she occupied for nearly a decade remains to be seen but Barbieri has no doubt about one thing:
"I want to go out of the game on my terms and not on someone else's terms."
---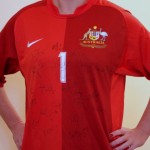 Support our fight for greater coverage of women's football and also gain a Melissa Barbieri goalkeeping jersey signed by the members of the history making 2007 Women's World Cup quarter-finalists: http://sportaroo.com/TWGTV
Copyright ©The Women's Game All rights reserved.