The much anticipated Sydney Derby arrived midweek and certainly did not disappoint.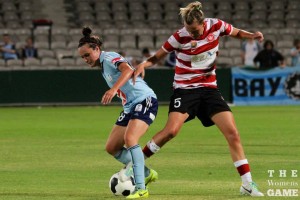 The much anticipated Sydney Derby arrived midweek and certainly did not disappoint.
W-League fans came in droves to witness Sydney FC take three points in a nervous 4-3 win over visiting neighbours the Western Sydney Wanderers.
Sydney FC had an almost perfect opening half, dominating possession and making endless threats on goal before Sam Kerr scored at the 5th minute and then pressured the Wanderers into an own goal in the 7th minute.
The Wanderers started flat and slow to react in the defensive midfield and were fortunate that Sydney struggled to put away their chances as the crossbar was hit two times before the half.
The second half started like the first and Sydney again were heavily on the attack with the offside flag the only thing stopping multiple Emma Kete and Jodie Taylor 1v1 attacks as they darted into space behind the Wanderers line.
Taylor converted a penalty and later set up Nicola Bolger to put Sydney in a commanding lead.
The offside flag became a contentious sight of the Sydney Derby featuring throughout the match including disallowing a handful of goals, including a Wanderers goal cancelled dubiously (and at great cost in hindsight).
The Wanderers' backline were disorganised initially allowing Sydney en masse to take multiple touches unpressured in the penalty area.
It was only last minute hustle by Teigan Allen, Caitlin Cooper and Alanna Kennedy that was enough to tip Sydney wide or high.
Just when it looked like Sydney was going to charge and pillage (similar to their 8-2 victory over Perth Glory) a series of subs from both sides created an immediate wave of change.
The atmosphere was palpable as the Wanderers started to exploit the chinks in the Sydney FC armour.
Led by the indefatigable Heather Garriock, the Western Sydney midfield finally able to bypass or connect through the midfield to find their attack.  They were finally capitalising beyond the first ball into the Sydney third.
In 11 absolute hectic minutes Wander-sub Michelle Carney scored followed by Garriock, and Cannuli. Sydney FC's 4-0 goal buffer became a one goal difference in a heartbeat and suddenly Sydney were fighting to keep the lead.
The game had well and truly turned.
Suddenly Allen was prowling the right flank, van Egmond was starting to win the 50/50 battles with Teresa Polias, Servet Uzunlar was making a trademark forward forays and the Sydney backline was forced to sit deep on their 18 yard box.
In the end the visiting Red and Black Sydney-siders ran out of time as the final whistle blew with every spectator on the edge of their seat.
The derby proved a valuable lesson for an over-confident Sydney FC team who were in charge early.
The sky blues squandered chances trying to play cheeky football rather than just putting the ball in the net.
However it must be said that their impressive multi-faceted playing style is becoming a trademark quality for this season and has Sydney fans swooning.
It is such creative and fluid football that highlights the ever-growing quality of the W-League.
The Wanderers can walk away pleased that they fought back from such a large deficit to threaten last year's W-League champions.
It will be important for them to leverage that energy they created in the final 20 minutes if they want to secure a finals place in their second year in the league.
Starting in-form striker Michelle Carney would be something for Coach Stephen Roche to consider after another huge performance from her following on from her match saving strike last week.
Next round will see Western Sydney Wanderers host Melbourne Victory who currently sit on top of the table and are flying high after defeating Canberra United.
The Wanderers will need to bring everything in their arsenal straight from kick-off if they wish to avoid being on the back foot early.
Sydney FC now face big guns Brisbane Roar. Sydney's third game in one week will place added weight on tired legs but wise resting of key player's and solid bench depth should help the sky blues.
Copyright ©The Women's Game All rights reserved.