Melissa Barbieri remembers her first cap for Australia | TWG
"Starting line up… Bubs in goal……." The rest of Adrian Santrac's team meeting was a little bit of a haze that night in September 2002. I had to actually ask one of the other players to help me out with the team tactics and the rest of the team line up.
Embarrassing as that sounds right now, writing it down, the shock of getting my second start in a row was a little surprising.
I mean I did play well against the Canadians in my debut. A clean sheet and all that but another start was a little surprising.  Mainly because I had won the starting position to play against the USA over the regular number one Cassandra Kell.
The USA!! I had to pinch myself.
I had only been goalkeeping full time for a little over a year but the confidence I felt that first game against Canada put me in good stead to play my second match against the World and Olympic Champions USA.
I felt a little giddy on the original call up for the tour seeing as though the Americans were so well known and had the likes of Mia Hamm, Kristine Lilly, Brandi Chastain, Abby Wambach and the list goes on. I was excited just to be going but the will to play urged me to want to start and when I got there and my efforts paid off.
In those days we were allowed time before the game to tick our legs over in a training session. Optional but compulsory if you know what I mean. Every coach has his or her idea on best preparation and this was Adrian's.
I guess it was lucky for me because even though these days I don't need that stretch out, the morning session actually gave me a chance to settle my nerves a little.
Even though there was no pressure on me, as we were clear underdogs, in those days (times have changed mind you) I still wanted to impress my coach as well as the huge crowd that would assemble for the opening match of the US Cup.
I remember walking out in North Carolina and being amazed at the crowd. The little girls shouting "Mia! Mia! Mia!"
Those girls are probably playing for the USA these days. I couldn't believe that you could go to the merchandise store at the ground and buy a shirt with a female players name on the back. It was unheard of in Australia.
Our captain, Anissa Tan, was receiving adulation from the crowd for her 100th Cap and I remember smiling for Tanny as I stood next to her in the line up.
She was a great help for me in that first game and she gave me a lot of confidence going into my second.
The national anthem played and I sung it loud and proud. I even worked on my game face in the line up. No smiles! Game face! *
Yes it was my game face – ready for battle - but I also looked like I was not enjoying my self.
From that moment on I decided to soak up all the atmosphere of each cap. I made each cap a great occasion even to this day at 84 caps.)
Then when the teams crossed over I remember trying not to show too much glee in shaking Mia's, Kristine's and Brandi's hands. I mean we were adversaries for goodness sakes – I could get their autographs later haha!
Then kick off.  Its funny now that I think back to it. I can hardly remember the game in my own mind. I can remember shouting my typical gut busting shout to my team mates….but the rest…. hmmm it must be the baby brain!
I do remember a couple of key moments though.  Like when I came to punch a corner and it deflected into the goal.  1-0.  I have never done that again I tell you!
The moment when Brandi Chastain was about to take a penalty against me. I had seen her take an earlier pen on video and I knew which way she went. I picked my moment, extended to my right, a dream come true I pushed the ball into the post!!!
Only to have the thing ricochet and come back into play hitting my own heel and going back into goal. Commentators were impressed but I was spewing. I had literally steered the ball into the goal when I had already saved it! 2-0
Haven't done that again either.
We ended up losing 4-0 and they were just too good for us. They were relentless, super human players with physical strength and fitness that we couldn't match back then. No, I can't remember the other two goals if that's what you are thinking. Must be because they weren't anything I could learn from.
Some things as a goalkeeper you have to take on the chin. There are some shots you cant save and you have to live with it.
The goals that you can help are the ones you remember. Then make sure you never make those mistakes again.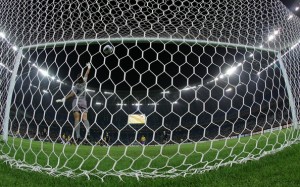 I spent the rest of the afternoon signing autographs, which was a bit weird as I had never had to do that before.
Then I stayed out on the field as long as I could just soaking it all up. Getting patted on the back from fans and players alike. We went down 4-0 but we went down fighting like Aussies.
My start in that game was a little bit of a surprise, so it was a short day of nerves for me. Brianna has had some time getting used to the fact that she will be starting in these matches.
I let her know my situation a little earlier than everyone else and I hope it puts her in good stead.
Starting assurance is a big thing for a goalkeepers' confidence levels. It goes a long way knowing you are the out and out custodian.
Brianna is a great keeper and she will play out of her skin for her country and her teammates. She has to … she is a Victorian!
My advice for Bri is no secret to her; enjoy it, soak it up and smile…you have the best job in the world!
* I regret that these days. At some point in my career I think at about the 20th cap mark I realised that all my photos of me in the line-up and in the anthem
Copyright ©The Women's Game All rights reserved.