The prediction of a goal storm turned out to be an accurate one as Perth Glory were defeated by hosts Sydney FC 8-2 on a blustery Sunday afternoon.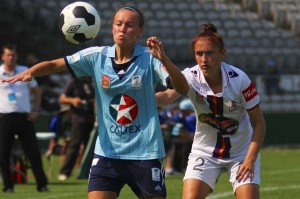 The prediction of a goal storm turned out to be an accurate one as Perth Glory were defeated by hosts Sydney FC 8-2 on a blustery Sunday afternoon.
The weekend's result takes the grand total of goals scored between the two teams to now a whopping 60 goals in just 10 games played.
A strong showing of Sydney FC fans and constant singing of Cove contingent's Bay 22 and Bay 23 buoying the home side on.
The scene was set early for a Sydney onslaught when the Sky Blues spent the first 10 minutes peppering the  Glory defence.
This was a match that was controlled by the home side from the first to final whistle, although Glory had lights of hope which were quickly, and it seemed inevitably, snuffed out by another Sydney goal.
In a telling sign of things to come, Caitlin Foord opened the scoring after a textbook one-touch interchange with Jodie Taylor.
Foord, calmly returning to the high attacking role of her "junior" days, skipped around multiple defenders on every possession and finished the game with her first W-league hattrick.
The opening goals from each side were a testament of things to come and defensive issues that would haunt them in the match.  Some they paid for, many times severely, others they didn't.
We apologise for the grainy images but unfortunately it is the best we could procure.
Sydney - space and movement personified
Sydney understood it and utilised it.  Time and again the Sky Blues would pass and move into a space either vacated by a teammate or Glory opponent.
For opening goal, the ball to Leena Khamis is a hurried clearance from Amy Harrison.  As soon as Khamis receives and lays off to Caitlin Foord, the midfielder drifts into the space previously occupied by Foord.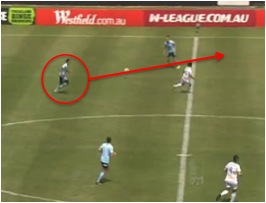 In her customary upright gait, Foord is able to survey all options; use Khamis on the left or utilise Jodie Taylor who has moved into the space left by Elisa D'vidio coming to close down Foord.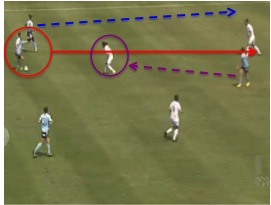 Many teams would go with the safe option of Khamis, who is heading into acres of space produced by the Glory full back drifting inside, for her to cross into what would be a crowded box with the numbers Perth were putting behind the ball.  Sydney, one of the most technically skilled teams in the league, and Foord gamble with Taylor.
That gamble opens up the attack for Sydney for two reasons; firstly it draws Perth's young and inexperienced defence to Taylor and secondly leaves a big gaping hole at the back which the intelligent Foord immediately makes a beeline for.  From there it's pretty much goodnight and good luck!
This pattern, unfortunately for Perth, is repeated time and again for a number of the goals scored by Sydney.
For the sixth goal, once again Taylor draws four Perth opponents into her orbit. Foord occupies the vacated space in behind the full back again drifting while Nicola Bolger takes Foord's previous position. A neat one-two between Foord and Bolger and the latter is well in space to clinically finish.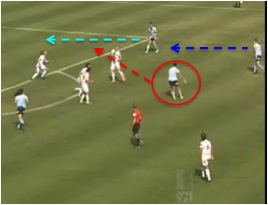 Same pattern for goal seven, although this time it's Polias who draws in four opponents and Bolger and Chloe Logarzo who make use of the resultant space.  A quick interchange of passes and the newest Matilda Logarzo has her first W-League goal of the season.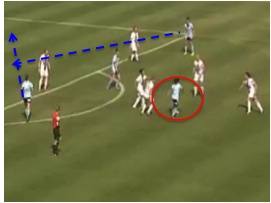 Unfortunately for Perth the defence was often drawn too easily to the ball, caught ball watching or were flat footed.  All of that was severely punished by a ruthless Sydney outfit.
Perth - exacting a high cost for the high line
That's not to say it was all good for defending champions.   
With Perth forced to defend so deep, the Sky Blues, naturally, played a high line and pushed their full backs forward to join in attacks.
It's great unless (a) your opponent escapes the zone you have employed further up the field; and/or (b) has quick enough strikers to take advantage of a quick release.
On this occasion, Perth evade the Sydney press and Ella Mastrantonio, who gallantly tried to hold together the Glory midfield but was overwhelmed by a surging Sydney, found some rare space and time.
With Liz Ralston further up the pitch and in board, Mastrantonio plays the ball into the space behind Ralston to where the full back would normally be and just inside the pacy Rosie Sutton still off screen.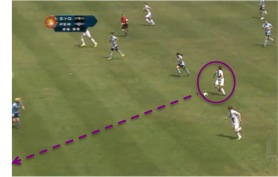 Heeding coach Jamie Harnwell's to "have a go" Sutton drives into the yards between Dumont on Alesha Clifford and Renee Rollason.
As a result, for the rare times in the game, Perth give Sydney a taste of their own medicine.
Rollason, who has been left exposed, shifts to cover Sutton, while Clifford also re-adjusts.  However that proves fatal as, due to left full back Amy Harrison being in about the same position as Ralston on the far side, Gill drifts into the area Clifford should and Harrison would have occupied.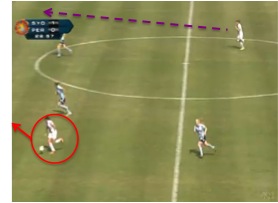 Sutton then makes the smart decision to cut inside drawing both central defenders but also moving to where her supporting runner, Gill (who is still off frame), is due to arrive.   While there is still a bit to do, an early lay off gives the clinical striker enough time to assess the situation and execute.
When Sydney are at their best they have their full backs bombing on but in this match, with the Sky Blues pushing so many numbers forward Sydney were left uncharacteristically vulnerable to the counter attack.
Perth were to utilise the above play time and again and on one occasion in the second half, Rollason was fortunate to get away with a clip on Sutton, who would have been in an identical position as above.  
At times only Polias' tracking back in her deep holding midfield role, to provide cover and crucial intercepts,  saved them from again conceding. 
Perth's other ray of light was the advantage they took early in the second half of Sydney's compact defence.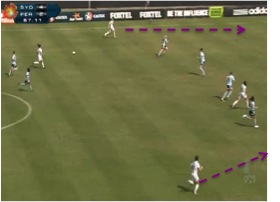 Mastrantonio time and again was able to find Marianna Tabain on the left or Elisa D'Vidio or Christian Julien on the right wing.  But for their inexplicable reluctance to test Casey Dumont, they could have punished Sydney several times and got themselves back into the match, on the scoreboard at least.
After Tabain's curling corner goal, this was a key moment for Perth to turn the game around but the visitors were unable to find the back of the net despite holding Sydney out for a solid 20 minutes and causing Dumont to scramble.
Still undefeated
In the end with Bolger and Polias controlling proceedings, and Glory forced to do a mountain of work defensively, tired legs made it even easier for Sydney to carve them up in the final 20 minutes.
The absence Collette McCallum, Sasha Andrews and Aivi Luik  and the suspended Cecilie Sandvej in addition to the early departure of the experienced Gill and Julien did not help matters.
It is an interesting time for Perth Glory who are now under the absolute pump to recover their season. A smart team with good technique they have lackedthe fitness and discipline in defence to compete with the top-level teams.  
While for Sydney FC the Christmas break appears to have done them well. Visibly fatigue on their return from Japan, they appear to have reengaged their ruthless attack mentality sitting 75 players in the Glory penalty box at any given time.
The star on the day, Foord's hattrick poses all sorts of questions for Sydney and for the national team; keep her up front where she has already scored for Australia or leave her down back where she is equally damaging.  Glad we don't have to answer that!
Sydney also saw the return from longterm injury of captain Danielle Brogan. Brogan's entrance to the field was welcomed with cheers and expect further improvement in formation and delivery from an already strong Sydney backline under her benevolent rule.
Although low scoring this time round, the last two encounters providing 12 and 11 goals, it is always an exciting journey between Perth Glory and Sydney FC.
Post game fan discussion ended in agreement that if these two are to meet in the finals, 20-21 would be the final score - the winner unclear!
Copyright ©The Women's Game All rights reserved.