The opening round of the W-League saw one or two surprises and a number of superb individual performances.
The opening round of the W-League saw one or two surprises and a number of superb individual performances.
Braces from Michelle Heyman, Jasmyne Spencer and Kate Gill saw them land in the Team of the Week while Ellie Brush continues to display her prowess in front of the goals.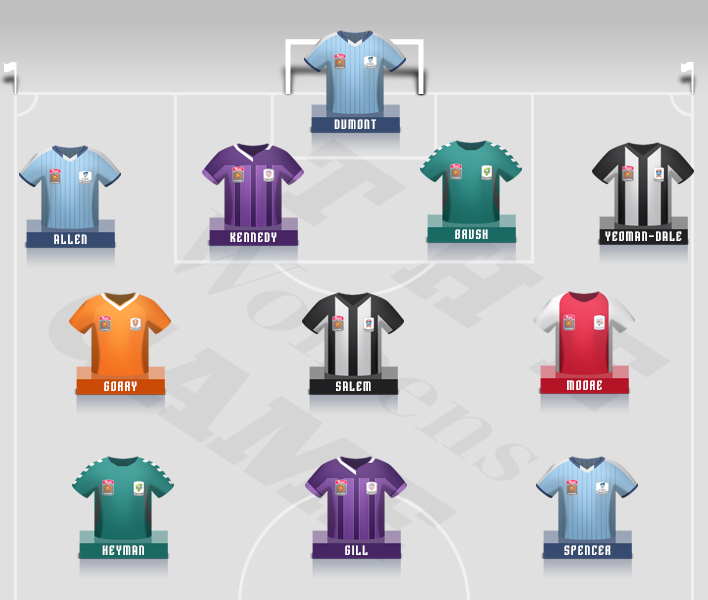 Honourable mentions: Chantel Jones, Sam Kerr, Chloe Logarzo, Tori Huster
Note: The players are in no particular formation just the top defenders, midfielders and strikers
---
Short Corners
21 players made their W-League debuts this weekend debuts with 7 alone in the Western Sydney Wanderers v Canberra United match. Of those 21 players, 11 were teenagers and 7 were internationals from Denmark, Canada and the USA.
One of those debutants was Adelaide United's Katrine Pederson. Pederson joins teammate Melissa Barbieri as the only two mothers in the W-League but that is not where their similarities stop. Both have captained their national teams, been to at least three World Cups and together they have an astonishing 301 caps.
https://twitter.com/Bubs_11/status/510615824407609344
11 goals were scored in the opening round, although that is not the highest Round 1 total. That honour belongs to the 2013/14 season with 18 goals!
Those 11 goals were scored by 7 different goal scorers. Four of those goal scorers in Michelle Heyman, Caitlin Munoz, Kate Gill and Emily Gielnik are in the Top 10 of the W-League all time goalscorers list. Canberra United striker Heyman leads that list with 44 goals.
Heyman's teammate Ellie Brush also scored on the weekend marking a momentous occasion for the United vice captain. Her header was her 12th goal in 68 W-League appearances and saw her move into the Top 15 goalscorers of all time. Not surprisingly Brush is the highest scoring defender.
Three players came out retirement for Season 7 with Newcastle Jets duo Hayley Crawford and Amber Neilson marked a successful return with a win as did Renee Rollason. Yes, Renee Rollason.The Sydney FC stalwart had a brief flirtation with retirement at the end of Season 6 but, to the delight of the Sky Blues fans, "Rollo" did an about turn and is back sporting the No. 10.
Rollason is the ironwoman of the W-League with her appearance on Sunday her 72nd, the lead mark for appearances just in front of Brush (68), Caitlin Cooper (67) and Teresa Polias (66).
Copyright ©The Women's Game All rights reserved.