Seven times semi-finalists Sydney FC, head west to take on the newly crowned premiers in purple, Perth Glory Women, at the NIB Stadium.
Seven times semi-finalists Sydney FC, head west to take on the newly crowned premiers in purple, Perth Glory Women, at the NIB Stadium.
The Sydney siders, who finished in 4th place, are no stranger to sneaking into the semis and will be hoping to recreate their finals success of 2012/2013, in which they narrowly secured the last finals spot of the season to take out the championship.
However, to make that dream a reality once again, the Sky Blues will be have to avenge their last two meetings with Glory and make it third time lucky, in this winner takes all clash.
The head to head this season makes uneasy reading for Sky Blues fans who have seen their side defeated 1-0 and 5-0 respectively, by a record breaking Perth Glory side, who have been in prolific form since Round 1.
Glory pose an attacking threat second to none in the W League this season. They've scored an incredible 38 goals and conceded only 10.
In stark contrast, Sydney have a lowly +1 goal difference. Conceding 16 and scoring 17.
Glory's sharper attack and stingy defence, means that Sydney will need to up there game in this super-sized semi-final encounter, to stand a chance of making the Grand Final.
With five wins, three draws and four defeats, it is fair to say Sydney FC have had an inconsistent season.
Having accumulated 18 points -and sitting a huge 12 points behind Glory- it is clear to see there has been a lack of competitive edge for the premier position this season.
Kryptonite
Their kryptonite has been their lack of goals in high profile games and this could strike again in the semi.
Unlike Perth who have been scoring for fun, Sydney have struggled for creativity and precision in front of goal, especially in the games against their top four finalists.
The Sky Blues have averaged 1.41 goals per game.
In comparison, Perth's average is 3.1 goals per game. This statistic showcases the gap in attacking prowess between the two sides.
This could be Sydney's biggest downfall, especially against a tight Perth defence.
The Glory backline have conceded an average of 0.83 goals per game, the best in the league and in the clubs history.
So when Sydney get a chance, they need to covert it, as opportunities are few and far between, against this well drilled backline.
Sydney's biggest blow out of the season, came against Adelaide United in Round 9. The Sky Blues arguably put on their best showing of the season thumping the Lady Reds 5-0.
For the first time this season, goals flooded in from all areas of the pitch.
Nicola Bolger grabbed a brace, Renee Rollason snatched herself a goal, Olivia Price put her name on the scoresheet and star impor,t Jasmyne Spencer, added another to her tally.
However, their real problem has come against their top four opponents.
They have picked up only one point in four games against Perth Glory (x2), Canberra United and Melbourne Victory.
Even more worryingly for Sydney FC, they have only scored one goal in these fixtures, which came in the 1-1 draw with Victory.
But that is not there only problem.
Perth Glory put six past the Sydney defence in two games, Canberra United breached them three times in a compressive 3-0 win and Melbourne Victory bagged a goal in the score draw.
Not only has the attack appeared lacklustre, in these high profile fixtures, but the defence has also encountered off days against their fellow 2014 semi-finalists.
They conceded 10 of their 17 goals against their higher placed W League counterparts, which must be flagged as a cause for concern.
Key Players
Renee Rollason (Defender)
With five seasons under her belt at Sydney FC, Renee knows what finals time is all about.
Her experience in these big games will stand her in good stead and will no doubt settle others around her.
The 25 year old has scored three goals this season, which demonstrates her ability and importance at both ends of the pitch.
Her leadership, organisation and reading of the game will be crucial against the likes of Foord, Gill and Marzano in this crunch match.
Teresa Polias (Midfielder)
This crafty midfielder could play an influential role in Sunday's game.
Having been a part of Sydney FC's 2012/2013 championship winning squad, Polias knows how to get the job done.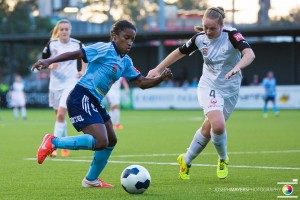 Teresa is talented, industrious and possesses creativity, which could wound Glory.
Without a goal this season, Teresa will be hoping, to not only create chances, but to perhaps get herself on the semi-final scoresheet.
Jasmyne Spencer (Forward)
The shining light for Sydney FC this season has been Jasmyne Spencer.
The 24 year old American forward has scored 8 goals this season- with her goals accounting for half of the teams tally.
She maybe small in stature but she has pace, skill and great goal scoring ability.
Although she hasn't yet broken the Glory defence yet, they will have to be on top of their game to stop this pocket rocket from netting a goal or two in this season defining fixture.
Copyright ©The Women's Game All rights reserved.