Perth Glory kicked off the seventh W-league season with a stellar squad and an aptly chosen hashtag #AllTheWay.
Perth Glory kicked off the seventh W-league season with a stellar squad and an aptly chosen hashtag #AllTheWay.
The best offseason recruitment drive of all clubs, coach Jamie Harnwell brought in former Sydney-based talents Caitlin Foord, Sam Kerr, Mackenzie Arnold and Alanna Kennedy.
The acquisition of these players has proven a key improvement for Perth complimenting existing talents such as seasoned Matildas' striker Kate Gill and midfielder Collette McCallum.
A somewhat disjointed and defensively vulnerable team at first, Perth were able to outscore their opponents and keep the points early in the season.
When it came to the mid-season crunch and they lost a key attacker, Glory maintained their cool and succumbed to only one loss.
Perth quickly developed a threatening reputation and were the team on everyone's lips to win the league.
Creative and relatively consistent, the Glory were rewarded for their stunning form with many 2014 W-league records.
Glory smashed out their highest ever win beating Western Sydney Wanderers 10-1. The purple swag also set a new benchmark for goals scored in regular season, striker Gill securing her second Golden Boot in the process.
This season has also seen former league fringe players such as Bronwyn Studman, Shannon May and Elisa D'Ovidio show off their abilities in a championship-worthy side.
Not all is rainbows and puppies however as a meniscus injury struck superstar Sam Kerr in the final round loss to Canberra United.
The impact of Kerr's absence cannot be understated.
Kerr is a crucial player for Glory. Her last outing against Sydney FC saw her leave WIN Stadium with a beautiful hat-trick and her huge work rate cannot be replicated. Kerr spends 90+ minutes dropping back to pick up loose ends as well as steaming forward on searching runs.
Perth have yet to win a Championship despite a few semi-final appearances. Now they meet seasoned finalists Sydney FC who have a habit of creating finals upsets.
Can Perth Glory go #AllTheWay and secure the prestigious W-league double? Yes they can.
Kryptonite
The only thing that has revealed a fault in Glory's armour thus far is the absence of key players.
The loss of 4 key players (Caitlin Foord, Alanna Kennedy, Sam Kerr and Mackenzie Arnold) saw Perth fall 2-1 to Canberra United last round. Perth have never looked as unstructured and tired as they did in the second half of Round 12.
Perth Glory have reasonable bench depth however the match fitness outside the starting XI seems lacking and the loss of a star can upset the apple cart in terms of structure.
Key Players
Alanna Kennedy/Bronwyn Studman (Defenders)
It is hard to separate centreback Alanna Kennedy and wingback Bronwyn Studman's as key defenders. So let's not. Kennedy has been an important part of the many jerseys she has worn and this season has seen her develop even further with improved decision making and fitness.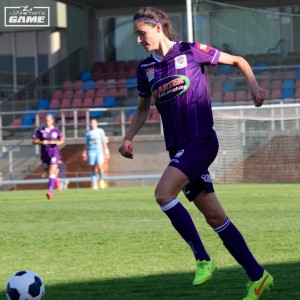 Studman has come onto the W-League radar in a big way as her physicality and smart use of her body makes her difficult to beat.
Collette McCallum (Midfielder)
McCallum is a quiet hero for Perth Glory. She has been a quality holding midfield workhorse and although well-known for her free kicks and corners it is her in-game playmaking this season that has been standout.
Kate Gill (Forward)
The Golden Boot winner of 2014, Kate Gill's expert finish is unmatched. If Gill is given a glimpse in front of goal she will put it away easily making her an incredibly dangerous player if unmarked in the box. Gill rarely makes mistakes and her professionalism is highlighted by her on-ball composure.
Copyright ©The Women's Game All rights reserved.