Canberra United fans will no doubt be ruing the semi-final loss against Sydney FC, or flatly refusing to acknowledge it.
Canberra United fans will no doubt be ruing the semi-final loss against Sydney FC, or flatly refusing to acknowledge it. After another dominant season, where they came closest to threatening Melbourne City's controlling debut, while ending up ten points shy of them on the ladder, United faltered before having a final shot at them. 
Season 8 wasn't without its challenges for Canberra, with Olympic qualifying preparations impacting the team at points, along with significant injuries to Emma Checker and Emma Kete, and the loss of Jodie Taylor who appeared to sign pre-season but failed to play a minute in green.
It was a standout season for a number of United stalwarts, with Munoz forcing her way back into the Matildas and Ellie Brush also in Olympic contention and finding herself prepared for an impressive NWSL season. 
Ashleigh Sykes again dominated up front, and was rewarded by winning the Julie Dolan medal as the most valuable player in the league. While Sykes ultimately chose not to continue with the Matildas last year, team mates Michelle Heyman and Lydia Williams went on to make their Olympic debuts at Rio 2016 and helped Australia to a position in the top 8.
After many years with the most stable roster in the league along with Brisbane Roar, United loses significant players from each third of the pitch this season, while welcoming returning players and some new faces. 
"It's a time for regeneration," coach Rae Dower told The Women's Game.
"It's a changing of the guard. Canberra started with a group that were about the same age nine years ago, relatively unknown youth players who went on to perform way above a lot of people's expectations for the next eight years."
"In that sense, regeneration was required. Some has happened by accident – Caitlin Munoz and Catherine Brown with their knee injuries. The others have happened organically."
"Some have moved on and retired, some are studying away from Canberra, some have finished uni and are starting new jobs which requires a bigger time commitment. 
"It's been an organic process but the team needed some regeneration. It's meant that a couple of young players have had their W-League start a bit earlier than they would have expected."
Carly Roestbakken and Laura Hughes are two such players. Known amongst the squad as 'the chipmunks', Dower calls them 'the burgeoning stars'.
"They're both mini Matildas. Carly's very versatile, she plays all across the midfield, and Laura too. They've both had opportunities with late injuries to Munoz and Brown, and they're in the squad with eye for the future."
[irp]
Taking Lydia Williams, Nicole Begg, Caitlin Munoz and Kendall Fletcher out of the green creates perhaps the biggest gaps on the pitch.  Injury and a gap year might mean Munoz and Begg are still a part of the Canberra beating heart, but without these four workhorses (including Fletcher and Williams) the core of the squad will be almost unrecognisable.  Similarly, Grace Gill's retirement and Catherine Brown's knee injury will create a challenge off the bench.
Despite the losses, Dower doesn't start her second season in charge with just a skeleton of a team like other coaches have been left with after big player movements. Rather, she has recruited a bevy of firepower and fresh talent, along with some familiar faces.
The addition of internationals Celeste Boureille from the Portland Thorns, Jasmyne Spencer from Orlando Pride and Yukari Kinga from INAC Kobe Leonessa fill the midfield and add some attacking pace to a team already boasting some of the best in the league. 
Making her debut in Australia, Celeste Boureille is a tall, strong player who is good on both sides of her body. She has good vision, lays the ball off well in every direction, and can score with both feet and her head.
Dower was full of praise for Boureille. "Celeste played 60 minutes against the Young Matildas during the week. She's strong in the tackle, distribution both footed, she has great game awareness.  She played all year with Raso at the Thorns. They see her as a high potential player. She has a high work ethic and she puts the team first which is the philosophy we have in Canberra."
Ashleigh Sykes and Ellie Brush will be the only foundation players appearing in Canberra United's Season 9 squad, while Stephanie Ochs (Houston Dash) and Hayley Raso (Portland Thorns) return to the ranks after impressive NWSL seasons. Internal promotions from the local Academy team, along with returns from injury (Checker) and Iceland (McCormick) round out what should be a fascinating team.
The question lingering over a team in such a state of change, will be whether there is enough time to gel and utilise a variety of new talents to get results, or if this becomes a rebuilding year.
To describe the squad as 'top heavy' seems unfair, but it's unclear how United will manage to use all of the finishing strength of Raso, Heyman, Sykes, McCormick, Ochs, and Spencer without compromising some other areas on the pitch.
Key Players
Ellie Brush (Defence)
Brush will be the key in a backline without both Begg and Williams for the first time in United history. She knows what it means to lead, having captained or vice-captained the side every year in its history, and her Matildas' aspirations would have been matched by her signing with the AFL's GWS Giants for next year's league.
Brush is regarded by most in Australia as the most difficult defender to play against. Brush will be familiar with most of the new faces in the W-League who mostly hail from the NWSL after Brush had an outstanding season with the Houston Dash.
Yukari Kinga (Midfield)
A team's midfield makes or breaks them in the W-League. While Dower admits she had been looking forward to seeing Kinga and Munoz boss the midfield this season, she's just delighted to welcome Kinga to Australia.
Dower is excited to welcome the first Japanese national team player to the W-League. "I was looking to recruit a Japanese player because generally they are very technically gifted, and very professional. I wanted to make a link through the Asian Confederation and build the partnership with the Japanese federation. We've had a lot to do with Coerver through Asia, and a lot of Japanese coaches come over and do training over here. I was delighted we were able to secure Kinga. She is an older Japanese player who will be a terrific role model. She really wants to immerse herself in the football community here."
Kinga is a winner, having been named in the Japanese L-League team of the year on six occasions, winning 8 league titles, an Olympic silver medal, and the big one of course, the 2011 FIFA Women's World Cup.
"Kinga means 'gold' in Japanese," Dower said, proving she has been preparing in more than just football terms for Kinga's arrival. "We're hoping some of that gold rubs off on us this season."
Hayley Raso (Attack)
Raso has had a coming of age year of sorts, playing at the Portland Thorns, winning the league but falling short of winning the championship. Sometimes it takes setbacks to learn the resilience required to succeed in elite sport and Raso suffered a string of those in recent years.
Her speed and fine touch made her a popular member of the Canberra United team in 2011-2013 including Canberra's unbeaten season, which set her up for an entrée into the Matildas and an easy signing back home in Queensland with the Brisbane Roar. Last year's season with last placed Melbourne Victory didn't help her pitch for national team selection and she suffered another set-back in the US losing her spot at the Washington Spirit, only to be picked up by former coach Mark Parsons at Portland Thorns where she became an instant crowd favourite.
Raso featured heavily in the Thorns' success, and was often credited as being the best crosser of the ball in the team. Knowing she has added perfection to this part of her game will put fear into the minds of opposition defences.
One to watch
Jenna McCormick (Defender/ Forward)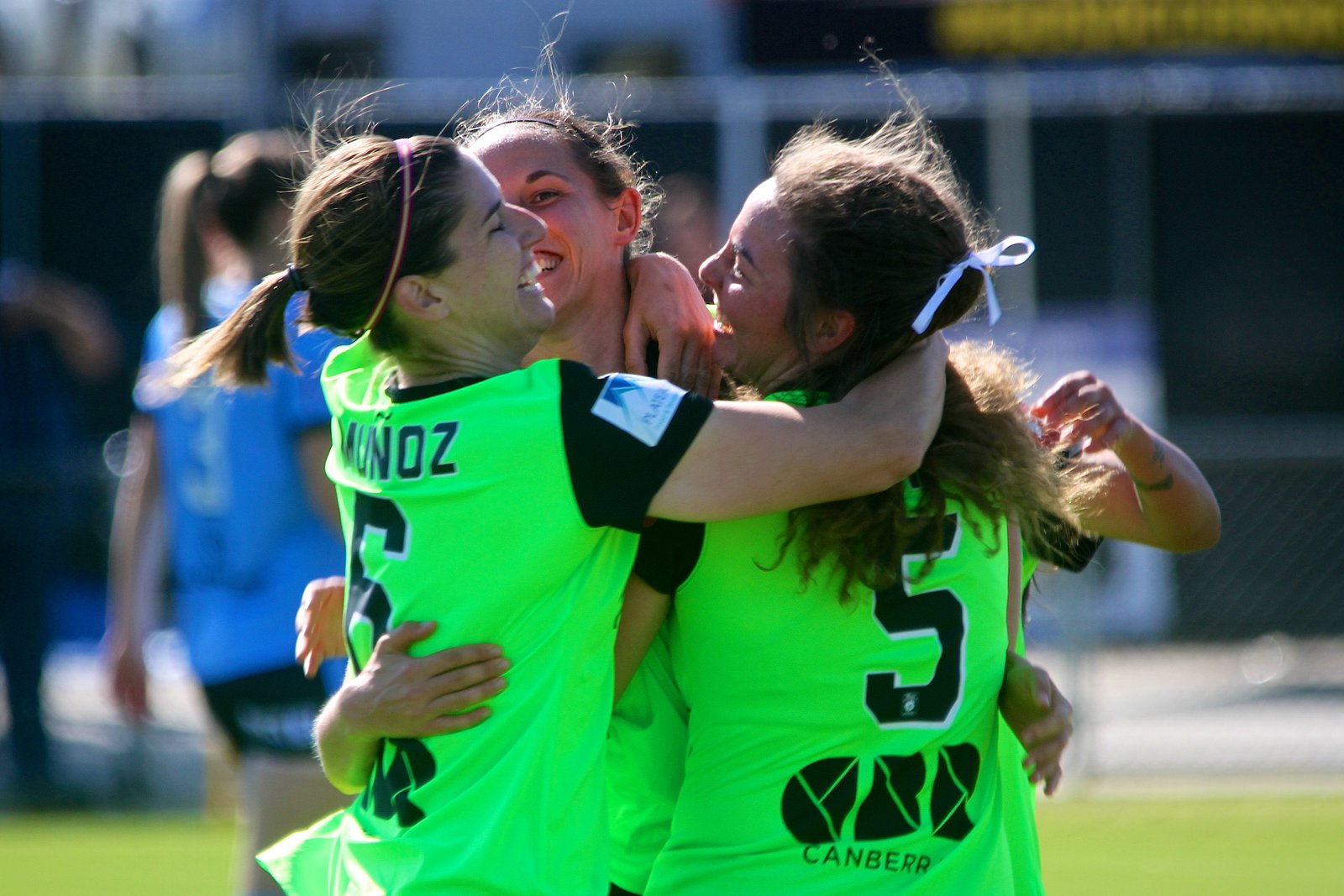 McCormick arrived in Canberra for season 8 as somewhat of an unknown quantity, but made a mark and treated McKellar like her home pitch.
She was well regarded in the backline, and outstanding when she was called on to push up front when needed.
"We have a couple of players who are very versatile," Dower said. "Jenna can play attacker or defence. She's someone who showed last season that stepping out of your comfort zone can take you places. We have some really good characters on this team."
Consider McCormick the trump card due to that versatility. She's just arrived home from winning the league in Iceland, and is bolstered with the confidence of signing up to the Adelaide Crows in the inaugural women's AFL next year.
---
CANBERRA UNITED SQUAD
1. Trudy BURKE (gk), 2. Yukari KINGA, 3. Julia DE ANGELIS, 4. Clare HUNT, 5. Jenna MCCORMICK, 7. Ellie BRUSH, 8. Hayley RASO, 9. Jasmyne SPENCER, 10. Grace MAHER, 11. Michelle HEYMAN, 12. Hannah BREWER, 13. Celeste BOUREILLE, 14. Ashleigh SYKES, 15. Emma CHECKER, 16. Karly ROESTBAKKEN, 17. Laura HUGHES, 19. Nickoletta FLANNERY, 20. Georgia BORIC (gk), 22. Stephanie OCHS
Copyright ©The Women's Game All rights reserved.