The heavily anticipated cross-town clash between rivals Sydney FC and Western Sydney Wanderers has finally arrived.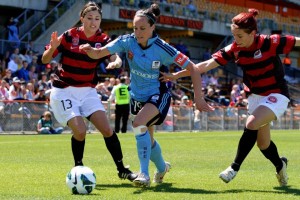 The heavily anticipated cross-town clash between rivals Sydney FC and Western Sydney Wanderers has finally arrived. The Round 4 match-up delayed due to Sydney's commitments to the Mobcast Cup in Japan.
The midweek derby will see hosts Sydney FC back at home after a trip up the M1 where they comfortably defeated the struggling Newcastle Jets 3-0.
The Western Sydney Wanderers spent Round 8 in a heated battle away to Adelaide United that finished 1-1 with a stunning 90+6 minute Wander-goal from seasoned striker Michelle Carney.
Sydney FC remain undefeated coming into the derby with Caitlin Foord showing red-hot form in her forward role, following up a hattrick against Perth Glory with a brace against the Jets.
The Sydney midfield of Renee Rollason, Leena Khamis, Nicola Bolger and Teresa Polias continue to work magic with nifty one-twos reminiscent of a futsal game. Polias a particular menace who possesses seemingly psychic powers, able to read passing lanes and pick pockets.
Young gun Chloe Logarzo also showing an improved physicality with better ball-protection as she has been provided more time on the pitch.
The Wanderers have had a roller coaster season thus far with mixed results. Half measured scoring with some early defensive deficits sees them sitting almost even on goal difference.
The Red and Black Sydney-siders have endured heavy injury casualties such as the likes of US import Tori Huster and Matildas star Kyah Simon. But the return of Alanna Kennedy and Heather Garriock has been a welcome to bolster the side.
In-form US import defensive midfielder Shawna Gordon was awarded W-league Player of the Week before the break and her tenacity (along with the workload of Linda O'Neill) will be a key factor in keeping the ball at the Wanderers feet.
Combining with Emily Van Egmond in the midfield, Servet Uzunlar expected her return to the starting XI could be a big problem for the W-league forerunners who were hoping the Wanderers would remain quiet.
Sydney FC will look to open the derby with the usual 'all guns blazing' - the guns in this case being Sam Kerr and international pairing Jodie Taylor and Emma Kete.
Not to be outdone by the forwards, the backline work horses Alesha Clifford and Lizzie Ralston (who covered a lot of field in a fullback role) will be up to the challenge.
The last contest between these two was a Round 12 must-win for Sydney FC that ended 3-2 the sky blues way with a sneaky 83' minute goal from Bolger the difference.
With Sydney FC the team to beat this season the Wanderers will look to press the hosts to force errors and disrupt their composure.
Sydney in build-up are very tidy but the finishing touch is not always there. If the Wanderers can focus on stifling the attack by applying constant pressure in the penalty box it may be enough to frustrate Sydney FC into mistakes and shots off target.
Meanwhile the Wanderer will be confident that their defence of Caitlin Cooper, Kennedy, Teigen Allen and Mackenzie Arnold can withstand anything the Sky Blues throw at them.
Notably, the A-league Sydney derby was played in front of a sell-out crowd on Saturday with Sydney FC conceding to a 1-0 loss late in the game.
Just like their male counterparts, these teams are playing for city pride and there will be no love lost.
With player's who have worn both jerseys sitting on each side of the park the glory of victory in an inter-city rivalry should not be discounted as a key factor in deciding the eventual winner.
---
Head to Head: Played 2, Sydney 2
Sydney FC v Western Sydney Wanderers
Wednesday 15 January 2014
WIN Jubilee Stadium (Kogarah), Sydney
Local kick-off: 7.30pm 
Sydney FC squad: Casey Dumont (gk), Liz Ralston, Alesha Clifford, Danielle Brogan (c), Amy Harrison, Caitlin Foord, Teresa Polias, Nicola Bolger, Renee Rollason, Jodie Taylor, Emma Kete, Leena Khamis, Trudy Camilleri, Sam Kerr, Chloe Logarzo, Sham Khamis (gk) (one to be omitted)
Ins: Trudy Camilleri (promoted)Unavailable: Ellyse Perry (cricket commitments), Anna Green (Achilles – four weeks), Natalie Tobin (illness – four weeks)
Western Sydney Wanderers squad: 1. Mackenzie Arnold (gk), 2. Caitlin Cooper, 3. Shawna Gordon, 5. Emily Van Egmond, 6. Rachael Soutar, 7. Heather Garriock (c), 9. Jenna Kingsley, 10. Servet Uzunlar, 11. Michelle Carney, 12. Jessica Seaman, 13. Catherine Cannuli, 14. Alanna Kennedy, 15. Teigen Allen, 16. Linda O'Neill, 18. Helen Petinos, 22. Dimi Poulos (gk) (one to be omitted)
Ins: Jenna Kingsley (returns from absence)Unavailable: Tori Huster (knee – two weeks), Camille Levin (hamstring – three weeks), Kyah Simon (knee - season)
Copyright ©The Women's Game All rights reserved.