It has been quite some time since TWG last caught up with Racheal Quigley, one of W-League's most prolific goal scorers with successful stints at Adelaide United, Melbourne Victory and most recently training and an appearance with Melbourne City.
It has been quite some time since TWG last caught up with Racheal Quigley, one of W-League's most prolific goal scorers with successful stints at Adelaide United, Melbourne Victory and most recently training and an appearance with Melbourne City.
Quigley has been working her magic with Hwacheon KSPO in Korea's WK League and as they're heading towards the last few games of the season, the striker caught up with us to discuss her season, goals and lessons playing internationally.
How is the season progressing and coming up to the end of the season, what have you noticed since the last time we chatted back in April?
With Hwacheon currently sitting fourth, and with only the top three teams making the playoffs, Hwacheon's goal is to win their last three matches to secure a finals spot.
Beyond that, the Korean league is a very fast tempo game with a lot of emphasis on counter attacking, which has been beneficial towards my fitness condition as we are attacking constantly!
A lot of our conditioning is literally laps of the field, but its helped me run out games right up to the 90th minute. Every training session is between 2-3 hours. 2 days a week being double session days with weights and running. 2-3 hours of training is extremely demanding especially in the heat I have experienced here!
The humidity was on a whole other level to what I've ever experienced. All sessions are technical ball work based with simple drills but making you think constantly. In one passing drill we include 4-5 different combinations, so there is no time to be daydreaming!
The other side to the long and heavy schedule is being aware of fatigue and injuries. I have become best friends with our Team Doctor for that purpose! My Doc takes care of every tight muscle with daily massages and some interesting old school Korean medicine techniques! Luckily I have only had some minor injuries which can easily be looked after.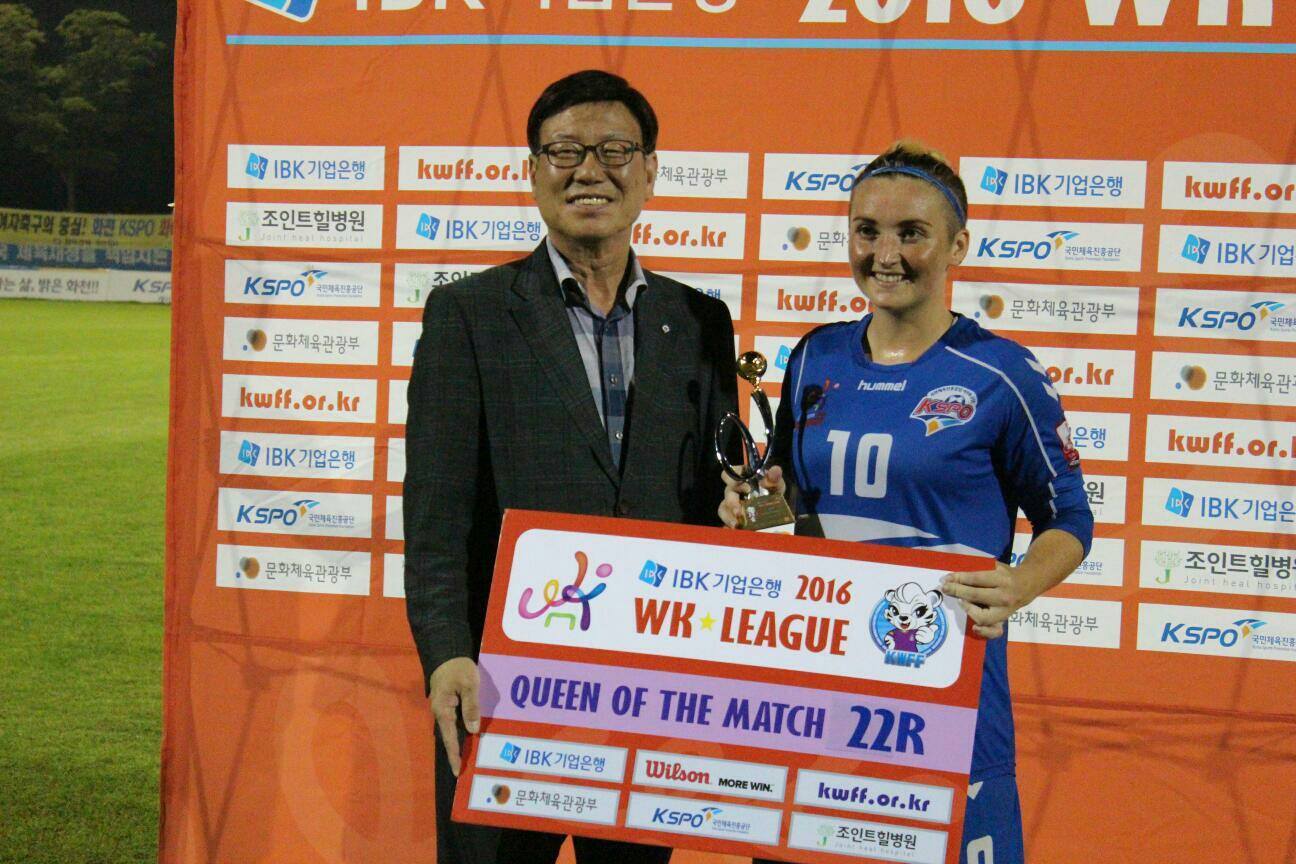 Personally, how have you been playing given all the challenges and differences?
My personal performance has reached a new level since coming back from my shoulder surgery last year. I've remained the leading goal scorer for the league for majority of the season and am 4 goals ahead! A few more goals in the last few games will keep me at a very successful first season in South Korea.
On top of that, I have reached a good fitness condition in my time here and plan to work at it even more coming into the Australian W-League season.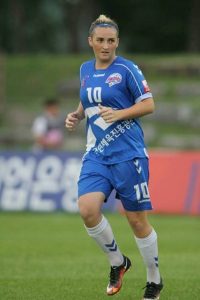 When are you coming back to Australia and what's your W-League plan?
My return to Australia is determined by results in the next few weeks. I could be home as early as October 1st and at the latest October 20th.
I am excited to announce I am returning to the Adelaide United Lady Reds this season. The last couple seasons in Melbourne were incredible for my development and I am grateful for the opportunities I've had with both Victory and City. I'm looking to have a very solid season with the Lady Reds and really push for finals for the first time in Lady Reds history.
If you take a moment to think about the best thing about your Korean football adventure, what comes to mind?
The best thing by far is living and breathing football while being treated as a Professional Athlete. The one and only responsibility you have is football. Also learning new techniques and skills that are used more here than they would be in Australia.
Besides football, last time we chatted you were very happy with the Korean lifestyle and culture. Has that trend continued?
There are many things I love here. The food. I cannot get enough of the Korean BBQ here!
The people. I have created some incredible bonds with my teammates and coaches which took so much effort considering only one player knew english out of the whole 24.
The lifestyle of a professional Korean women's player speaks for itself, we are treated as professional athletes.
Given the strong bond you have formed with the players, has there been any interest about coming to Australia to play in the W-League?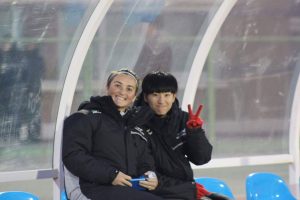 I'm going to be honest, no one was interested. In fact my teammates think I'm crazy for even returning to play in the W-League this year.
Key factors:
Income

- My teammates were in shock of the comparisons in pays between both leagues.

Season Structure

- The size of the league seems more like a small tournament than an actual league.

The Korean players only have 1 month holiday until they're straight back into Pre-season for the next season.
Did you set yourself a goal or goals for your time away and have you achieved them?
I think goals are always important.
Without knowing what to expect of the Korean league, my number 1 goal was to gain the respect of my club and the league by my performances each week. I believe I have been successful in this. 
As a striker leading goal scorer is always a priority and so far so good!
Another goal was to immensely improve my fitness condition and get my shoulder back to full strength again, I have done extremely well with this goal but as always there is more room for improvement.
What's the next goal?
Each goal is always to push closer to the next goal.
I'm looking towards having a very solid season with the Lady Reds. Leading goal scorer as always is a goal but along with that I want us to be successful as a team and push for finals football!
My entire life my goal was to push for a call up to the National team. To this day it is still my main goal and the biggest reason I am returning for W-League.
As for next year, I am currently discussing another season here in South Korea for Hwacheon KSPO, and I couldn't be happier about it!
Copyright ©The Women's Game All rights reserved.