The Women's Game publishes a three-part series on the W-League including a look at where the players see the state of play, a look at the emerging women's sports leagues and a look to a continued future.
The Women's Game publishes a three-part series on the W-League including a look at where the players see the state of play, a look at the emerging women's sports leagues and a look to a continued future. The series is hoped to lead to constructive discussion about the W-League. 
For many reading this series football is their first and last love.  However, the reality is in Australia there is a vast sporting landscape and that landscape is changing to be more inclusive of women.
When the W-League first started, having a full state, national and international pathway was a big lure for many players.  Now the other sports are catching up with netball, cricket, rugby league and now AFL all now looking like equally attractive propositions for young girls.
Chinese general and military strategist Sun Tzu once said "If you know the enemy and know yourself, you need not fear the result of a hundred battles... If you know neither the enemy nor yourself, you will succumb in every battle."
So what are other sports doing well to turn the heads of current and potential future football players?
Loosening the purse strings 
"My love for the game keeps me playing but being paid enough throughout the season so I can survive without having to rely on my parents would be nice."
Love for the game can only go so far.  That was evident in the players' responses in Part I.
With 28 of 32 players citing payments and salary as one of their concerns, it would be disingenuous to not consider it a key issue that needs to be addressed, especially for those players who are not contracted with the Matildas or overseas clubs.
"Straight up they already offer a better income."
It is that statement that exposes the vulnerability of the W-League to enticement from other leagues.
Sport
Reported Salaries
Cricket
$7,000 ( WBBL)

$11,000 (WNCL)

Netball
$67,500 (average)

$27,375 (min)

AFL
$5,000 (Rank 1)

$10,000 (Rank 2)

$25,000 (Rank 3)

W-League
$0 - $15,000
That is not to say that all the other sports are offering significantly greater salaries.  They are not but that in itself is damning, as for the average W-League player, even the above salaries are currently more attractive and that is a problem.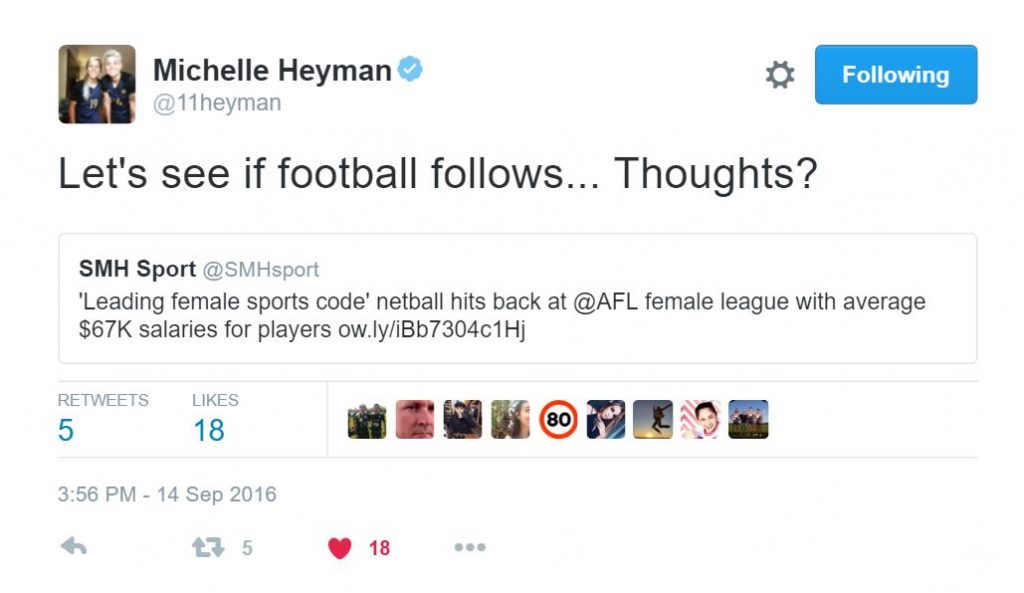 "We're very aware of the other sports that are spending more in this space but we're staying firm to our strategy, which is growing the A-League and W-League together," FFA's head of women's football Emma Highwood said in an interview with the Daily Telegraph in May 2016.
"What we have to offer as a sport is more than just a league. If you are a top player, you can play overseas in club football, internationally for the Matildas, there is the prospect of a World Cup or, as we have just seen, the Olympics," Highwood continued in the Sydney Morning Herald in September 2016.
While the World Cup and the Olympics are an attractive proposition, the reality is that's a pathway that is open to just, at a maximum, 18% of the Australia born W-League players.  We will let the players state it.
"They [Olympics and WWC]  are part of but financial stability, job stability and education help is missing."
"The Olympics and WWC are not enough of an attraction because they are realistic pathways to only very few of the girls playing in the W-League. Great spectacles, but not feasible for most."
For the rest, the question of whether to play the W-League is a year by year proposition with players increasingly making the decision to either head to American colleges, if they are young enough, or retire at relatively young ages - 26, 27, 28. Former Sydney FC and Western Sydney Wanderers goalkeeper Dimi Poulos articulated the dilemma back in a 2013 TWG interview.
"That's the problem with women's football," she said. "You eventually have to think about the financials."
"You can keep going and struggle to support yourself or you can get some stability."
https://twitter.com/gracegill9/status/772547934604759040
Add to that the fact that cricket (One day and T20 World Cups), netball (World Cup and Commonwealth Games) and rugby sevens (World Cup and Olympics), all have the lure of representing Australia as well and there needs to be greater differentiation for football to compete.
It would be remiss to make out that Australia is the only nation to grapple with sustainable pay issue as the American NWSL is having the same conversation.  They too are seeing players retire at relatively early ages to pursue more financially sustainable careers with the latest player former Western Sydney Wanderers midfielder Keelin Winters.
https://www.instagram.com/p/BKMPjSrjTiX/
How football addresses this question, or even if they choose to address the question, will be interesting. And it is not just on the FFA to be part of a solution.  Professional Footballers Australia will also need to play a part in this.
"If I could play football and earn decent money...Currently I am considering retiring because I need to work"
While the PFA were able to secure a pay increase for the Matildas contracted pool, it was noticeable that the W-League players were not included in the "Whole of Game" bargaining alongside the Socceroos, A-League and Matildas.  With Stadium and Injury Reports and the founding of a W-League committee, steps have been made by the PFA to advocate for the welfare of the non-Matildas contracted W-League players but they are still well behind their Matildas counterparts.
In all of the discussion on salary, one statement of Highwood's did ring true:
"There is more to the decision-making than just money, although that is a factor. It's also important to remember that their league [the AFL] has not actually started yet and they do have to build it."
Yet, as it stands, the other leagues have a running start and they are making all the right noises on building on it.
Media and Corporate
In this arena, Cricket Australia and AFL have strong corporate and media partnerships and they are leveraging these cleverly in positioning the women's game in their product mix.  Meanwhile netball has continually forged its own relationships on the back of leveraging its key products; the ANZ Championships and the Diamonds.  
With cricket it was evident in their successful launch of the T20 Women's Big Bash League. 
https://twitter.com/CricketAus/status/619412178278350849
In launching the WBBL, Cricket Australia followed the FFA's 2008 lead in aligning the women's franchises with their already established and recognisable men's clubs.  Cricket Australia also were able to  leverage their commercial relationship with Channel 9 to see the WBBL broadcast live on that channel.
Also following the FFA lead, Cricket Australia scheduled several double headers with the results strong ratings in the first season which allowed them to gain a naming rights sponsor.
https://twitter.com/libby_trickett/status/677370004698894336
AFL has gone one step further with four of the eight foundation clubs have announced their sponsors already for the inaugural season to take up prominent branding positions on team jerseys and apparel.
https://twitter.com/DMCSportAU/status/772237993146974208
https://twitter.com/dmcsportau/status/773067014772588544?refsrc=email&s=11
https://twitter.com/TiarnaErnst/status/773422550684733440
It remains to be seen whether that AFL corporate support will trickle down to players by the way of increased wage.  But in cricket, corporate support and big media deals for the men's side of the game has trickled down to the women's side.
https://twitter.com/SiddheshSays/status/753148555339018240
It's a play that football fans don't often see from the FFA or the clubs who, in the main, appear to negotiate separate commercial and broadcast arrangements for their men's and women's teams.
To their credit, the FFA have provided a six figure sum to ensure that the W-League is both on free to air (ABC TV) and pay TV (Fox Sports).  It is a significant investment and one that many women's football leagues around the world would be thankful for.
There are pros and cons for the traditional medium approach.  The significant pro has been the regular access to matches for the general public in Australia but this has been tempered by the con of locking out the rest of the world and, in particular, women's football's biggest market - the United States.  That is still an ongoing question especially with so many international players within the league and a significant portion of them either American or playing in the US NWSL.  It is difficult to see how opening up the W-League to a greater audience would be detrimental to the league.
Then there is the media coverage.
It seems the AFL and its partners are already celebrating their female players, administrators and media. Fox Footy has signed up long time football and AFL  journalist Anna Harrington to report on AFL, Channel Seven is using the same sports presentation team they use to present men's football, and the ABC's Australian Story recently featured Western Bulldogs board member and women's football advocate Susan Alberti and player Moana Hope.
On the AFL website there have been daily updates posted about the upcoming women's AFL competition, with multiple stories on some days. In contrast, there have been just two stories posted on the FFA's W-League page since the start of August 2016 despite the season kicking off in two months, with minimal leverage off any potential heightened interest created by Rio 2016.
Alberti spoke to The Herald Sun earlier this year about women's AFL. "There is no stopping it, it's just growing," Alberti said. "Although we have to be smart about it because if we're not smart then other sporting bodies will be promoting women in their games."
And what leverage they have.  The AFL as an organisation is a behemoth and are using all their media weight towards the promotion of their new women's league as with the below just one example.
https://twitter.com/sundayagesport/status/772044133707898881
There was nowhere near close to that coverage when Melbourne City finished an unbeaten season with a dominant W-League Grand Final win earlier this year.  A majority of it is to do with football's smaller status in several states where other codes hold greater sway.  However, a fair part of it is to do with the mindset regarding the W-League, as one player stated, an "afterthought".  It is evident when clubs who run W-League teams put out commercials without W-League players or club emails don't include W-League match details or when a digital agency partner is announced that will market all of the key FFA properties except the W-League.
https://twitter.com/SportBizInsider/status/772671430081196033
The leader in marketing women's sport and converting grassroots participation into "bums on seats" is netball.  Netball Australia have been impressive in their ability to understand their customers and market to them in ways that speak to their knowledge of their customers.  Like this brilliant 2010 ode.
https://www.youtube.com/watch?v=FO7iMX553fo
The result has been an average of close to 6,000 spectators per ANZ Championship match and consistently high attendances at Australian Diamonds internationals.
Netball Australia have also successfully activated their corporate sponsorships with partners like Samsung creating engaging content that tells the stories and makes heroes of their star players.
https://www.youtube.com/watch?v=1nsyIw0k_Iw
Maximising leverage, imagination in activation and conversion of participants it's a clever and orchestrated campaign for "hearts and minds".
Women's participation in key roles
In the coaching and umpiring stakes, again the AFL could be seen as conservative on the one hand, or strategic on the other. Their play seems to be to provide an opportunity to a woman (eg. Chelsea Roffey - umpire, Peta Searle - coach), promote it like nobodies business, and watch others with ambition walk towards the light.
While not all of the coaching appointments have been made public, there are some notable appointments that prove the AFL are supportive of women in coaching roles. Michelle Cowan was appointed head coach of the Fremantle Dockers having coached Melbourne in recent women's exhibition matches and having contributed to their men's programs. Given her home base is in Fremantle, it was an obvious decision by the Dockers.
More inspired perhaps was the appointment by the Adelaide Crows of Rebecca Goddard to the appointment of head coach. Goddard has been a player, umpire and administrator in Melbourne, Canberra and now Adelaide, and has developed a strong coaching skillset which has been rewarded with this coaching role with the Crows. Two other clubs have announced female assistant coaches - Nikki Harwood at Collingwood and Jane Lange at Carlton.
Netball again is the leader in the coaching area with most of their Australian ANZ Championship teams in 2016 coached by women.  That there are opportunities being made available provides another pathway for women within the game and is another lure to the game.
| | | |
| --- | --- | --- |
| Sport | # of Teams | Female head coach |
| ANZ Championships (netball) | 5* | 4 |
| WNBL (basketball) | 9 | 3 |
| Women's BBL (cricket) | 8 | 3 |
| Women's AFL | 8 | 2 |
| W-League (football) | 9 | 2 |
*Only Australian teams counted
Also most of the W-League teams have female assistant coaches including Leah Blayney (WSW), Collette McCallum (Perth Glory) and Kat Smith (Melbourne Victory), to name a few. The coaching area, however, is one where there have been strides made with coaching courses and mentoring programs looking to reward good candidates and create a genuine pathway.  Is it enough? Of course not but it is a start.
The same could be said for the addressing the under-representation of women in administrative positions related to women's football.  Currently, with the retirement of Heather Reid in early 2016, there is only one female CEO - Cathy Acocks (interim FFV CEO) - of a state federation. Meanwhile all the A-League presidents who currently administer W-League clubs are also male.  That is not to say that they cannot competently run the clubs but again it is about a viable pathway for women in the game.
Long time administrator in women's AFL Leesa Catto told The Women's Game that the opportunities are starting to open up for women within AFL. "The football industry is starting to realise that females do understand the game. There are more women coaching at a local level and developing themselves in the game, and we're starting to see more women being offered roles. It's fantastic," she said.
"Right across the board, the code is embracing women's football," Catto said. "Media are writing stuff. The players are being embraced by the clubs, the players' actions in the exhibition matches are making people realise women can play footy, and the sponsors are lining up. The AFL knows it's a good opportunity for the game and a good business opportunity. I really think they believe in it."
One area that football does come out on top is in relation to officials with the FFA Referees program consistently producing AFC and FIFA level referees.
There is evidence that officials at the highest level of other sports are engaged in strategising the success of the women's game and perhaps that is the biggest threat of all.
Hearts and minds battle
In local leagues, AFL has done a good job of luring good athletes to the game. Over the past 15 years, local teams have been peppered with players who have represented Australia in other sports.
In Sarah Groube's short AFL career in Sydney she played alongside Australian representatives Jamie Robertson (formerly Rosman - football), Kyrsten Winkley (rowing), Cheryl Soon (rugby union and rugby sevens), Selene Thornton (rugby sevens) Nicki Richards and Tarsha Gale (rugby league), and probably more, all drawn to the sport because of the allure of the game itself and the community spirit of women's AFL. Indeed, Moya Dodd (AFC and FIFA Executive Committee Member) and Groube used to match up against each other in the forward/back pocket.
Elite athletes have tended to choose AFL at the twilight of their elite playing days in their original sports, but with the national AFL a reality, and the hint from the AFL that professional salaries will be a reality a few years away, this will surely attract talented juniors to choose AFL over other sports that are making no such overtures at the national league level.
https://twitter.com/7AFL/status/775869192067092480
In appealing to the hearts and minds of players, the AFL is making the right moves. For the exhibition match, the Western Bulldogs printed the names of all of the Bulldogs players who had played in all of the pioneering exhibition matches, showing respect for those who have paved the way in recent years to the national competition. In contrast are the stories of W-League players who waited half a season to receive a training shirt from their clubs.
There is an argument that AFL does not have the international lure that other sports do. No World Cup, no Olympic Games, no overseas clubs to break into. In contrast, being an elite AFL player means that you are the best in the world. The bright lights are here at home. The bright lights will soon be available week in, week out (not just once every four years), and while the selection process will be competitive, there are many more slots available in the AFL than in any other sports' national team pool.
https://twitter.com/DFS_AUS/status/743344795406348289
While AFL is the easily translatable sport for players currently at the elite level, it is not just AFL that football will be competing against at grassroots level.  As mentioned above, cricket, netball and rugby sevens all provide the opportunity to wear the green and gold at the international level.
https://twitter.com/SENNews/status/772272167077580800
Competition for players is already heating up.  AFL have been the biggest poachers but they are not the only ones.
https://twitter.com/GirlsPlayFooty/status/750175800800849920
https://twitter.com/freodockers/status/775943915098640384
https://twitter.com/UR7s/status/375159110632620032
https://twitter.com/FOXSportsNews/status/654117389118763008
Possible international representation, reasonable incomes at the national level, reasonable costs at junior level and the decision becomes a tougher one for parents with young girls.
And make no mistake, at grassroots is where the battle will be fought and felt with football generating income from the fees of junior female players. If that starts to erode then there are implications for women's football further up the pyramid, financially and in terms of the calibre of players available for the national team.
The big players have made their moves so what is football's move?
In part three we discuss the future with thoughts from an informed insider. 
Copyright ©The Women's Game All rights reserved.