The Women's Game publishes a three-part series on the W-League including a look at where the players see the state of play, a look at the emerging women's sports leagues and a look to a continued future.
The Women's Game publishes a three-part series on the W-League including a look at where the players see the state of play, a look at the emerging women's sports leagues and a look to a continued future. The series is hoped to lead to constructive discussion about the W-League. 
In the past year netball, cricket rugby union and now AFL have announced significant and progressive changes to their elite competitions for women.
With all the media attention surrounding those sports, it's easy to forget that football was one of first to provide a league that showcases the talents of some of Australia's best athletes.
At inception in 2008, the W-League product was fresh and exciting with strong and continual marketing (whether you agreed with it or not), good traction in traditional news mediums and strong ratings – much like the ANZ Championships, Big Bash League and AFL really.
The problem is that eight years and eight seasons on not much has changed. There are still eight teams – with fluctuations over the years – the majority of the players are still semi-professional / amateur and the crowd attendances and league awareness is still the same with relatively small growth (from the publicly available attendance figures).
The advent of the new women's leagues in the different sports demonstrates that if you are not changing, you are going backwards.
That is what a canvasing of the key W-League stakeholders – the players - brought to light.
The respondents
Of the 128 Australian players in the W-League, 32 responded to questions in relation about the league, the attraction of football, the incentives to play other sports and what changes they believe are required to keep players within the game.
Of the 32 respondents 73.33% had represented Australia at U17, U20 or at a senior level and all had played multiple W-League seasons.
Digging deeper
Earlier this year the PFA undertook a W-League summit to discuss the state of the league.  Following the results of that meeting, TWG spoke to four players and support staff to listen to their experiences. It hit a nerve and many more players contacted us wanting to add their voices.
A couple of simple questions were asked:
What keeps you playing football;

What are your greatest concerns about the W-League;

What changes need to be made to keep players in the game;

Would you consider switching to AFL and why?
Here is what they said.
What keeps you playing football?
For a majority of the players representing Australia is a big incentive and the dream to represent the Matildas keeps burning.  However, for many others, the reality of the limited Matildas places means that they find other reasons to keep playing W-League but it is not without caveats.  Ultimately, love of football is the overriding theme.
"My love for the game keeps me playing but being paid enough throughout the season so I can survive without having to rely on my parents would be nice."
"Olympics, World Cups and representing my country on the world stage, however remuneration needs to continually increase."
"Football is why I play."
"At this point the LOVE of it is why I haven't already walked away from it. No, WWC and Olympics are not enough. Our federation is a joke. Why have they not invested more in our W-League? Two solid rounds? THAT should be a priority of which they never seem to be held accountable for."
"Yes of course, everyone wants to play in the World Cup and Olympics but having personal contacts with girls in the team, the politics and structure of selection diminishes hope about getting selected."
What are your greatest concerns about the W-League?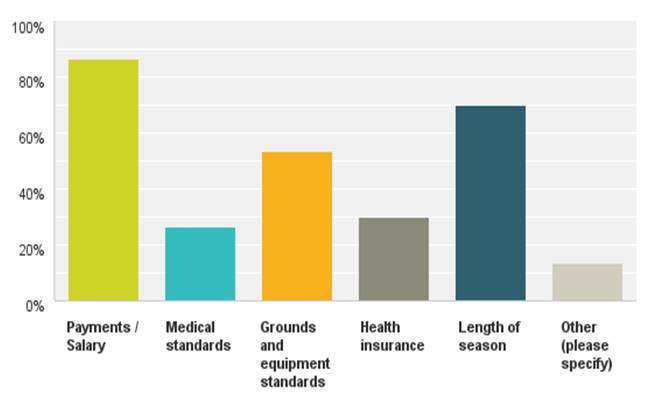 Other concerns raised included:
"Playing at a better time. Not at 2pm in the middle of the day when its the hottest part. No one should be playing in that kind of heat and be expect to play at there best. The men's games are at night time and so should the women's games."
"Travel issues eg 7 hour bus rides, travel the same day as playing."
What changes do you think the W-League needs to make to keep players in the game?
As always remuneration was one of the consistent themes from the players. As highlighted in the PFA findings and our initial article, for many of the players being a part of the W-League costs them money; either in financial outlay or lost job opportunities.
While the W-League has a nominal salary cap of $150,000 per team, few clubs use the full extent of it.  Anecdotally, as few figures are released and a salary survey has never been publicly released, the payments range from $0 - $15,000 for a 14 - 16 week season with upper end usually paid to internationals or Matildas.
This led one respondent to state:
"The majority of players in the W-League are local. Without them, a league cannot be sustained. Because of this, while the marquee and international players are important, the local state girls must be kept in the game if we want to keep a league in Australia. The correct treatment of the local players, both long term and young up and coming talent, is completely understated."
•  The issue of payment featured in 28 players answers
"Raise salaries due to the increased work load and training load, which has an affect on how much time is available for you to work."
•  17 players stated the need for a longer season
"A longer season! At least 2 full rounds - can hardly take the season seriously when it's over straight after it starts."
"Making it a professional league including extending the length of the season."
"Longer seasons and more exposure which brings more money for the players"
"We need to make it a full home and away season. make it as professional as possible to attract big sponsors and players."
•  12 players cited publicity and promotion of the game
"Also raising awareness through all media forms/ matching that of the Socceroos and rugby teams"
"It sometimes feels like we are an afterthought. Few mentions in club emails or no regular public appearances at schools or clubs.  Not enough being done regularly to get the word out which is a shame"
•  10 players mentioned the issue of respect; from their clubs and the federation
"CARE! People in our federation that actually care and will do a good job not just because they have to but because they want to. I think W-League clubs deserve more assistance from our governing body."
"Treat us as the professional athletes we are."
•  Other issues raised included:
"Make allowances for players who've had children"
"Increased standards of training and playing facilities"
"Better accommodation on away trips, gym programs/ facilities, sponsors etc"
"Provide health insurance, provide minimum standard facilities and travel conditions"
"Contract stability, longer contracts i.e. 2 + years"
"Support in little things like gym memberships, cover cost of private health and having proper training facilities not being palmed off to shitty things"
"Equal standards/treatment as boys"
The AFL question
While a lot of the conversation above has been building for a while, it has definitely become louder with the continual positive news coming out of other sports and, in particular, the new AFL Women's League has made an impact on W-League players.  Many may not want to hear it but the AFL is set to be a threat to the W-League and its ability to retain players.
AFL has already made a play for a number of Matildas players and, while they were largely unsuccessful, at the W-League level is where they could have success and that is an issue for the governing body and member federations. AFL are already aware of this with several players from the Melbourne clubs already approached and one player, Jenna McCormick, already committing to an AFL team for 2017.
If asked right now, would you be interested in switching codes and playing AFL?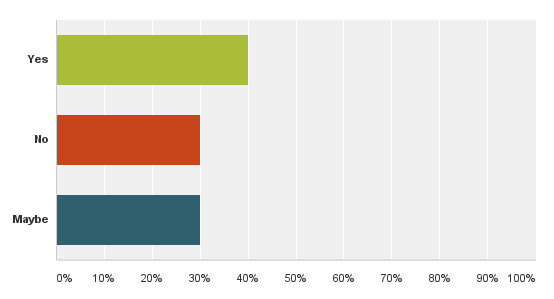 That 70% of the respondents, solid W-League players, answered Yes/Maybe to a code switch has to set alarm bells ringing.
"The game is still amateur here, therefore we can still do both and until the game is more professional people will continue to do both. If soccer had better television and governing body support - it would be the first choice by far. "
What are the main incentives to switch and play AFL?
"Well organised. Their governing body actually seems to care about their game and is giving them the resources to grow."
"Straight up they already offer a better income."
"New challenge , we would pick it up easy, have played a few games before."
"Money, publicity, professional treatment."
"Greater initial salary...Seems more promising in terms of growth."
Taking stock
So what do we take out of these few questions? There is a player engagement issue within the W-League.
The players are the game's greatest assets and yet it appears a solid proportion do not feel this way.  That, more than anything, makes the league vulnerable to the loss of players, particularly those who are not contracted Matildas nor able to gain overseas contracts.  They may not be the star names but those are the players that make up a majority of the W-League.
They are also the players that still believe in the league and want to work to make it better.  They are also the players that believe in football because here is the good news ...
If you were a young girl right now, which sport with a national league would choose to play?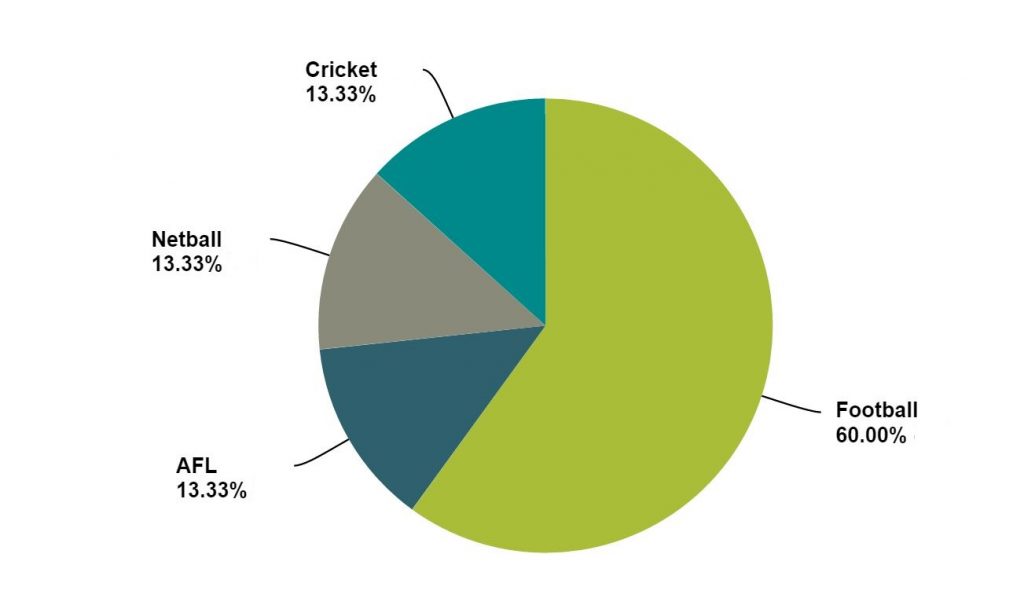 The W-League is important to the ecosystem of women's football and it has been successful in many of its objectives (that is not lost and will be explored in Part III) but the players are starting to shout about issues and it might be time for some listening and rectification.  They are after all the canaries in the coalmine.
In part two Sarah Groube examines what the other women's sports leagues and their grab for hearts and minds.  In part three we discuss the future with insights from an insider. 
Copyright ©The Women's Game All rights reserved.