At the time of the incident, it looked innocuous - a clash between two players going in for a contested ball in Perth Glory's round 2 encounter with Brisbane.
At the time of the incident, it looked innocuous - a clash between two players going in for a contested ball in Perth Glory's round 2 encounter with Brisbane.
However, minutes later it was clear to Glory midfielder Nikki Stanton that the incident had caused far more damage than first suspected.
Brisbane has not been a happy hunting ground for Perth Glory with several of those television matches ending in injury to key players.
This time it was a broken arm which would leave the 27 year old on the sidelines for the first time in seven years.
It also meant surgery three days after returning back to Perth with a plate and seven screws inserted to hold Stanton's fractured bones together.
"It gave me time to reflect, watch the game and really see where i fit in when everyone is healthy," said Stanton of her layoff.
"It was really hard watching from the sidelines but I knew that my team could get the job done."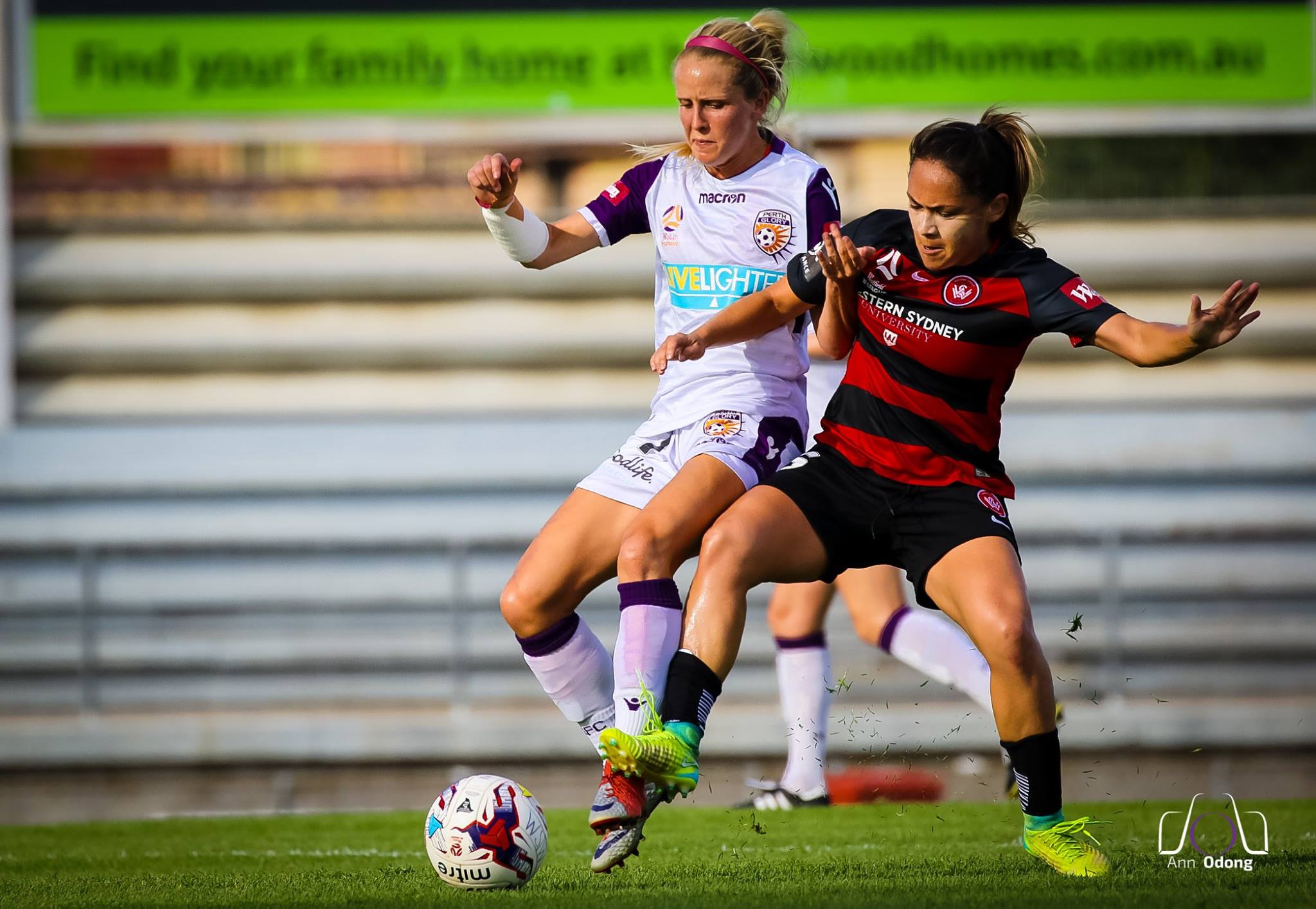 While she would spend three weeks away from the pitch, the Sky Blue FC forward kept herself active and to maintain as much match fitness as possible.
"I was only on my butt for seven days really.  The second I could run I was doing anything I could to stay fit."
Part of the fitness regime also included cycling and strengthening exercises, including for her arms.
"I was trying to get a big fun on one of them at least," she laughed.  "But I feel better than ever. I feel strong, I feel fit and I feel good to be back."
Stanton returned to the Perth Glory team two weeks ago against the Western Sydney Wanderers but being off the pitch allowed gave an opportunity to view her team through a different lens.
"I think that the talent is there," she observed.
"You can see even when we are having some rough spurts, we do have some good moments as well and we are definitely beginning to meld as a team."
"We are working for each other which I think that was one of the reasons for our success last season - our work rate."
And Stanton herself has been one of the leaders in this area.  The box to box midfielder often performs a underappreciated function with her tough tackling, hard running style combining with a link up role that has allowed Perth's potent attack of the past two seasons to flourish.
Stanton's absence in the midfield was noticeable during her injury break with Perth dropping matches against Adelaide United and Canberra United.
"We don't really dwell on the games," she said of the losses.  "We will pick one or two things that we need to work on but we know that we are one of the best teams in the league and will be there when it counts."
Perth Glory return to W-League action after a week's rest and for a team that had travelled to Brisbane, Canberra, Adelaide and Sydney in the first 7 matches alone, the "bye" was very much welcome before a stretch of home matches.
"It has been flight after flight and we have had a few Sunday / Fridays back to back games which has been tough," said Stanton.
"I think we just needed to regroup, get everyone fresh and prepare ourselves for the run home."
"Finally we have some home games. I think it will give a bit of time for bodies to to heal and to get back to normal."
But first it is another road trip against the Newcastle Jets.
Copyright ©The Women's Game All rights reserved.