Where are they, how are they faring and when might they resume? We catch up with the current status for all Matildas abroad.
The future of sports is currently up in the air for all sports in all countries.  
When athletes will be able to return to competition and when their supporters will be able to participate as spectators are both largely unknown.
The near future of club-play for the large number of Matildas currently contracted abroad varies depending on which country they play in...
USA - National Women's Soccer League
Four Matildas are currently contracted to National Women's Soccer League clubs, the NWSL.
They are Steph Catley with the OL Reign, Ellie Carpenter with the Portland Thorns, and Alanna Kennedy and Emily van Egmond with the Orlando Pride.  
The NWSL was originally planned to start its 2020 season on April 15 with training and preseason matches before that. Covid-19 stopped that.
At present, the NWSL has extended its training moratorium until May 16, reportedly advising players they may need to be back for that date. This plan currently poses several issues for Australian based players.  
The first is that by the latest accounts all four NWSL players are currently in Australia where an international travel ban out of the country is in effect for Australians. Leaving for work is not one of the exemptions.
The second problem with this May 16 training start date is the viability of this date throughout the league. Currently, all three states in which Matildas play are under stay-at-home orders.  
Florida, the state Kennedy and van Egmond play in, will start reopening certain parts of their economy on Monday. At present though, this phase one of reopening does not allow for groups of more than ten and requires gyms to stay closed. How the Pride will be able to train with these restrictions is questionable.
Portland, Oregon where Carpenter plays, extended the state of emergency for an additional 60 days on May 2, 2020.  
At present, unless this state of emergency is lifted and the adjoined Stay Home, Save Lives order is as well, this means that the Thorns will not be allowed to congregate until July 6, 2020.
Steph Catley's OL Reign is based in Tacoma in the hard-hit state of Washington. The state government has just issued an extension of stay at home orders until May 31.  In a previously released plan, it looked unlikely that sporting activities would be allowed before June 15.  
Therefore taking these facts into account, the May 15 NWSL training restart date looks unrealistic both for the league and for its Australian players.
Germany- Frauen Bundesliga
At present only one Matilda plays her club soccer in Germany, Emily Gielnik.  Gielnik is at FC Bayern Munich and by all accounts has been living in Germany during the Covid-19 pandemic.  
When the Frauen Bundesliga was suspended on March 16, FC Bayern had played sixteen of their twenty-two league games.  The Frauen Bundesliga teams voted this week to complete the 2019-20 season.
To accomplish this german clubs will have to abide by the German Task Force for Sports Medicine/Special Match Operation's requirements.  
These requirements include hygiene requirements, constant testing for the Covid-19 virus, and continuous monitoring when matches start taking place.  
Clubs will be the ones responsible for applying these requirements.  How and when some of the smaller clubs in the Bundesliga will be able to abide by this has not been released.
How and when training and subsequently matches will resume has also not been announced by the league.
Spain - Primera Iberdrola Femenina
A single Matilda currently plays in the top flight of Spanish women's football, Alex Chidiac. She is at Atletico Madrid.  
The league was abruptly suspended in mid-March when the country went into lockdown. One can read of Chidiac's tale of lockdown in Spain and her return to Australia.
At present the Spanish league has put forward a proposal that would suspend the 2019-20 season and declare FC Barcelona the winner. This proposal must be approved by clubs this week.
Italy - Serie A
Matildas top scorer Lisa De Vanna is the solo Australian playing Italian Serie A football.  She is currently with Fiorentina FC.  The Serie A was suspended in early March.  At the time Fiorentina had played 15 of their 22 2019-20 season matches.
At present the lockdown in Italie is set to expire on May 17.  The men's Serie A is set to resume training on May 18 in preparation to finish the season.  For this to happen clubs will need to reach an agreement with the Italian government over medical protocols.
At present no further information can be found with regards to plans for the women's Serie A. As of March 28, 2020 De Vanna was still in her Florence home in lockdown.  
France - Division 1 Féminine
17-year-old Mary Fowler transferred to french Division 1 side Montpellier HSC earlier this year.  This made her the only current Australian playing top flight French football.  
The Division 1 Féminine was suspended in early March.  Late last week the league announced the cancellation of the rest of the 2019-20 season.
Netherlands - Eredivisie
Amy Harrison signed with Dutch Eredivisie side PSV Eindhoven in mid April.  At her time of signing the league had been suspended since early March.  
On April 24 the KNVB suspended the rest of the 2019-20 season.
Norway - Toppserien
At present four Matildas play their club football in Norway's Toppserien. Clare Polkinghorne and Katrina Gorry are with Avaldsnes IL, Tameka Yallop is with Klepp IL and Karly Roestbakken are with LSK Kvinner.
The league is currently planning for the upcoming 2020 season.  This includes the implementation of the requirements imposed by the Norwegian Institution of Public Health. According to reports the league, including promotion and relegation, will most likely be modified. 
No specific dates for a start of the league have been set.  However, the latest information places the four Norwegian-playing Matilda still in Australia.  Like their counterparts, whether they could leave the country is not possible at present. 
Sweden - Damallsvenskann
Elise Kellond-Knight is the only Matilda currently playing in Sweden.  She plays with Kristianstads DFF. According to her Instagram, Kellond-Knight is currently in Sweden.
The Swedish season, which was meant to have started April 3, has been postponed until the end of May.  The current 2020 season plans will see the same amount of games as were originally scheduled pre-postponement.  
Games missed will be moved to the weeks that were set aside in July-August for the Olympic break. 
England- FA Women's Super League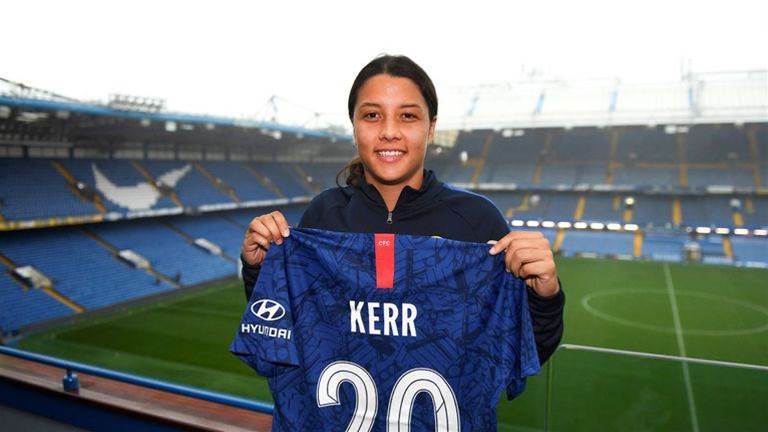 Five Matildas currently play in the top flight of English football, the FAWSL. Sam Kerr is at Chelsea FC, Hayley Raso is with Everton FC, Caitlin Foord is at Arsenal FC, Chloe Logarzo is at Bristol City FC and Jacynta Galabadaarachchi plays at West Ham United.  
Joe Montemurro is also the head coach of Arsenal FC as is Tanya Oxtoby at Bristol City FC.
The FAWSL was suspended on March 13 when teams had played thirteen to sixteen of their twenty-two league games. At present, there are 45 league games remaining to finish the season.  
A proposal was put forward by the FA to possibly finish the season at a neutral venue, with players quarantined on site, during a six-week end of season competition starting in early June.  This proposal, floated in mid-April, would require players to return to their clubs for training by the final week of May.
This creates several problems for the FAWSL's Matildas.   Not all are still in England at present. Jacynta Galabadaarachchi returned to Australia in late March. She may be unable to leave the country and return to England, as explained earlier.
There is also the greater problem with one of the FAWSL clubs, Reading FC. Reading furloughed their women's squad last week using a British government job retention scheme. Under this scheme the government pays 80% of salaries and the club pays 20%.  
To finish the season the club would have to choose to revert their team back to active status. Whether Reading could financially do this considering the possibility that the neutral venue plan will be a non-revenue generating competition format has not been specified.
There is also the greater problem with the current UK lockdown. At present there has been no date announced as to when the country could start to exit.  
Plans for a roadmap are supposed to be announced this week. 
Conclusion
So at present it seems that Kellond-Knight and Gielkik are the only Matildas in a position to play club soccer in the near future.  
Not only are they in the country they play in but Sweden and Germany are the only countries that appear to be preparing for league play in the near future.  
De Vanna may also play should the Italians apply the same plans to their women's top league as are being prepared for their men's top league.
Time will tell whether they, or other Matildas, return to play.  For now, uncertainty reigns the day.
Copyright ©The Women's Game All rights reserved.