Australia were stunned in the opening seconds of its first match against Canada, conceding the fastest goal in Olympic women's football history and ultimately falling 2-0.
Australia were stunned in the opening seconds of its first match against Canada, conceding the fastest goal in Olympic women's football history and ultimately falling 2-0.
Despite the loss, Australia's campaign is still alive with the Matildas sitting at third in Group F – and currently in contention to move onto the knockout stage as one of the top two third placed teams. A win or a draw over Germany would help them progress, but this tournament is not over for any team until the conclusion of the third group match.
In Germany's first match, Zimbabwe's energetic defending kept the medal favourites off the scoreboard for 22 minutes, and even had them pegged back to 2-1 for a few short minutes. Germany went on to win 6-1 but suffered a few nervous moments, especially when Zimbabwe ran down defenders deep in Germany's defensive third of the pitch.
If Australia can pressure Germany as they did against the USA in the FIFA Women's World Cup in 2015 and throughout the Olympic qualification tournament, they have the attacking weapons to punish the Europeans.
Germany will want to make the most of their strong goal advantage and collect 3 points from Australia who were vulnerable at times in the opening match.
Team News
Germany is likely to be without holding midfielder Simone Laudehr who suffered ankle ligament damage in the first half of the first match.
Australia look to have a full complement of players available with many of their injury worries (Catley, De Vanna and Kerr) from the first match pulling up reasonably well, although Stajcic was reticent to discuss their conditions.
"There's always knocks and bruises after a game," he said.
"There's different reasons for different things, which I can't really go into, and don't really want to."
Germany's Player to watch: Alexandra Popp
Alexandra Popp may have added only one goal to the scoresheet against Zimbabwe, but she was dangerous from the opening minutes. Her ability to hover at the far post at corners, set pieces and open play makes her a target for the likes of Melanie Leupolz who is likely to replace the injured Simone Laudehr. Their combination in Germany's first match was stunning.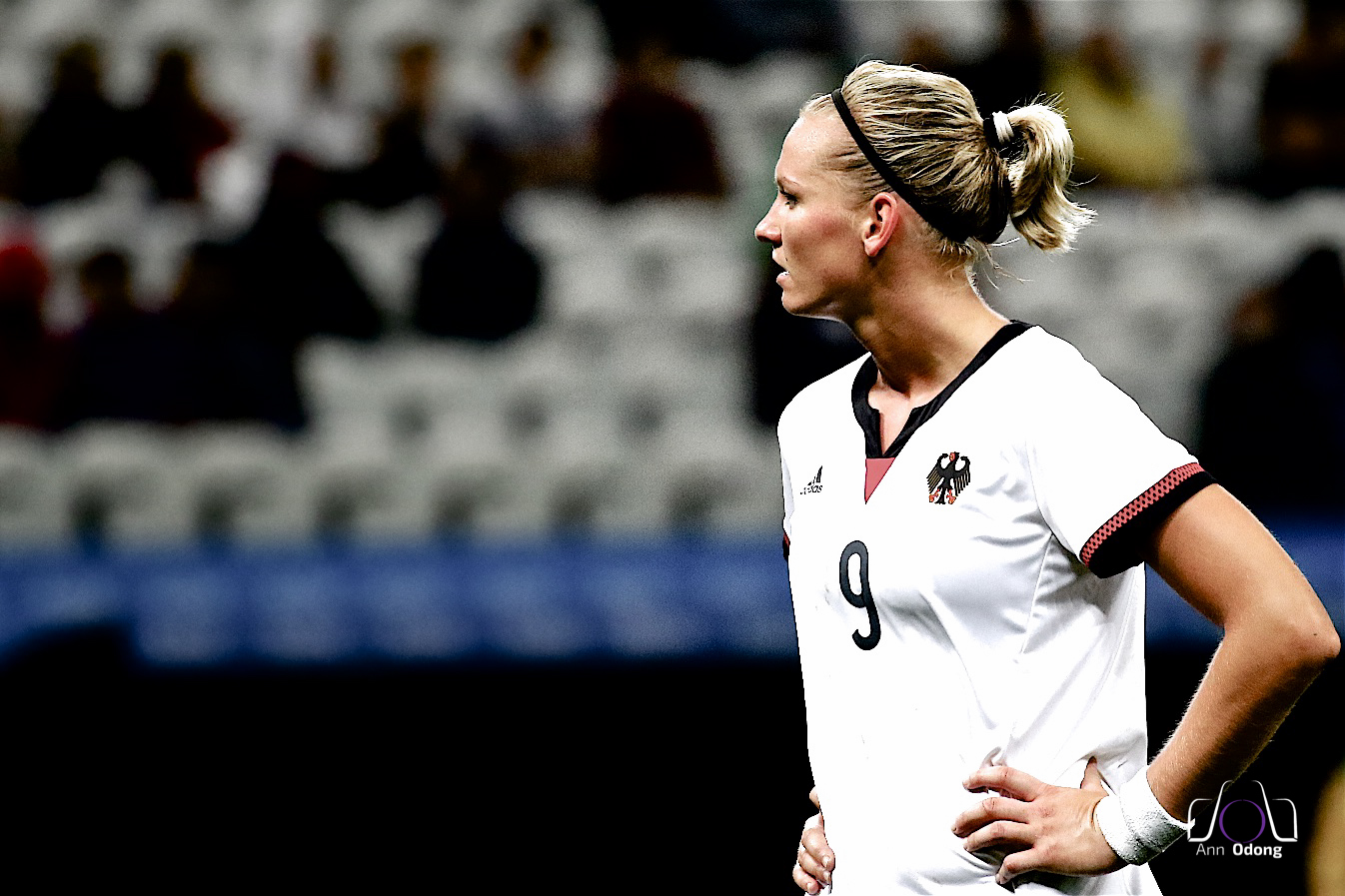 Australia's Player to Watch: Sam Kerr
Australia's best against Canada was the lively Sam Kerr and she is no doubt on the highlights reel Germany would have been studying. Her ability to win the ball and cut inside past defenders was impressive against Canada, and her combination play with Katrina Gorry and Caitlin Foord was a highlight for Australia. Coach Alen Stajcic found 45 minutes for Kerr in game one given she is returning from long term injury.

What to expect?
With Australia marked as the underdog, and with their individual Olympic debuts and accompanying Olywobbles behind them, expect a more spirited and high energy performance from Australia this match.
Yes, they will need to be sharper on the ball and more cohesive in defence in order to stem the onslaught of German attacks. But when they are on song, they are capable of putting goals past the best as they proved at the qualification tournament.
From the German team, expect a truly professional performance. Germany showed against Zimbabwe that they can trouble teams with balls floated into the 18 yard box, and aerial prowess through strong heading and powerful volleys. Ironically, it wasn't until they brought the ball down onto the deck, and enjoyed a spell of one and two-touch football that they sliced apart Zimbabwe.
"They've been one of the two powers of women's football for the last 20 years along with America, so we know it's going to be a tough game," said Alen Stajcic.
"It's a difficult challenge...we've really got to come out fighting. I'm sure come game day you're going to see a very good approach from our team."
And expect the crowd to be the twelfth player for Australia. The stadium of 20,000 Brazilians chanted in unison for Zimbabwe in the last round and booed every German touch as revenge for Germany's 7-1 win over Brazil in the semi final of the 2014 men's FIFA World Cup.
It's nothing I've heard in a football stadium before, and it seemed to lift Zimbabwe for the first 20. Understandably, the local crowd is generally favouring teams in their own green and gold which also helps Australia.
---
MATCH DETAILS
Germany v AustraliaArena Corinthians, São Paulo
Saturday, 6 August
Kick off 6pm (Sunday, 7 August 7am AEST)
LIVE nationally on 7mate (LIVE stream: 7rio2016.com.au)
Copyright ©The Women's Game All rights reserved.