Melbourne Victory celebrated their 10th anniversary at Lakeside with a formidable 4-0 win over Adelaide United on Saturday.
Melbourne Victory celebrated their 10th anniversary at Lakeside with a formidable 4-0 win over Adelaide United on Saturday. A brace from Natasha Dowie and two goal debuts from Lia Privitelli and Jeon Ge-Eul saw the glory shared around.
The result could be attributed both to a reinvigorated Victory attack and an unorganized Adelaide side. Victory's starting XI saw them bring Christina Gibbons back into the fold after injury, with Privitelli being added to the match sheet. For Adelaide, their starting XI was the same as last week sans the inclusion of Chelsie Dawber.
Victory are now 7th on the ladder, whilst Adelaide rest on the bottom alongside Western Sydney Wanderers.
MELBOURNE VICTORY
The first ten minutes of the game saw an even scramble for control.
Victory's initial play was scrappy, whilst Adelaide managed a few formidable passing combinations heading towards their final third.
Furthermore, Victory were struggling to clear the ball out of defence and find their attack. However, it didn't take long to establish dominance.
Their first goal was by no means crisp, but was made special with Dowie breaking Caitlin Friend's previous goal-scoring record for the club.
Angie Beard – whose set pieces are becoming a staple in Victory's attack – sent in a corner that Dowie headed towards the post. Sarah Willacy couldn't smother and it bounced in.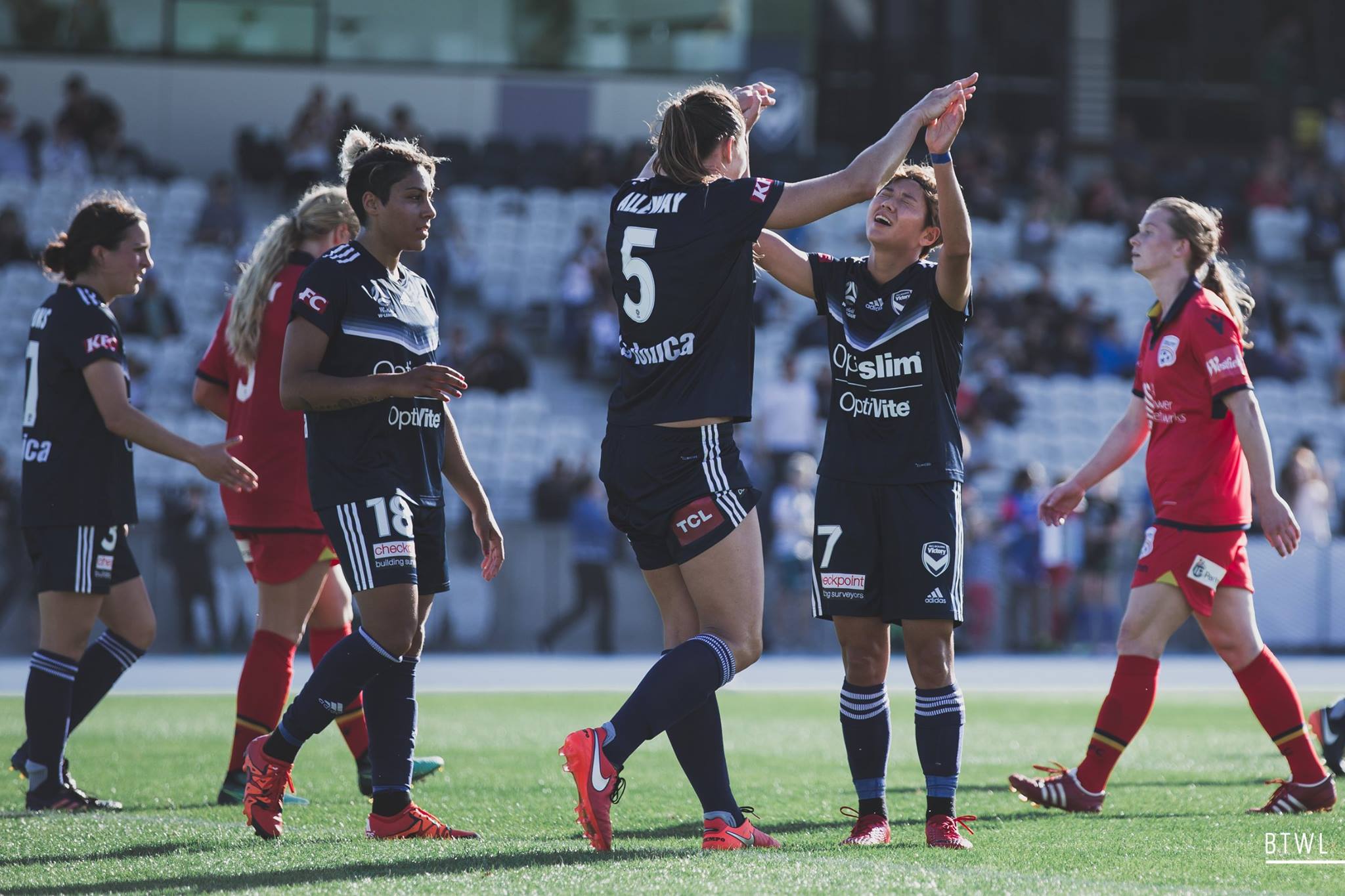 Jeon's attacking flare was apparent as always, and came to fruition in the 30th minute with her first W-League goal. Dowie outpaced a defender and found the cross back to the top of the box. Jeon then smacked it into the back of the net.
The return of Gibbons had a notable impact on Victory's game. Her control in the midfield was a stand out. Goal scoring chances for Victory invariably build on solid build-up, something that has notably improved since last season.
Privitelli had a stand out game, making it clear why she moved into the starting XI. Her pace got on the end of through balls, she made productive runs when in possession, and made smart runs to receive. The hard work paid off with Privitelli's first goal in the league in the 37th minute – a low ball into the bottom left corner.
Second halves have been contentious for the side this season but they continued to pressure hard. Kyra Cooney-Cross sub onto the pitch made an impact, whilst Angie Beard got more involved in the attack. Dowie's second came from another corner, in a very similar fashion to her first.
ADELAIDE UNITED
Adelaide's game was surprisingly lacking in depth, cohesion and attacking power. Their performance against City last week saw a well-prepared team who had their fair share of chances. Despite an almost identical starting eleven to that game, Adelaide presented a completely different performance on Saturday.
As mentioned, the control was relatively even in the first quarter, however when finding themselves down 1-0, Adelaide's response was less than convincing. Tactically, there is much to be said about why this might be the case. Makenzy Doniak had the greatest share of Adelaide's chances but support was lacking at the goal line.
After her hard work up front last week, Adriana Jones absence was noticeable. Forwards didn't apply insistent pressure when they weren't in possession, allowing the opposition to play out from the back easily. In the second half, Victory often had the opportunity to break away unmarked on the wings.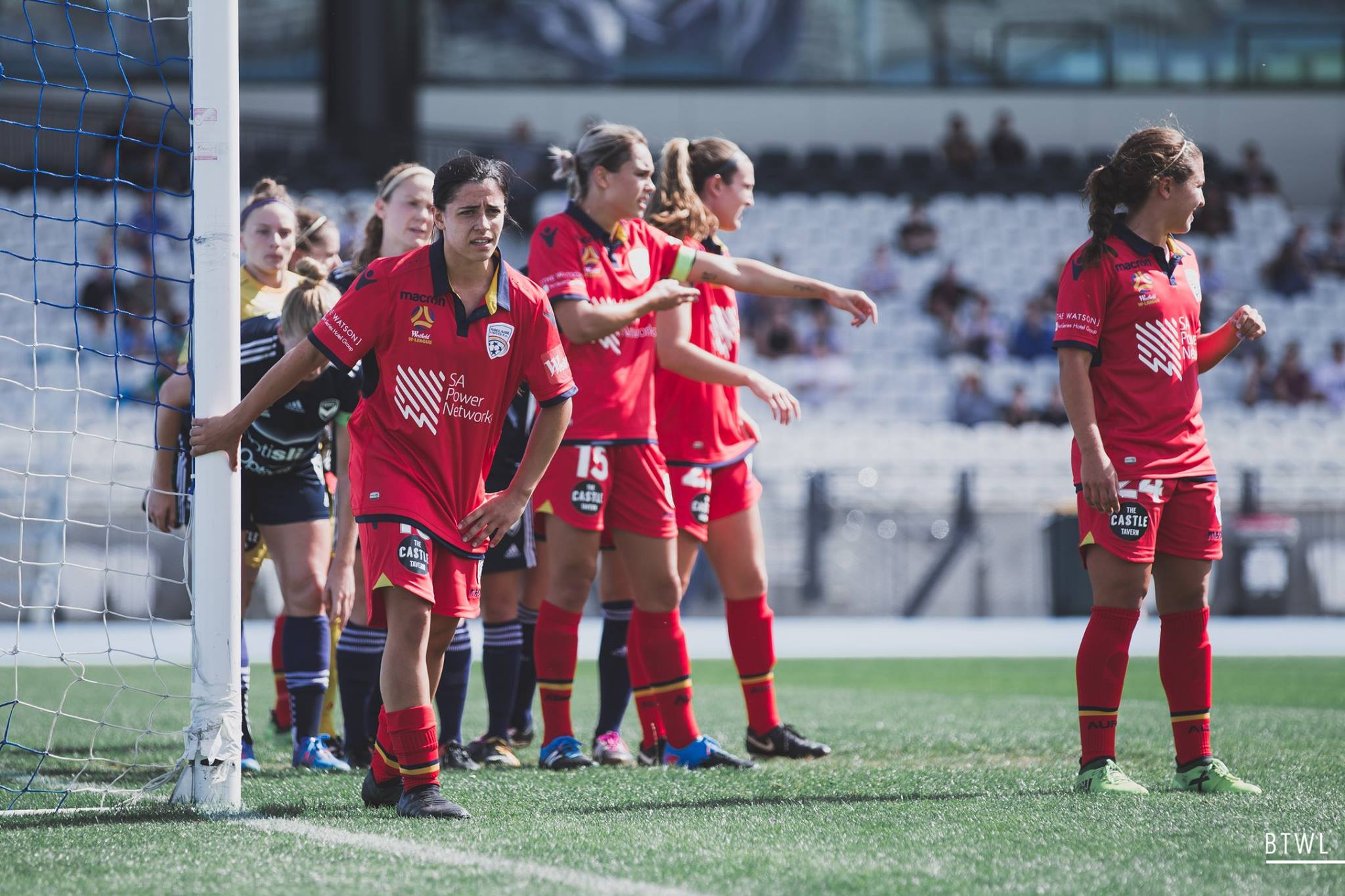 Stand out for the team was Alex Chidiac, who despite the circumstances showed no sign of slowing down in the centre of the park. She worked tirelessly through the middle to disrupt Victory's passing game.
Defender Katie Naughton also made a strong goal-line save to stop a fifth when Willacy was caught off her line by Dowie.
UP NEXT
As demonstrated last week, Adelaide's performance from almost the exact same team can be markedly better.
You can tune in to a potential come-back next week as they return home and face the Wanderers, who are currently sitting above them only by goal difference. Kick off will be 7.30pm local time (8.00pm AEST) at Marden Sports Complex. There will be no television broadcast but you can tune in to radio here www.radioitaliana531.com.au
Victory will have a bye.
---
MATCH DETAILS
Saturday, 9 December 2017Venue: Lakeside Stadium, Melbourne
Melbourne Victory            4 (Dowie 11',50', Jeon Ga-Eul 33', Privitelli 37')
Adelaide United                0
Melbourne Victory: 1. Casey DUMONT (GK), 5. Laura ALLEWAY, 6. Annabel MARTIN, 7. Ga-Uel JEON, 8. Angela BEARD, 9. Natasha DOWIE ©, 13. Laura SPIRANOVIC (18. Tiffany ELIADIS 59'), 14. Melina AYRES (10. Kyra COONEY-CROSS 59'), 16. Lia PRIVITELLI (2. Whitney KNIGHT 69'), 19. Kristen MCNABB, 31. Christina GIBBONS.  
Substitutes not used: 20. Bethany MASON-JONES (GK)
Head Coach: Jeff Hopkins
Adelaide United: 3. Makenzy DONIAK, 4. Alyssa MAUTZ, 5. Jenna MCCORMICK, 6. Georgia CAMPAGNALE (14. Grace Abbey 83'), 8. Emily CONDON (16. Katelyn TUCKER 71'), 10. Alexandra CHIDIAC, 12. Chelsie DAWBER (11. Laura JOHNS 54'), 15. Emma CHECKER (C), 20. Sarah WILLACY (GK), 24. Danielle COLAPRICO, 25. Kathleen NAUGHTON
Substitutes not used: 30. Evelyn GOLDSMITH (GK)
Head Coach: Ivan Karlovic
Copyright ©The Women's Game All rights reserved.