Round 1 is always one of utter contempt for any predictions and sometimes where fairytales start.
Round 1 is always one of utter contempt for any predictions and sometimes where fairytales start.
For Melbourne Victory this time it was both, taking out the match with a 2-1 win over a depleted but unrepentant Canberra United.
A fifth minute first half goal from US import Kristen McNabb gave Victory an injection of belief, before Canberra striker Michelle Heyman levelled the score 20 minutes later. Victory Captain Natasha Dowie added another goal in the 64th minute to seal the win, despite a punishing attack from Canberra.
Melbourne Victory
For Victory, there were plenty of positive signs in this first round encounter, with their revamped midfield gelling together nicely.
Defensively the pairing of Angela Beard (LB), Laura Alleway (CB), McNabb (CB) and Gulcan Koca (RB) settled together smoothly albeit with a few rusty moments from Casey Dumont in goals.
The Victory midfield engine hummed along with American important Christina Gibbons holding the game together whilst Laura Spiranovic drove it forwards.
New to the W-League, Gibbons delighted the crowds and was happy with the team performance.
"I think everyone had a bit of nerves in the first half, but the second half I felt like we settled down and were able to play a bit. I was really pleased with it", the defensive midfielder said.
"The team has come together really well and I think we're in a really good place."
"Having Kristen McNabb and Loz (Laura Alleway) behind me, I feel really good with them and their direction for me is really good in the midfield and holding that position."
Up top, Victory didn't strictly dominate but they absolutely made the most of the opportunities allowed by Canberra's frugal defence.
Without wanting to put too much pressure on every young player joining the W-League ranks, Kyra Cooney-Cross had a magnificent game whistling down the left wing. A clever player with exquisite skills, Cooney-Cross delivered on expectations and seemed to relish the opportunity.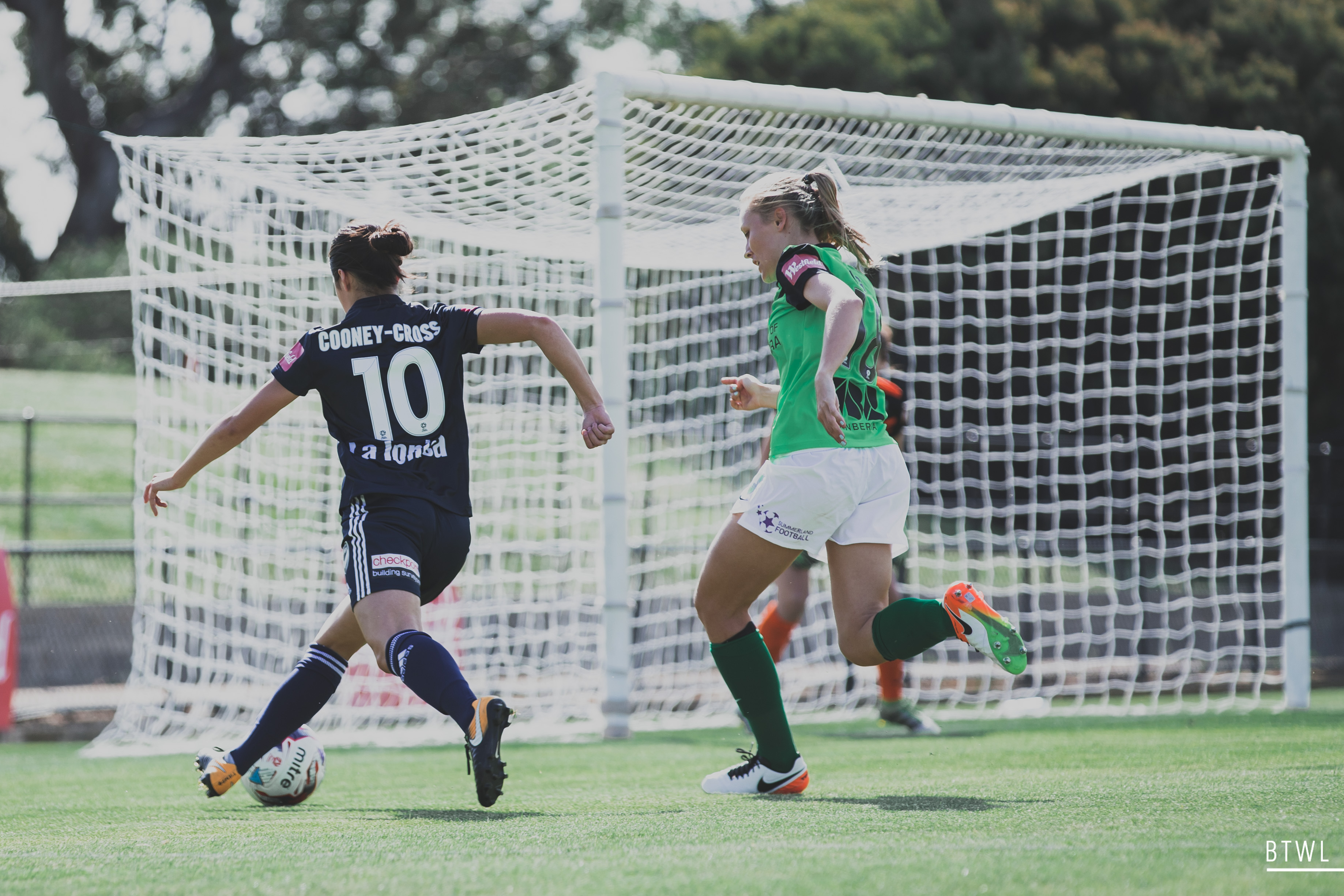 Canberra United
With six players on Young Matildas international duty, plus an additional three players unavailable due to injury, Canberra would be forgiven for lamenting their sorrows but that was definitely not their game plan.
The combination of Michelle Heyman and Ash Sykes up top created plenty of challenges for Victory. The speed of both players allowing them to propel past the opposition, with only the lack of shiny finishing stopping them from commanding the game.
In her first game as W-League coach, Heather Garriock was contemplative about their game.
"From a technical and tactical point of view we did really well and we executed our plan in the first half. In the second half we got caught up in their game plan which was more of a long ball, transition game and we struggled to adapt to that"
"It's always disappointing when you control most of the tempo but in saying that, at the end of the day I think they played some good football and Jeff executed a plan which was long ball transition and it worked and it caught us offguard two times."
In regards to the Sykes/Heyman combination, Garriock was pleased but left wanting.
"I think we've got a quality forward line but I think it's getting the ball to them and in terms of our midfield, I think we needed a bit more quality today to be able to execute to them" Garriock said.
Kendall Fletcher was a solid rock throughout the match whilst towering import Toni Pressley excited the crowd and garnered praise from Garriock.
"She's a bit of a diamond in the rough. People wouldn't know her before she came here. Her strength is phenomenal. Her left peg is awesome as well. She was outstanding for us today."

Up Next
Next week Melbourne Victory come up against hometown rivals Melbourne City in their first derby this season. Gibbons is ready.
"I feel like in the past they've been a really possession oriented side so I think we need to be really organised and especially patient because they are going to want to come out firing. If we hold our ground we will have some chances, we just need to put those away."
Canberra have a bye next week after this opening round loss.
MATCH DETAILS
Melbourne Victory  2 (Kristen McNabb 6', Natasha Dowie 64')
Canberra United 1 (Michelle Heyman 25')
Copyright ©The Women's Game All rights reserved.