When Melbourne City and Perth Glory meet, the scoreline is almost always noteworthy. In round one, this was a 4-1 win for Perth.
When Melbourne City and Perth Glory meet, the scoreline is almost always noteworthy. In round one, this was a 4-1 win for Perth.
However, on Sunday, Melbourne City were firmly on their own territory at City Football Academy. They let everyone know this with an unstoppable performance, unleashing three goals in an assertive first half. Whilst Glory halted this in the second, the damage had been done.
Perth and City have swapped places on the ladder, bringing City into the top four and sending Perth out.
"Our front three worked tirelessly all game. Our midfield closed spaces, made it hard for them to get the balls in-between. Our back four line were fantastic, the way they handled anything going forward. It was fantastic. I think it was a complete performance from back to front." Melbourne City coach Patrick Kisnorbo
Melbourne City
City dictated possession with ease from the start. The passing play and overlapping runs seen throughout their season were aided by a stronger eye for goal. In the first fifteen, most of their shots were long range except for a slicing ball across goal from Steph Catley. Perth were for the most part able to get behind these attempts, but the play out of the box was largely unproductive. In the 25th minute, Ashley Hatch made a run behind the defence to meet Yukari Kinga's pass and slotted the ball in, making it 1-0.
Tyla Jay Vlajnic's second time in the starting XI was notable after a season spent predominantly on the bench. Her performance was a significant improvement from last week, noticeable with cleaner touches, sharper shooting and a high work rate. City's second goal came when she sprinted onto a through ball from Kyah Simon and found the far post angle.
The first two goals came from smart vision in City's midfield, with Perth doing little to plug the gaps. Kinga and her ever-present hunger got City a third as she leapt on a rebound off Melissa Maizels in the 43rd minute.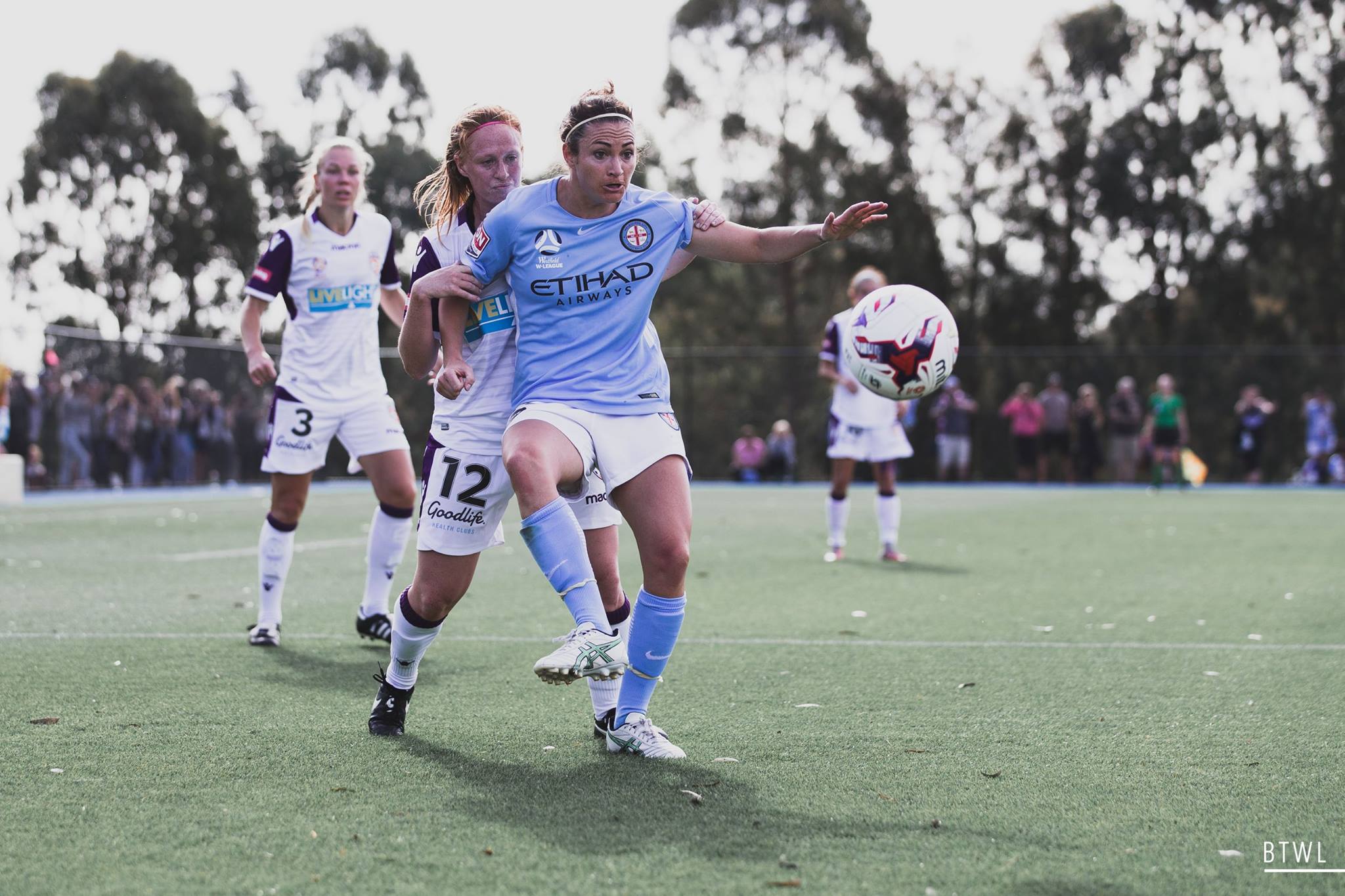 City's defensive work started in the middle of the park, with Aivi Luik sitting deeper and creating extra traffic for the opposition. Alanna Kennedy marked Sam Kerr out of play, and Lauren Barnes killed any stray passes and balls towards goal. Whilst Lydia Williams contributed in terms of communication – loud and clear as is her way – she had minimal hands-on work to do.
"[Sam Kerr] wasn't a huge talking point this week [at training]. But as a defender, I know who I'm coming up against and I know that I need to step up." Melbourne City's Alanna Kennedy.
Perth Glory
A shaky Perth side saw little possession in the first half. Early plans for the attack centred on getting Sam Kerr the ball. Most of these were lobbed from the wing or looped over and, unsurprisingly, the star striker was marked out of the game.
"How do you stop Sam Kerr? You can put two players on her, [but] she's so quick she'll get out. If you stop deliveries into her and stop deliveries over the top, you stop Sam Kerr." Perth Glory Bobby Despotovski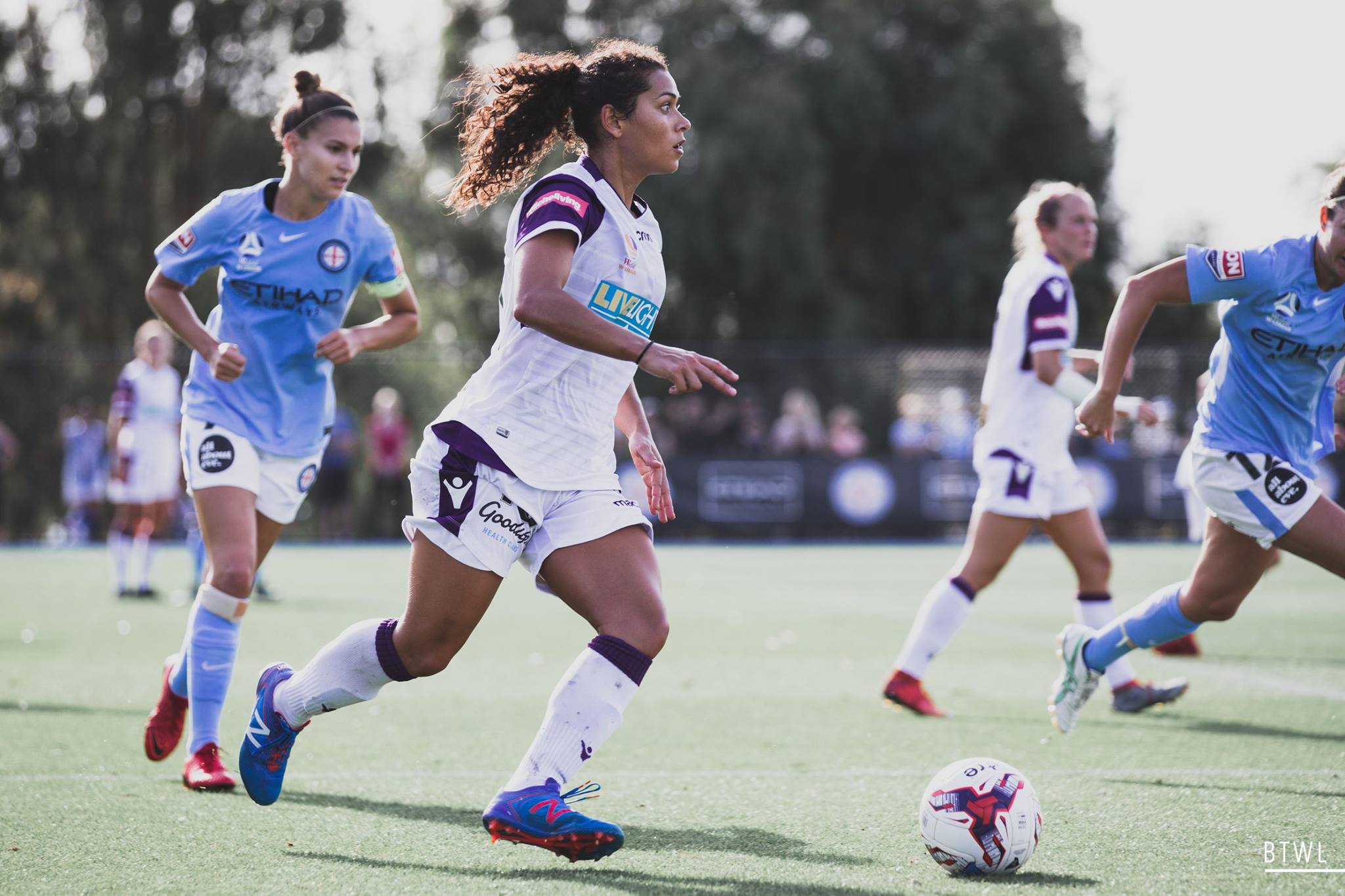 Their midfield seemed flat in the first half, often arranged in a straight line across the pitch. Defenders Sarah Carroll and Natasha Rigby involved themselves in the attack with services into the middle of the park, only to be caught short by City's quick counter.
The second half saw signs of life, not so much in terms of attacking opportunities but a strengthened defence and more collected midfield. Racquel Rodriguez did well to hold the ball and find the useful pass, pairing up well with Nicole Stanton. Again, the final ball was left lacking.
Maizels' performance stood out with some excellent saves to stop the scoreline tipping even further. These included an agile leap to deny a terrifying Fishlock cannonball, and a well-timed run outside of the box to stop super sub Jodie Taylor.
"We started very sluggish. We just lost our way; they put us under a lot of pressure, we coughed up the goals and then we couldn't get out. And we couldn't adjust in the first half and consequently we conceded three goals. When you give somebody a three-goal advantage you're not coming back… I was very proud of the ladies in the second half. A much better performance but it's way too late." Perth Glory coach Bobby Despotovski
What's next?
Both teams return Sunday 14th January. Perth Glory will play away in a must-win against Sydney FC to make it to finals. Kick off at Dorrien Gardens, 7pm.
For City, they'll be looking to cement themselves in the top four, with a Victory derby at Epping Stadium. Kick off at 4.30pm. Neither game will be broadcast.
Match details
Melbourne City FC 3 (Hatch 25', Vlajnic 35', Kinga 43')
Perth Glory 0
Melbourne City FC: 1.Lydia WILLIAMS (GK), 2.Yukari KINGA, 3.Lauren BARNES, 4.Ashley HATCH (11. Rhali DOBSON 72') 6.Aivi LUIK (15.Amy JACKSON 89') 7.Steph CATLEY (C), 10.Jess FISHLOCK, 13.Rebekah STOTT, 14.Alanna KENNEDY, 17.Kyah SIMON, 19.Tyla-Jay VLAJNIC (12. Jodie Taylor 56'),Substitutes not used: 23.Melissa HUDSON (GK)Head Coach: Patrick KISNORBO
Perth Glory Squad: 2.Sarah CARROLL (12.Shannon MAY 67'), 3.Kim CARROLL, 4.Natasha RIGBY, 7.Nicole STANTON, 9.Rachel HILL, 10.Raquel RODRIGUEZ, 11. Nicola BOLGER (8. Shawn BILLAM 78'), 16.Amanda FRISBIE, 17.Marianna TABAIN, 18.Melissa MAIZELS (GK), 20.Samantha KERR (c),Substitutes: 6. Danielle BROGAN,, 30.Morgan AQUINO (GK)Bookings: STANTON 45+1', KERR 60'.Head Coach: Bobby Despotovski
Copyright ©The Women's Game All rights reserved.