Sydney FC recorded their third consecutive victory of the season on Saturday, defeating Western Sydney Wanderers 3-1 at ANZ Stadium.
Sydney FC recorded their third consecutive victory of the season on Saturday, defeating Western Sydney Wanderers 3-1 at ANZ Stadium.
The Sky Blues raced into a two goal lead thanks to a first half double from Remy Siemsen, before Ellie Brush's spot kick gave the Wanderers hope.
However, in the second half Lisa De Vanna capitalised on an error from Wanderers goalkeeper Jada Whyman to restore Sydney's two goal cushion, and they ran out fairly comfortable winners in the end.
The victory sees Sydney FC move up to fifth place, one point off a finals spot, while the Wanderers drop to eighth.
WESTERN SYDNEY WANDERERS
This season, the Wanderers haven't been too bad defensively – they have the league's joint third best defence, and this game was the first time they had conceded multiple goals since Round 1. However, they are also the league's lowest scorers, having only netted five times in their opening six games.
In the early stages they were unable to hold possession for long periods, and the Sydney FC defence was barely troubled. After that they began to get a foothold in the game, and created problems for Sydney FC mainly from set pieces.
The penalty came after one of these dead ball situations. Sydney failed to clear a corner properly, and Lo'eau LaBonta's follow-up shot was handled by the defence. It was no surprise that LaBonta was involved in the buildup – she has been one of their best this season, and had another good game on Saturday.
Jada Whyman also performed well, making a number of crucial saves. It's a shame that her performance will be remembered for Sydney's third goal, where she got dispossessed by De Vanna after holding onto the ball too long.
De Vanna's goal halted the Wanderers momentum, although late in the game there were some positive signs from young substitute Susan Phonsongkham, who made a couple of good runs.
SYDNEY FC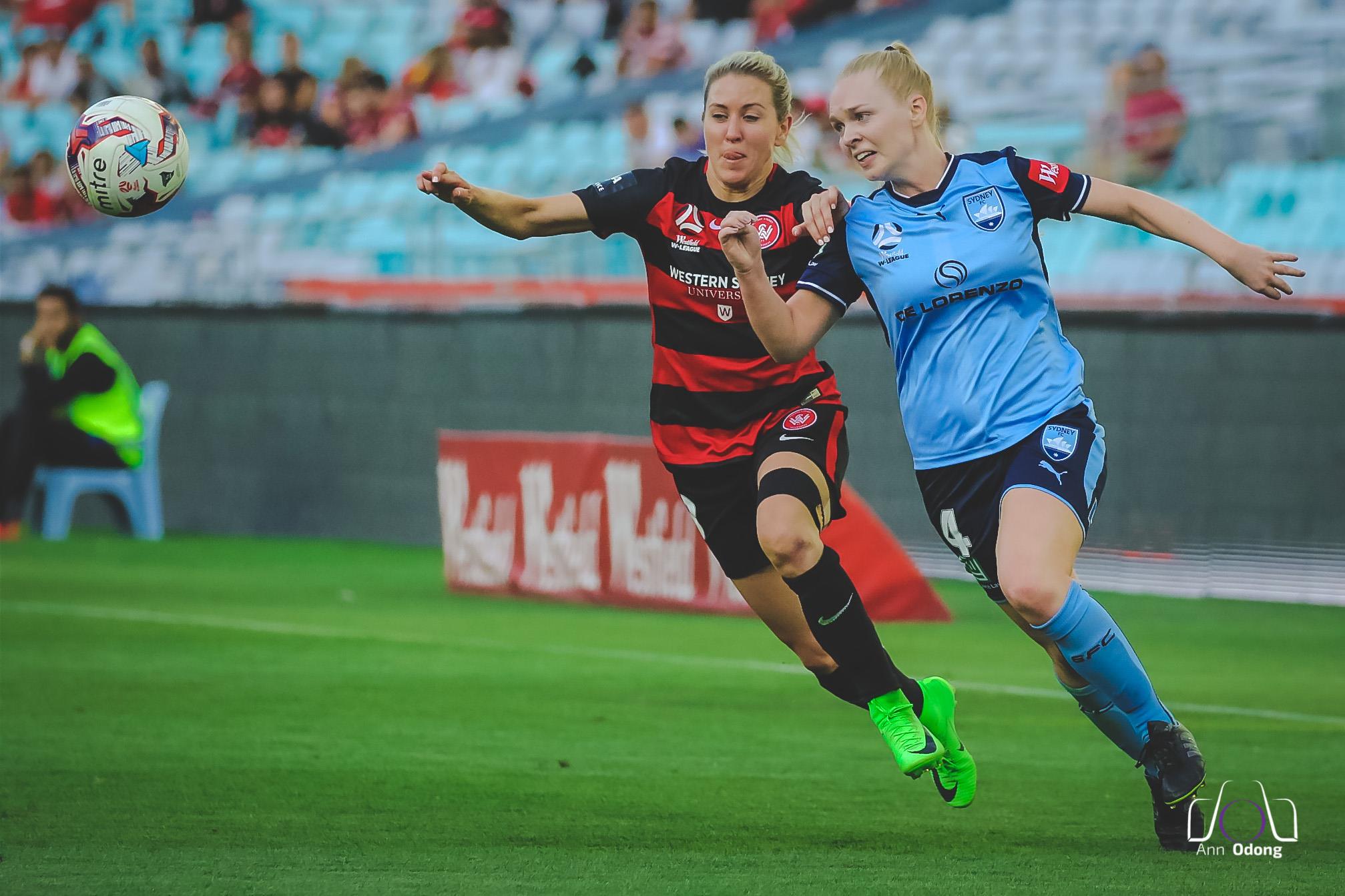 Sydney FC look to have found their rhythm after losing three in a row to start the season. They set a ferocious pace in the opening 25 minutes, pinning the Wanderers in their own half. However, they lost momentum after an injury to Chloe Logarzo, and needed time to adjust.
Later on, when the Wanderers had to chase the game, Sydney tended to be direct when winning the ball back. They quickly played it forward to Lisa De Vanna and Princess Ibini, who made good runs into space.
De Vanna was her usual self, and created Sydney's third goal with her typical endless running, putting enough pressure on Jada Whyman to force the error.
However, Remy Siemsen was the standout up front for Sydney. Her first goal demonstrated her goalscoring instinct as she reacted quickest to a loose ball, while her second was a beautiful left footed finish from an acute angle.
There will be concerns if Logarzo is out for an extended period of time. Although Amy Harrison has the quality to replace Logarzo in midfield, there is then the problem of who to select at left back.
Elizabeth Ralston is extremely solid defensively, but isn't as dynamic going forward, while Julia Vignes has shown a talent for overlapping down the flank, but at 15 years old is still very inexperienced.
UP NEXT
Next Friday night, Western Sydney Wanderers face Adelaide United at Marden Sports Complex, and both teams will be desperate to move away from the foot of the table.
Sydney FC are also playing next Friday – they host sixth place Canberra United in a televised fixture at Allianz Stadium.
---
MATCH DETAILS
Saturday 9 December 2017
ANZ Stadium, Sydney
Western Sydney Wanderers 1 (Brush pen 41')
Sydney FC 3 (Siemsen 21' 24' De Vanna 62')
Western Sydney Wanderers: 1. Jada WHYMAN (GK), 2. Maruschka WALDUS, 3. Jennifer BISSET, 5. Kahlia HOGG, 6. Lo'eau LABONTA, 7. Ellie BRUSH (c), 8. Erica HALLOWAY (19. Susan PHONSONGKHAM 82'), 9. Rosie SUTTON (4. Chloe O'BRIEN 84'), 10. Lee FALKON, 11. Marlous PIEËTE, 15. Talitha KRAMER
Unused Substitutes: 20. Trudy BURKE (GK), 17. Katelyn LEADBEATTER
Yellow Card: 3. Jennifer BISSET 42'
Head Coach: Richard BYRNE
Sydney FC: 29. Aubrey BLEDSOE (GK), 2. Teresa POLIAS (c), 3. Remy SIEMSEN, 4. Elizabeth RALSTON, 6. Chloe LOGARZO (15. Caitlin COOPER 28'), 8. Amy HARRISON (18. Taylor RAY 78'), 10. Kylie LEDBROOK, 11. Lisa DE VANNA, 13. Georgia YEOMAN-DALE, 16. Emily SONNETT, 20. Princess IBINI (19. Leena KHAMIS 75')
Unused Substitute: 30. Sheridan RAINEY (GK)
Yellow Cards: 10. Kylie LEDBROOK 71', 8. Amy HARRISON 76'
Head Coach: Ante JURIC
Copyright ©The Women's Game All rights reserved.