Melbourne City and Canberra United played out a somewhat uncomfortable affair on Sunday at AAMI Park, with City coming out on top courtesy of a brace from superstar Jess Fishlock.
Melbourne City and Canberra United played out a somewhat uncomfortable affair on Sunday at AAMI Park, with City coming out on top courtesy of a brace from superstar Jess Fishlock. Michelle Heyman split Fishlock's brace, scoring perhaps one of her easiest goals ever for the visitors with the final score set at 2-1.
With errors on both sides, it wasn't the most glamorous match for the 2,504 spectators to watch, but there were glimpses of brilliance with Jess Fishlock dominating for City and Ellie Carpenter and Michelle Heyman both looking strong for Canberra.
City now find themselves in the top 4 whilst Canberra have slipped to sixth.
MELBOURNE CITY
At the halfway point of the season, City still haven't entirely clicked. Runs aren't smooth, passes aren't connecting and too many mistakes are being made, but coach Patrick Kisnorbo is confident that when they do it will be a bit scary.
What is working well so far is the phenomenal work rate from Jess Fishlock. The Welsh hero was individually hell bent on ensuring three points for City.
Kisnorbo was pleased with the result lauded the efforts of the Welsh maestro.
"Jess Fishlock is world class. Not W-League class, she's world class", he stated.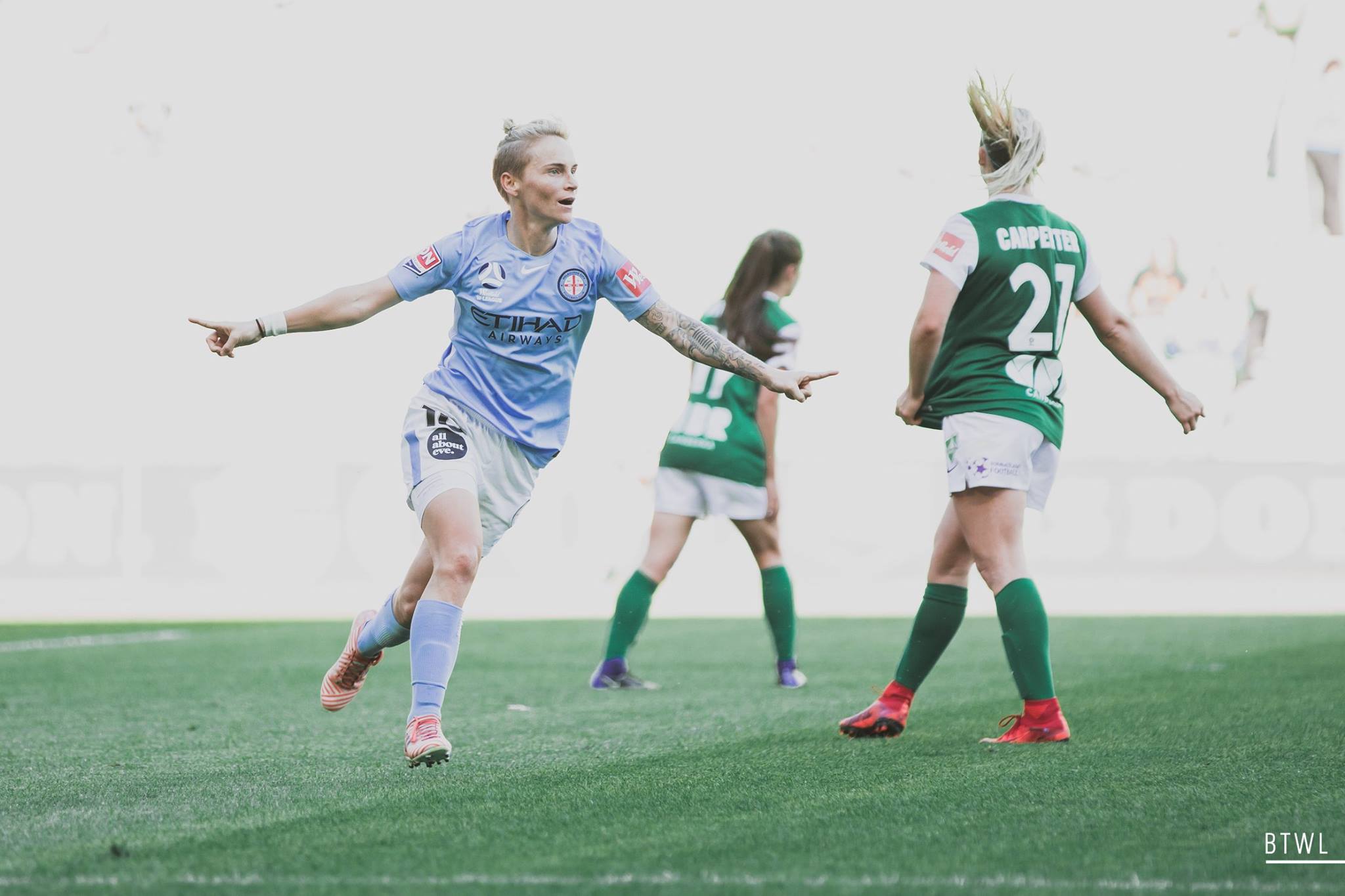 City's starting lineup offered two key changes. Rhali Dobson was rewarded with her first start, replacing Larissa Crummer whilst Amy Jackson made way for Aivi Luik who locked up the midfield.
Making the most of her opportunity, Dobson looked fluid with the team and generated a number of threatening runs forward.
Kisnorbo commended both players and in particular called out Luik, stating that "Aivi was fantastic today, she was brilliant".
Whilst there was some good play throughout, there's also room for improvement. City created chances but still struggle to dominate the scoreboard given that they're three wins from six with only a plus one goal difference.
City's conversion rate of only 12% also highlights an area in need of focus. Kisnorbo sees this but marks a step in the right direction.
"We created a lot of chances but our final ball wasn't as good as last week. We'll work on that in training but the pleasing thing is we're getting ourselves into dangerous positions." he said.
Interestingly, even with a world class defence, City are equal worst with goals conceded, something Fishlock understands is costly.
"We will have to go through what happened. I don't think it's the first time that it has happened either this season. We have to figure out as to why we're being really tentative with playing out from the back. We have a world class goalkeeper and two world class centre halves, two world class full backs. We shouldn't have any problems in playing out right now. That's something we're going to have to look at because realistically if we want to win this thing then we have to be better." Fishlock said post match.
CANBERRA UNITED
Canberra would be disappointed to head home without a point. Excluding a couple of harmful mistakes, United were well in the match, in particular with Heyman and Ellie Carpenter delivering noteworthy performances.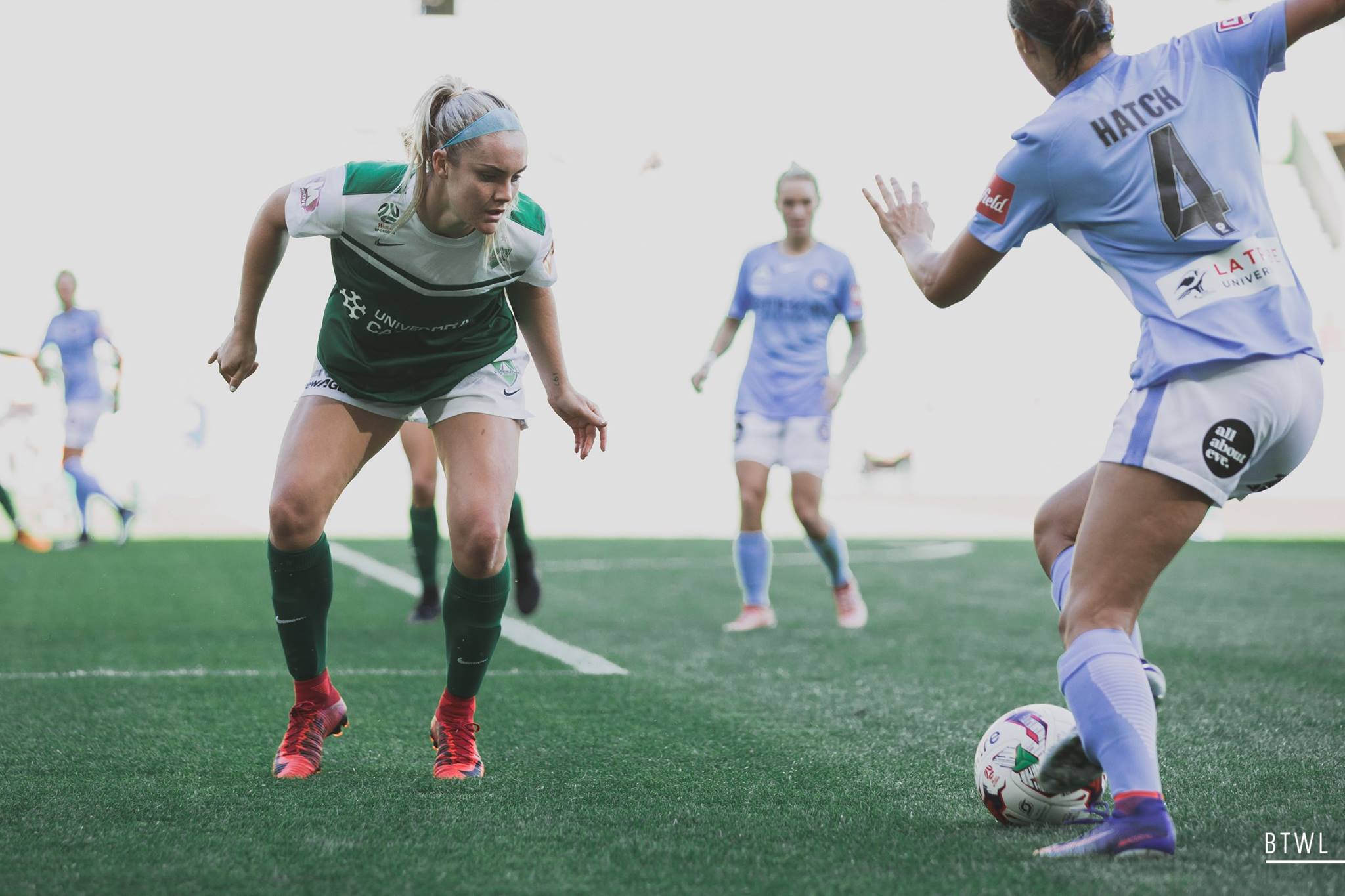 "I just wanted to improve from last week's performance. Personally I didn't like how I played last week" Heyman said.
"We found some space, had some chances and created a lot of one v one. I think we improved a lot from last week. We could have kept the ball a little bit more. I think we panicked a bit under pressure when we didn't really have it [pressure] on us."
Canberra Coach Heather Garriock focused on the positives of the match, highlighting that it was a much improved performance.
"In terms of passages of play, we outsmarted City at times. It was just our last pass or just being clinical in that middle third, to be able to pass that ball in behind, possess the ball or get Michelle or Elise [Thorsnes] in."
"I think all our girls were exceptional today [against world class players] but I want more."
UP NEXT
Melbourne City hit the road to take on Brisbane Roar in a televised match on Sunday at Suncorp Stadium. Roar currently sit in third place on the ladder, one place above City in fourth.
Canberra United, now sixth on the ladder, will stay on the road to play fifth placed Sydney FC.
Don't forget to check the Westfield W-League Season stats here.
MATCH DETAILS
Westfield W-League Round 7
Sunday, 10 December 2017
Venue: AAMI Park, Melbourne
Melbourne City                  1 (Fishlock 20', 80')
Canberra United                1 (Heyman 23')
Melbourne City FC: 1. Lydia WILLIAMS (GK), 2. Yukari KINGA, 3. Lauren BARNES, 4. Ashley HATCH, 6. Aivi LUIK, 7. Steph CATLEY, 10. Jess FISHLOCK, 11. Rhali DOBSON (9.Larissa CRUMMER 75'), 13. Rebkeah STOTT, 14. Alanna KENNEDY, 17. Kyah SIMON (17. Amy JACKSON 90+3')
Substitutes not used: 23. Melissa HUDSON, 19. Tyla-Jay VLAJNIC
Head Coach: Patrick KISNORBO
Canberra United: 1. Hayley KOPMEYER (GK), 3 Clare HUNT, 4. Toni PRESSLEY, 6. Caitlin MUNOZ (10. Grace MAHER 55'), 11. Elise THORSNES, 16. Karly ROESTBAKKEN, 17. Madelyn WHITTALL, 20. Amy SAYER (19. Aiofe COLVILL 67'), 21. Ellie CARPENTER, 23. Michelle HEYMAN, 34. Laura BASSETT
Substitutes not used: 30. Georgia BORIC (GK), 18. Taren KING
Head Coach: Heather GARRIOCK
Copyright ©The Women's Game All rights reserved.