It's deep into added time as the clock ticked down for half time.
It's deep into added time as the clock ticked down for half time.
The Jets were up 1-0 and well in control in front of a roaring crowd of 1,113 in the team's first and only game at their training base of No.2 Sportsground.
Canberra were clinging on, desperate for half time as Van Egmond looked set to deliver a corner from the far or left side edge.
She delivered low and to the near post. Stengel got a foot to it and she shot was bound for the back of the net only for English international Laura Bassett to clear it off the line, just as she'd done numerous times at Notts County and various other clubs beforehand she's saved Canberra's bacon and given them a chance to turn things around.
In the second half, it was like the teams swapped jerseys as Canberra, with the help of some tactical changes, came out firing with Ash Sykes equalising with a clinical finish in the box.
This was followed by a Toni Pressley header off a corner found the bottom corner for the winner.
For the second time in as many weeks Canberra had fought their way back into a game and condemning the Jets to their second loss on the trot.
Newcastle Jets; What went right?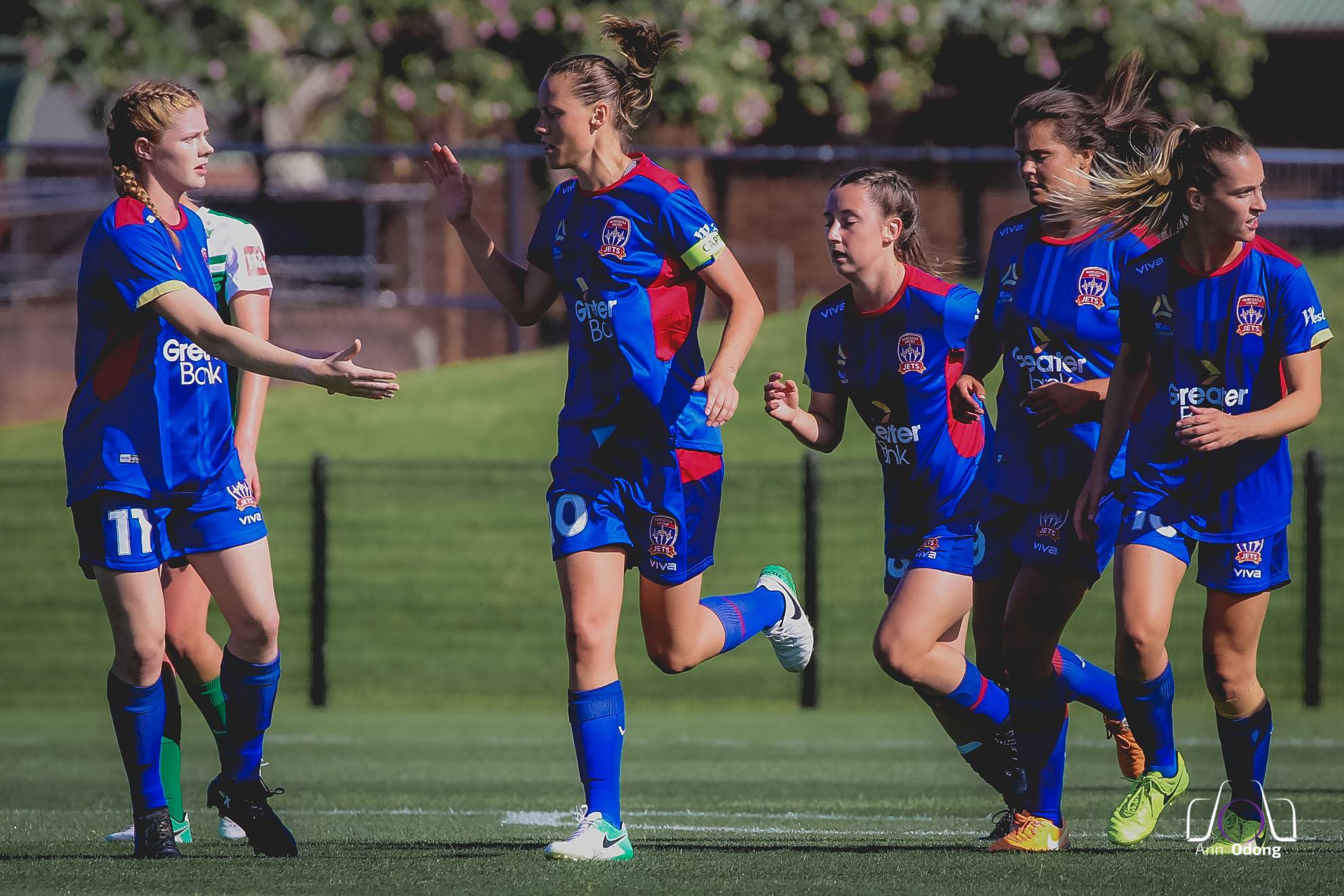 The Jets were looking to improve on their showing against Melbourne City where they were outclassed by a better side on the day and they did exactly that for the entire first half.
They came out with intent and dominated Canberra from the outset after Van Egmond opened the scoring from the penalty spot.
The Jets created several chances in front of goal and dominated the midfield Emily Van Egmond and Claire Wheeler who consistently linked up nicely with the front three of Stengel, Kingsley and Vine who had plenty of space to run into behind Canberra's lines.
Arin Gilliland was also clearly relishing her new role as a number 10, given freedom to roam and constantly getting beyond the forwards and into the box for crosses, giving Canberra plenty of headaches in the process.
Craig Deans said he was pleased with the sides overall performance after a poor showing last week.
"We were still creating chances in the 95' minute, so I'm not at all concerned that we aren't a 90 minute team"
"I felt we created more than enough chances but we need to finish them." He said.
Areas for Improvement
Half time.
Half time came at the wrong time for Newcastle who were well and truly on top both in possession and chances on goal.
Deans had stressed to his side during the break that the game was there's to lose and was extremely disappointed with the result.
"Last week we lose to a better team, and you can live with that but when we had (so many chances) in the first half and towards the back end of the 2nd half, I can't really take a loss like that"
"There's not really anything tactically that was a problem with, we just need to take those chances." I'm worried that we had five clear cut chances and we scored none of them. They (Canberra) had three, two of them they scored form."
The Jets could be bolstered by the return of Tori Hunter and Tash Prior from injury and concussion next week but neither can fix their problems in the front third.
Stengel holds the ball up nicely and the combinations are very good, it's a script we've read from in the case of the Jets many times before that needs to be rectified if they are to stay in contention for the finals.
Canberra United; What went right
If it were a boxing match Canberra United would have been given the standing eight count at half time. The Jets had them on the ropes but couldn't land the knockout blow.
A change in tactics at half time with Ellie Carpenter moved into the midfield to enforce some dominance in the middle of the park worked and it was almost as if the teams had swapped jerseys during the interval.
Canberra came out firing and scored within the opening minutes, and doubled their advantage twenty or so minutes later.
They only had three meaningful chances but they took them when it counted and then held off a late onslaught from the home side to produce their second plucky win in as many weeks.
Whilst she was disappointed with the way they played, coach Heather Garriock praised the character shown by her chargers.
"I keep talking about character and these girls are showing bucket loads of it," she said post match.
"If we can play as bad as that and still win a game then we're only going to get better from here."
Areas for Improvement
In the first half Canberra United were outplayed by Newcastle and barely got out of their own half.
It was only for some fine saves from Haley Kopmeyer - for the second week in a row - including one from point blank range, coupled from a goal line clearance from Bassett that kept Canberra from a three or four goal deficit which was reflected in coach Garriock's post-match words. "Haley was absolutely outstanding, she's been fantastic, world class goalkeeper."
Up Next
Canberra United head home in round five for a clash with Perth Glory on Saturday, while the Jets will be looking to regain control of their season away to Adelaide United later that night.
All three sides will be without their respective Matildas stars due to international duties with the Matildas.
Copyright ©The Women's Game All rights reserved.