It's still dark.  Around Jasmine* it feels as if the rest of the world is sleeping as she prepares to head to the gym minutes from her house for another rehabilitation session.
It's still dark.  Around Jasmine* it feels as if the rest of the world is sleeping as she prepares to head to the gym minutes from her house for another rehabilitation session.
When she reaches the gym it's just Jasmine and her trainer in corner, pushing her body to return to its pre-injury state.  It's not Jasmine's first injury but it is definitely her most difficult.
"I guess it's harder this time around because I feel like I have less support," she said.
"With the other injuries I had more people to help out, less responsibilities. After the session, I know I have to go to work."
Jasmine is one of the 180 or so players that make up the W-League.  The players range from 15 years old to 36 years old and consist of mothers, students, nurses, schoolteachers, fire fighters, landscapers and a host of other professions.
Playing in the semi-professional summer competition for many of them is a dream come true but, as with any dream, it has its costs.
High hopes
For Ariel*, a health professional, the first season of the W-League was seen by many as a re-birth for the women's game.
"Everyone was very excited," she said of Season 1.  "There was the thought that this has been a long time coming for a lot of the players and coaches and finally it came."
The W-League had been a long time coming.  While there was a short Women's National Soccer League previously, a sustained weekly competition for women had absent in the Australian football landscape.
The Matildas success at the 2007 FIFA Women's World Cup became the catalyst for the new competition and with it new hope for women's football in Australia.
Like Ariel, I too felt the positivity as I drove down to NIB Stadium for the first game between Perth Glory and Sydney FC.  Having only been in the women's game for three years, I didn't understand the significance but the buzz around the new league had been building for weeks in the WA Women's Premier League.
"At that time there were very little expectations," Ariel continued. "It was very new and no-one knew what to really expect or how much support we would get but there were only positives."
There were always going to be teething problems in the first year.  With Football Federation Australia aligning all but one of the W-League clubs under their A-League counterparts, it was expected that the A-League clubs would look after the administration of their W-League teams.
Financially, the FFA would take care of the travel and accommodation costs, which in a country as large as Australia were substantial, but the rest would be up to the A-League teams.  At its commencement, the clubs were presented with a salary cap of $150,000 shared across the 20 players on their rosters.
However, with the A-League itself only three seasons in and with many clubs still trying to find their feet financially, many A-League clubs viewed the W-League teams as an extra and unnecessary burden.  Subsequently there were tensions from the beginning.
"It wasn't said out loud but you could tell the strain," said Belle* a 5+ season W-League veteran.
"Whenever we would ask for things that seemed to be the basics, there was always some push back or there wasn't any budget for it or some reason why it couldn't happen this season, or the next."
Over the years, A-League clubs slowly shed their teams with state federations taking over their management, financial and otherwise, while some clubs stayed under the administration of their A-League clubs.
"Even in Season 1, there were lots of things could have been done better that really hasn't changed too much after Season 8."
It's not all about the money
When it comes to women's sport, the oft written narrative is about the pay sportswomen receive but in listening to those involved in the game, it is evident that pay is just one of the concerns.
In fact, the greatest angst is caused in relation to the conditions including facilities, medical and equipment.
These concerns were stated by Professional Footballers Australia Player Relations Executive Kate Gill in a recent OpEd on SBS Zela.
"It is often money that makes the headlines in the media, but this is not the only source of disparity between male and  female players," she said.
"The game has an obligation to ensure the wellbeing of all players and this is non-negotiable."
Earlier this year, while Melbourne City and Sydney FC were preparing to meet in the 2016 W-League Grand Final at AAMI Park, 40 other W-League players were descending on Melbourne for a different type of meeting.
The PFA convened its first W-League summit to discuss the state of the league with the players.  As part of that initial meeting a survey was taken from the players and so far it has not been pleasant reading.
"The findings paint a picture of players regularly being denied minimum workplace conditions such as change rooms, safe training and playing surfaces and basic medical care," said Gill.
"The disparity between the nation's elite male and female players is simply unacceptable and it is time show that the women's game and it players are a priority."
As all W-League teams are not equal in strength on the pitch, not all teams have the same standards off them.
As at the grassroots level, when it comes to access to the best facilities, women's teams find themselves very much towards the back; even sometimes below youth league teams.
Many teams are nomadic and few, with Canberra United the main exception, having a designated home ground.
Ground availability is a constant issue for the coaches with the training facilities of the A-League teams generally unavailable to the W-League players. In fact, Melbourne City were the only team to give their A-League, W-League and Youth League teams access to the exact same facilities including training pitch, change rooms and gym access.
"The [A-League] club wouldn't let us train on the main pitch," said Aurora*, an east coast based W-League player.
"We were allowed to train on the other pitches in the complex but really there was only one trainable pitch."
"The others are just horrible. There are holes everywhere and it was just not safe for us to be training on that. So our coach was like "fine, we will find another place to train.'"
Finding another ground wasn't an easy task.  Many of the fields that are used for the winter recreational seasons are refurbished in the summer to rehabilitate them for the heavy use during the next season.
While Aurora and her teammates found a decent pitch, poor facilities were the trade-off with no access to showers or toilets as they were locked during their training time.
"Also there was no undercover area so if it rained, we would have to hold the umbrella for our physio as she strapped us under the umbrella because there was nowhere else to do it. That is normal to us."
At another club the home ground has been deemed unsafe by the A-League players who had one training session where four players went down injured.  Halfway through the session, the team packed up and has never returned there.  One W-League player said it "the hardest pitch I've ever stepped on."
The better pitch in that state is almost solely utilised by boys teams including the Youth League and boys NTC with the time for the women rendered to just one or two sessions a week.  If they are lucky.
If you sit quietly in and around the W-League long enough, these similar stories are told by players, coaches and worried parents.  Often with just a shake of the head and shrug of the shoulders that speaks to the perceived futility of raising the issues.
Mignon McLaughlin once said "despair is anger with no place to go" and as the seasons have rolled on there has been plenty of despair to convert into anger as publicly witnessed last season.
The eighth edition of the W-League saw the FFA introduce weekly double headers with W-League matches preceding A-League matches on a Sunday afternoon.
While they have been generally well received by the public and those within the game, it has brought the facilities issue to the fore.
With four teams to be accommodated, and a short turnaround time between the matches, many of the A-League stadiums have been found wanting to the detriment of the W-League players.
Round 3 saw the Western Sydney Wanderers host Sydney FC in the first Sydney Derby of the Year.  For fans arriving at the beautiful Pirtek Stadium, it was the perfect venue to watch W-League football but not so for the visiting Sydney FC players.  Their facilities had to be seen to believed.
Walking up a narrow stairwell, Sydney were accommodated in what appeared to be an old storeroom that was cleared out.  It was about 4 x 6m with one window, no fan - on a 35 degree day in western Sydney - with the Sky Blues having to fit close to 20 people in that space.  To say they were frustrated with the facilities was an understatement and the players took that to the pitch.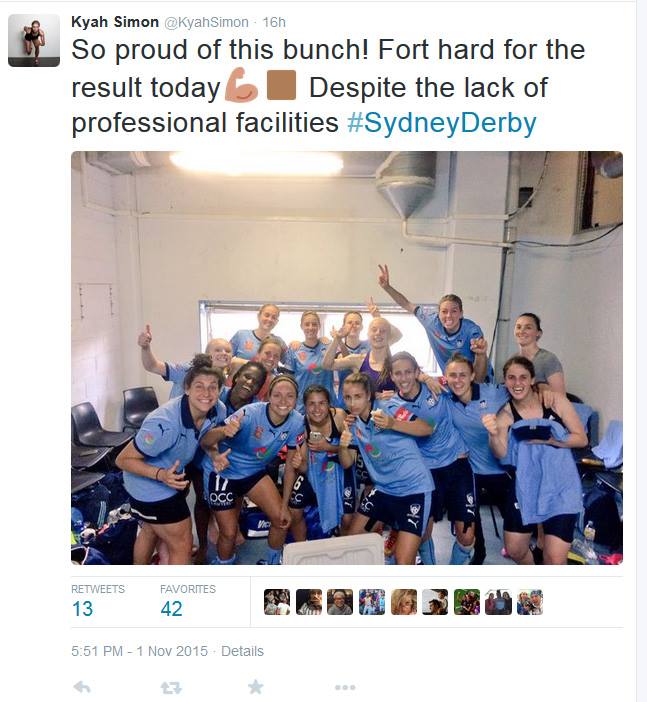 Coopers Stadium had the same issues with the Adelaide United team ending up changing almost on the streets.
https://twitter.com/Bubs_11/status/668580023150886913
That the players spoke out against it, which they hardly ever do beyond the whispers in and around the place, is an indicator of the level of disquiet.
* * * * * * * * * * * * * * * * * * * * * * * * * *
The biggest concern however, is in relation to the W-League medical standards.
With a 132% increase in matches missed through injury in Season 8, medical standards have become such an issue that the PFA earlier this week called for an introduction for minimum medical standards across the W-League.  These include:
medical testing prior to the commencement of each season;

all clubs having certified specialist sports physicians;

detailed player medical records being kept by clubs;

the right for players to seek a second medical opinion;

registered physiotherapists available at each club prior to and after training and matches; and

all club trainers holding a Sport Trainer Level 2 from Sports Medicine Australia and / or a tertiary qualification in Sports Conditioning.
Since minimum medical standards were introduced into the A-League in 2011, according to the PFA, there has been a 68% decrease in the number of games missed due to injury.  For Ariel, this couldn't happen sooner.
"In terms of medical, of what I have noticed over the seasons, and can be very poor."
"For many seasons there have been poor access to medical.  There was no real screening of anyone done via the medical team."
"I would do my own screenings because I wanted to do it for my players, not because the club said this needed to be done."
Medical related issues ranged from no ice at the matches for ice recovery for the players, to running out of water during matches (remembering the W-League is played during the heart of the Australian summer), to players having to pay for their own injury related medical expenses.
The W-League Standard Player Agreement requires players to purchase and maintain the top cover private health insurance for the duration of their time with the club.  Any costs outside of the insurance cover is then picked up by the club.
For example, if a player requires physio and the bill is $70, $40 is covered by insurance with the $30 gap paid for by the club.  However, often attempting to claim that money back from the club can be a long and painful process as one international player experienced.
Email correspondence she forwarded was a clear example of the smokescreen that can be employed leaving already struggling players out of pocket.
This is all despite the Player Agreement stating in clause 9 that the club must "pay any reasonable medical expenses relating to any injury sustained" during their playing time with the club.
For serious long term injuries, Ariel conceded that there was a better duty of care.
"Serious long term injuries they would look after them.  It was only then that that gap would be covered."
It is an even better situation if the player was a member of the national team with the FFA medical team quick to take over the care of contracted Matildas.
One of the top priorities for PFA is that all clubs have certified specialist sports physicians.  For high level sports, many would consider this the norm but alarmingly, this is not always the case in the W-League.
"The priority for the W-League is below cement level," Ariel bluntly stated. "We have never had contact with the A-League club doctor.  It's that low."
Some of the health professionals within the W-League find workable solutions, usually calling on their own personal store of professional contacts.
"I would say [to the players], you go and see this sports physician that I trust and you get it assessed by them, because I didn't have that support."
"If I didn't have the contacts that I had, and if I didn't make the amount of phone calls that I made, things would not have got done."
"It wasn't easy at all.  There were so many hoops to jump through to get things done."
The hoops include the basics.  One health professional said they knew of a club where defibrillators, which while not mandated by law are a common workplace equipment, are rarely present at games.
Sitting quietly on the sidelines of matches through eight seasons, you can overhear some interesting things.
"If some-one has a heart-attack, we are going to have to just do it old school."
After hearing that, there are no words.  Ariel though, when told this, was not surprised.
"At some clubs, unless the doctor brings their own, the club does not supply W-League games with a defib."
After uttering the words, Ariel sighs and is silent and for a heartbeat or two.  Ariel finally breaks the silence.
"So the men can have a defib because their lives are valued more than our girls?  That's essentially what this lack [of a defib] is saying."
"It's one goddamn machine. If you are too cheap to buy another one just use the same one that the men aren't using for that W-League game."
Access to gym facilities vary across clubs.  Melbourne Victory have had Jetts as a sponsor for the past two seasons while Perth Glory and Sydney FC have also had gym sponsorship arrangements for their players.  For most in the W-League however, it is again at their own expense.
"They [the club] would say they would give the girls access to the gym but that never happened," said Ariel.
"For 2-3 years the girls have had to pay for their own gym memberships when the boys teams have had access to the gym facilities at the training grounds that we are not allowed on."
When questioned on the issue of access, the excuses have ranged from legal ones to no answer at all.
"We are part of the club.  I don't understand, if the players are supervised, why it can't be scheduled in?"
"In the end I would write out a program and they would just do their own recovery at home.  That's just how it is across many of the teams across the league.  We make do."
"Making do" seems to be the unofficial motto of the W-League.  All three, Belle, Jasmine and Ariel spoke of the difficulty in obtaining meals during interstate trips, particularly when the team arrived late at night.
"We asked about a meal allowance for one trip to Melbourne where we knew we would be getting in pretty late," said Belle.
"The club told us to just eat the plane food. This was a night before a game. And this wasn't the first or last time."
Arriving late at night for a game for interstate clubs is not uncommon.  Afternoon flights are normally the most inexpensive, particularly if the duration of the flights are two or more hours.
"We often got to a hotel and there was no food organised for us.  There is no dinner so then we all have to go out and buy our own food," said Ariel.
"Then after a game, they consider the food produced at a game, sandwiches that I don't even want to eat let alone the players, that is considered your post-match meal."
Then there are the small things.  Belle said that in all the years she has been playing she has never once had her full playing kit ready for game one of the season.
This season Perth Glory played their first game in makeshift strips, while Sydney FC didn't get their full kits until into the season and didn't receive a training kit at all with players using gear from previous seasons.
Other players spoke of receiving uniforms where the sizing was incorrect as they were never consulted and it was not unusual for teams to only provide one playing strip.
But again, they all just make do.
But let's talk about the money
While it's not all about pay, it would be disingenuous to not discuss it.
"It's a big commitment," said Belle.  "Whether you are working or studying or trying to do one or the other."
"It's a big commitment to make without getting anything back financially.  People turn around and say 'well don't do it' but when you love something it's hard to let it go."
While the salary cap for the W-League is $150,000, it is a salary cap that is rarely reached.  While clubs like Canberra United and now Melbourne City have used their cap, very few teams do.
>> My season salary equated to approximately $6 per hour.
>> I lost around $10,000 of my own savings to play this season.
Crucially, for the players, there is no minimum in relation to the W-League cap.  This has resulted in some players saying, and providing evidence, that they have never received a cent for playing in the W-League.
"What they have to spend and what they actually spend is a little bit different," said Belle.  "It goes club by club but it's pretty minimal."
"I've known that in one club, any home grown player has never been paid," said Jasmine.  "The federation has money but they know that girls just want to play W-League."
While this is not the norm, even with clubs who do pay, it varies significantly from players earning $50 per game to those earning $15 - $20,000 per season.
The reality is, in terms of setting a minimum standard, the W-League is falling behind in this aspect.
Just this year the National Women's Soccer League, the W-League sister league of sorts, raised their player minimum salary from $6,842 (2015) to $7,200 (2016).  While the team cap has increased from $265,000 to $278,000 for 2016.
Even in Australia, it is behind other sports with the minimum salary for netball's ANZ Championships $15,000 (although they have only 8 players) and just this week Cricket Australia announced an increased minimum from $3,000 to $7,000 for the Women's Big Bash League.  And the AFL is just around the corner as well.
While the W-League does provide income protection insurance, for those players who are not paid by the club, they are praying that they don't sustain a long term injury because that is where the sucker punch comes in.
If a player's allowance is nil, then their contracted income is nil.  Therefore, despite being eligible to be paid 70% of their income due to being unable to work, that player will receive nothing by virtue of their W-League Agreement.
And if it's an ACL injury, as there have been a number in Season 8, that can preclude them from any other job to earn an income for up to 6 weeks as they recover.
"What do you do?  You can't just go up to the club and say "you need to pay us"," said Elsa* a retired player.  "They will just say we will replace you and get some-one else.  You don't really have a leg to stand on to ask for something."
So how do players live?
Most players, if not all, have jobs outside of the W-League, in season and out of season.  Many rely on their parents, friends or partners to get through the season.
Former Matildas captain Melissa Barbieri famously sold much of her treasured memorabilia to fund her two seasons at Adelaide United to give herself a chance to play in a fourth FIFA Women's World Cup.
"The majority of the girls are at school or are in uni so most just live at home and they have part time jobs," Jasmine continued.  "In season it's much harder and many will only have one or two shifts during the week so they can fit in training."
Out of the little income they receive the players have to pay for petrol and other travel expenses, boots and other equipment, medical expenses and, amongst other things, often expensive private health insurance.
Watching other sports starting to put measures in place to help their players has been difficult.  For example, as part of its increased commitment to women's cricket, Cricket Australia has provided $500,000 over two years to cover their players private health insurance.
The W-League players know that this possibility is a long way off but for the moment they just want the small steps.
#ProtectThePlayers
It would be easy to assume all the recent discussions around the W-League are about the players looking to gain more money from the game.
It's not.  In hearing these stories, while there is a palpable frustration, there is almost a resignation too.  These conditions, well, it's just the way it is.
The stories are told as a matter of fact and with no plea for sympathy.
This is their reality.
The players around the league are committed to the W-League.  Why else would they play when you read the past treatment and the litany of items that could be better.
"It's hard because little has changed in the eight seasons.  It has been a very flat line since the day 1 of the W-League," said a pragmatic Belle.
"We still have the same amount of games, we still only travel the day before or the day of a game."
"It's disappointing but at the same time it's good that the competition has lasted eight seasons as well."
It's an important point.  The FFA's commitment to the W-League, and it has been a substantial one, has meant a sustained league for eight years.
In that same time, the USA has seen one professional league collapse with the NWSL, entering its fourth season, possessing a similar structure to the W-League and realising also that federation support is required in the early years.
By many measures the W-League has been successful as evidenced by the number of players who have transitioned from the league to the national team.  The current Matildas squad is due to the league with 19 of the 20 players in the recent Women's Olympic Qualifiers products of the league.  Head coach Alen Stajcic's development is also in part due to the league.
However, in many ways the players have borne the costs.
Now they are coming together and becoming more vocal about change and setting standards.  They are being joined by others in the game like Ariel.  Her one wish for the game would be for better medical support.
"It's having the venues, having the facilities and then having the staff to co-ordinate all of that."
"It's simple things like having access to the gym where the boys train and having ice recovery and all of those small things.  Really it isn't hard."
For Jasmine and Belle their wishes vary however, both would like to see more matches before more teams join. The issue of a full home and away has vexed supporters for years and many of the players are in agreement.
"I think definitely in the next five years we need to expand the league and at least make a home and away set up," said Jasmine.
"It only adds an extra couple of games to the league but it makes it more beneficial and attractive.
Belle sees some positive developments in recent times and has given the players hope for some small but much needed changes in the future.
"We've seen that the A-League are slowly starting to take on the W-League clubs," she said.  "I think it is a good sign that they want to invest that money because the A-League clubs don't always make money."
The next couple of months will see the W-League players work for better workplace conditions.  Minimum standards.  Former A-League and Socceroos player and current PFA Player Relations Manager Simon Colosimo has probably articulated it best.
"The players are not sending the game broke, they just want the minimum wage because after all, they are employees, like everybody else."
However, the professionalism will need to go both ways.  Clubs have argued that players have not always been professional in their behaviour. That brings about the chicken and the egg argument; set professional standards first or expect professionalism before creating a professional environment.  Both players and clubs will need to come to the party if there is to be a systemic change.
For many of them they know that any changes might not happen in their careers but as those before them have sacrificed to grow the game, they know it's their turn to work, even sacrifice, for the future of the game.
"Basically we love the game," said Belle.  "We don't want to let it go because of a little bit of money here and there."
"If you ask anyone who loves doing their job, 'why don't you stop?'.  They would tell you it's just something that you when you love it."
---
* Names were changed for the anonymity of the interviewees 
Copyright ©The Women's Game All rights reserved.