Lydia Williams may not know it yet but her appearance against Equatorial Guinea at the 2011 FIFA Women's World Cup may have inspired the very goalkeeper who could replace her in years to come.
Lydia Williams may not know it yet but her appearance against Equatorial Guinea at the 2011 FIFA Women's World Cup may have inspired the very goalkeeper who could replace her in years to come.
"I was watching TV when a story about Lydia came on," said Western Sydney Wanderers goalkeeper Jada Mathyssen-Whyman. "It stated how she was indigenous and a goalkeeper also."
"I was instantly filled with enjoyment as I watched her [Lydia Williams] in action. 'That's who I want to be like when I grow up', I said to Mum."
A proud Wiradjuri & Yorta Yorta woman growing up in Wagga Wagga, over 450km south of Sydney, no-one in her family would have been surprised if Mathyssen-Whyman picked up the oblong ball and became an Aussie Rules player.
With the silky skilled West Coast Eagles premiership defender/forward David Wirrpanda for an uncle and godfather, the Young Matildas 'keeper came by her AFL ability naturally.  AFL, in her household, was king.
"Growing up I enjoyed playing all kinds of sport," she remembered.  "I especially enjoyed playing AFL as I loved getting up high and taking marks. It was fun and you got to play with your friends."
"My Mum's family followed AFL and so did my Dad's family.  AFL is a sport that runs strong through both sides of my family."
However, one person in her family recognised that Mathyssen-Whyman's love of the big grab and her safe hands could take her beyond Wagga and even Australia's shores.
"It was at this stage my Pop suggested I try football," she said.  "He said the game could take you places and give you heaps of opportunities, so for me it was a step in a different direction to play football."
Once the move into football was made at the age of 10, there was no looking back.
"I went and I loved it immediately, it felt so right. My coach stated that I wasn't leaving that position and I haven't looked back since."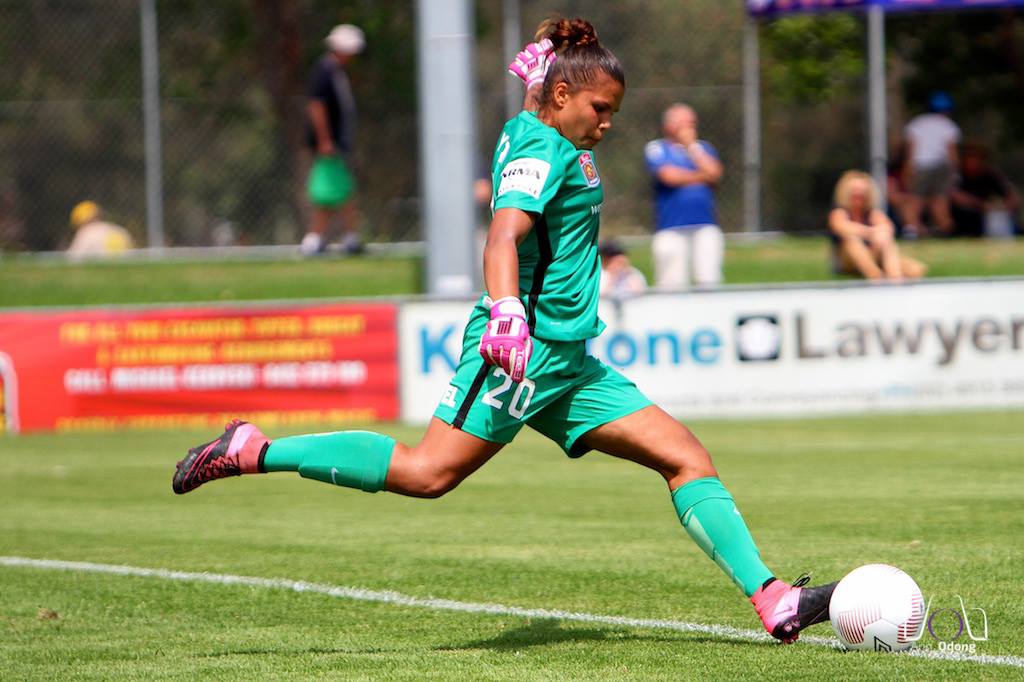 While many may have been introduced to Mathyssen-Whyman just this season, the 16 year old has actually been on the national team radar for at least three years.
Since picking up the round ball, the emerging goalkeeper has been ahead of the curve at every age group. From being selected for the U13 NSW Country team as an 11 year old, to selection for the Australian U17 national team as a 13 year old and the U20 team as a 15 year old.
Such is Mathyssen-Whyman's potential and skill that Paul Jones, long time mentor and goalkeeping coach of Lydia Williams, invited her to join his elite Canberra goalkeeping academy that has produced the likes of Williams and current W-League Goalkeeper of the Year Mackenzie Arnold.
"From the first look, I saw that Jada had unbelievable hands and was a super athlete," said Jones after spotting Mathyssen-Whyman at the FFA U14 National Championships.
"As well as the strong hands, Jada has really quick feet. She has lots of things that I look for in elite goalkeepers."
Jones would know.  With over a decade in women's football, the current Matildas and former Canberra United goalkeeping coach has overseen the development of some Australia's best 'keepers including Williams, Arnold, Casey Dumont and Brianna Davey.
"A lot of the things that I saw in Jada, I recognised in Lydia and the same age and a lot of times I use Lydia as an example when we are working on."
During the same period the 14 year old joined the Macarthur Rams in the NSW Premier League, a long time nursery of future Matildas.
In theory the opportunity was too good to turn down but in practice it meant long periods on the road for Jada and her mother Vanessa.
"Every Friday my Mum and I would travel from Wagga to Canberra to train with Paul Jones and then Saturday afternoon travel from Canberra to Sydney to play for the Rams on a Sunday."
"That afternoon we would travel home to Wagga. This was a 5 hour trip one way and it really took its toll on me mentally, physically and emotionally."
In the end, the travel proved too much and Vanessa Whyman packed up Jada and her three younger siblings and moved them to Canberra and year later to Sydney and the famed Westfields Sports High School.
Located in the western suburbs of Sydney, Westfields is the pilot school for the FFA High Performance Football School Program.  The program is set up to integrate education with 12-14 hours per week of intense training as well as game time.
It is an unsurprising decision considering the high school's history of developing past and present Matildas including Kelly Goleiowski (Women's World Cup player), Kylie Ledbrook (2010 Asian Cup winner) and Alanna Kennedy (current Matildas defender).
Mathyssen-Whyman is currently training alongside Wanderers teammate and recently capped Matildas defender Ellie Carpenter and W-League Young Player of the Year nominee Princess Ibini.
"My family are my biggest inspiration, they have made a lot of sacrifices for me and have played a huge part of where I am today," she said of the move to Sydney.
"My main goal is to do really well at school. I'm in year 11 this year and would like to focus on completing my HSC [Higher School Certificate].  With my sporting commitments, I would like to focus on my development."
The changes and dedication paid off last season when, at 16 years and 8 days, she became the second youngest ever W-League goalkeeper with her debut in the Sydney Derby.
A Derby encounter, live on Fox Sports and ABC TV; it was certainly a big introduction to the W-League and it showed with a nervous first half for the teenager.
"The first 20 mins of the game was so full-on," she remembered. "I know I got a yellow card within the first 60 seconds of the game, not quite the start I was hoping for."
Showing signs of future maturity, Mathyssen-Whyman eventually worked her way into the match and made several crucial saves as the Wanderers attempted but failed to come back from the two goal first half deficit.
"As the game progressed I felt more at ease and started to enjoy it. You definitely have to have your head in the game as no-one is going to take it easy on you because your 16 years of age and making your debut."
As with any young player, the rest of the season saw inconsistencies for the goalkeeper with good performances showcasing her strengths while other performances highlighted areas of improvement and resulted in time on the bench.  It is these changes in levels of performance that Jones hopes time in the W-League will smooth out.
"Jada has got a load of potential but she needs to develop the mental side of the game and a better understanding of the game."
"A lot of that will come with time as you still have to remember that she is still so young.  Many goalkeepers don't mature until their mid to late 20s.  You can't fast track experience."
Inconsistency was the theme collectively for Norm Boardman's side with the Wanderers ending the season outside of the finals.
For Mathyssen-Whyman, the first season was an eye opener and one which provided a glimpse into what is required for the next level.
"The big lesson for me was focus.  I learned you have to be focused and be switched on as soon as you enter the stadium."
The W-League off-season sees Mathyssen-Whyman playing against her former Rams teammates as the NSW Institute team aim for the NSW Women's National Premier League title.
"It is different from playing with Macarthur Rams as I am playing with girls my own age. It's hard to adjust to but I'm hoping we can have a good season and really develop as a team."
It has been a big three years for Jada Mathyssen-Whyman but despite all the rapid changes she has experienced in that time period, one thing remains true.
"I'm so thankful that I took on my Pop's advice and tried football because I cannot imagine playing anything else."
Copyright ©The Women's Game All rights reserved.