Michelle Heyman always has a smile on her face and has enjoyed work outside of football after having an injury ridden two years.
The 30-year-old missed almost all of 2017 with an ankle injury she picked up playing for Canberra United in December 2016.
Heyman was treating her time off as a blessing in disguise and spent time in the business world working for WithYouWithMe.
The Matilda is donning the Adelaide United jersey this season after spending eight years with Canberra and is hopeful she can just have fun on the pitch.
Heyman said the time away from the game was tough, but felt she needed a break from kicking a ball.
"I literally didn't put on a pair of boots for four months," Heyman told The Women's Game.
"That was the first time I have done that since I was 10-years-old, so that was challenging, but at the same time, I definitely needed that time away just to really look at myself and look at what I need to achieve this season.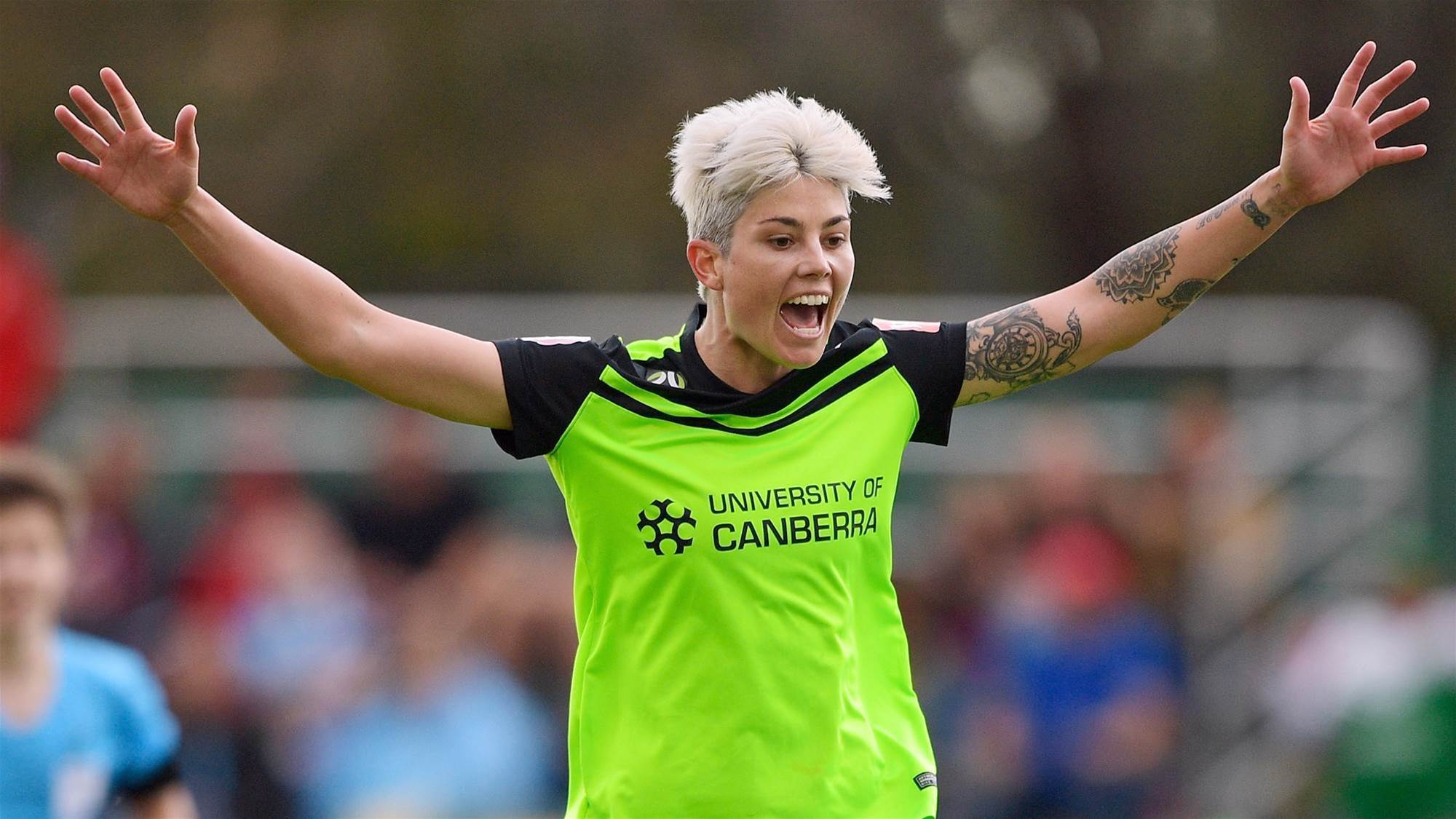 Heyman enjoyed eight years in the nation's capital
"It was the first time I actually had weekends which was massive, so I really enjoyed that and it was nice to be able to commit to social things I've always missed out on. I was able to attend birthdays, be at award nights and I was able to relax without worrying about anything else on.
"During that time, I started full-time work for the first time in a job outside of sport and that was different. My Monday to Fridays were going to an office and working eight hours and then the weekend was time for myself.
"I still managed to find myself at the gym, sauna or spa just doing something because it's hard to be an athlete and sit still."
WithYouWithMe began as a company helping military veterans return to the workforce and Heyman said her job consisted helping athletes do the same thing.
Heyman said she was enjoying the role and resonates with clients because of her experiences.
"We make sure they have the right support in their transitions and have the right education in the future of work, so it's a lot of cybersecurity, data analyst and IT roles," she said.
"We pretty much train them up and connect them with companies we already align with and we work with big banks and consultant companies.
Heyman is a cool customer...
"A lot of companies understand athletes haven't been in that industry or working around people like that. Being in the team environment and the leadership roles we have, they can easily make that transition, but it's more about giving them that education and belief in themselves that they can do it.
"I was panicking about life after football for a while, when I was 25, I started to get a bit of anxiety about it, because it's like 'oh, I only have a few years left in me, what am I going to do?'.
"I had my own clothing range and my own clinics. I did that because it was something I could do while I was away with the Matildas and my club as it was something I could do over the computer.
"I was still thinking about what I was going to do after that when I can no longer run. I needed to learn something else, so I was very lucky to jump on board with WithYouWithMe, get the experience and learn that the corporate world isn't that challenging.
"It's not as different from the football world. There's a lot of networking, chatting and meetings so it's not too dissimilar."
Copyright ©The Women's Game All rights reserved.