The 2017 Grand Final will be the fourth clash between the two sides, having only met once this 2016/17 season.
The 2017 Grand Final will be the fourth clash between the two sides, having only met once this 2016/17 season.
Whilst Perth are yet to have secured the silverware in their history, City are looking to make it two championships in just as many seasons.
In their inaugural season, Melbourne City exerted themselves over Perth with two comfortable 4-0 wins (their favourite final score in the 2015/16 season). However, their last game together resulted in Perth nabbing a 3-2 win - a riveting match smattered with show-stopping goals.

Round 3, Season 8 – 31st October 2015 - Perth Glory vs Melbourne City
Goal scorers: Tabain 11', De Vanna 21', Crummer 52'/63'
All Perth would have known about Melbourne City at this point was they had knocked in 6 goals against Sydney, and followed it up with a 2-1 win over Victory.
The then defending premiers were looking to protect themselves against the incoming storm, however ended up succumbing to a 4-0 defeat.
Despite chances from Katie Schubert, Shannon May and the infamous Sam Kerr, the side were left scrambling to keep possession in the middle of the park.
One notable moment was City debuting midfielder Kim Little, who would go on to become a crucial element for their undefeated first season.
They were able to switch the play quickly, with Perth unable to fill the holes in the centre of the park.
The first goal saw Tabain knock it in at the 11th minute off a Lisa De Vanna cross.
Not one to miss out on the action, De Vanna got her name on the scoresheet at 21 minutes.
Another assist saw her play in Crummer to make it 3-0 at 52 minutes, before Crummer chipped Mackenzie Arnold for the fourth and final goal at the 64 minute mark.
Perth's Best: Sam Kerr, Katie SchubertCity's Best: Steph Catley, Lisa De Vanna
---

---
Round 10 Season 8 – 20th December 2015 – Melbourne City vs Perth Glory
Goal scorers: Little 62', Tabain 69', De Vanna 83', Fishlock 90+3')
The pouring rain set things off slowly for City as they struggled to put the ball in the back of the net as Perth dished out their own chances.
Vanessa DiBernardo and Carla Bennett were a strong core for Perth, working box to box and providing well-needed structure in the middle of the park.
But the second half brought the onslaught of Melbourne City goals as they finally nailed their game plan – quick passing and precise runs from a fast forward line.
The first came from Kim Little in a smart pair up with Lisa De Vanna at 63 minutes.
In the 69th minute, Marianna Tabain was given plenty of space in front of goal following a free kick and slotted one in. She and Larissa Crummer continued the trend of slick combinations in 83rd minute, before Fishlock iced the cake with a shot off a solo run during stoppage.
City's Best: Steph Catley, Marianna Tabain, Jess FishlockPerth's Best: Carla Bennett, Vanessa DiBernardo, Caitlin Foord
---
General Season Statistics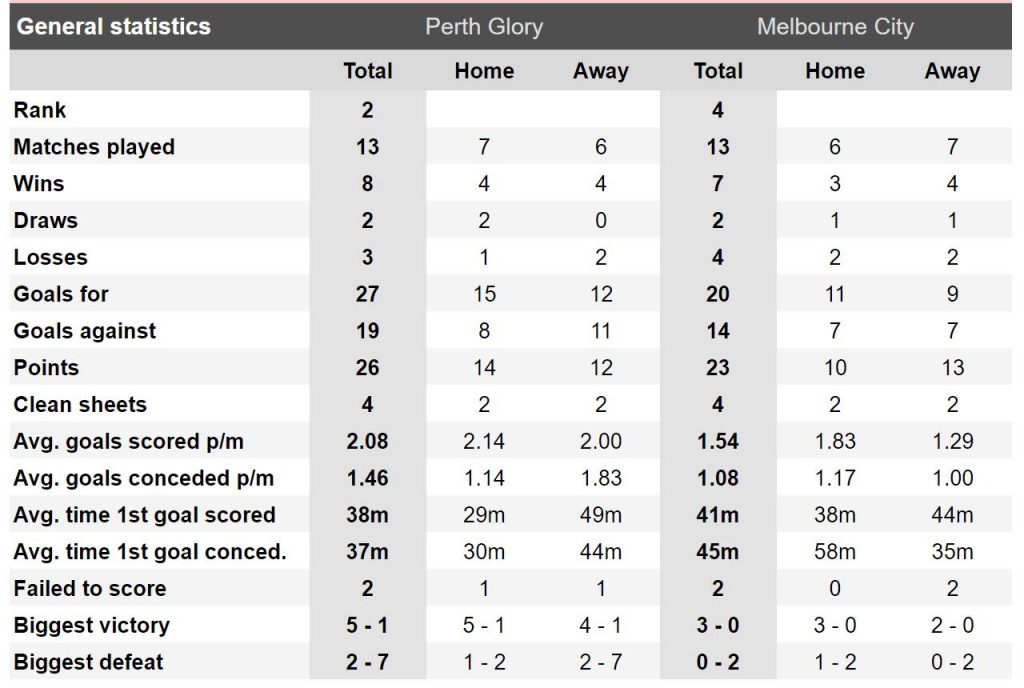 ---
Round 8 Season 9 – Tuesday 27th December – Melbourne City v Perth Glory
Goal scorers: Sutton 47', Fishlock 60', Luik 72', Kerr 77'/82'
Third time round, Perth were set on shaking up theirs and City's narrative.
The two sides produced arguably one of the most exciting games of the season, with a see-sawing score line making for gripping entertainment.
Reformed Perth team brought out a stellar forward line, but the defensive strength of both sides saw it in a 0-0 lock at half time.
Rosie Sutton, who has blossomed this season in her pairing with Sam Kerr, changed this minutes into the second half, slotting away a goal in the 47' minute. Receiving from Shaun Billam, she smacked it in out of Lydia Williams' grasp.
Jess Fishlock retaliated as only Jess Fishlock can, with an airborne shock shot that no one saw coming. City then seized the lead after Aivi Luik sliced one in off a square ball from youngster Jacynta Galabadaarchchi.
Before too long, Perth had equalised with some Sutton-Kerr magic. Kerr then nabbed her second goal and the win with a beautiful curved shot deflected in off the far post with only 8 minutes to go.
City's best: Jacynta Galabadaarachchi, Jessica FishlockGlory's best: Sam Kerr, Alyssa Mautz
Copyright ©The Women's Game All rights reserved.