The 2016 W-League Grand Final will be the third meeting between these two sides in the 2015/16 W-League season.
The 2016 W-League Grand Final will be the third meeting between these two sides in the 2015/16 W-League season.
Although Melbourne City have come away with the points on both encounters, they were two different clashes and set up an intriguing finale.

Round 1: Sydney FC 0 - Melbourne City 6
Goalscorers: Crummer (11' / 45'), De Vanna 39', Goad 43', Tabain 61', Ayres 89')
Everyone in the women's football community had a pre-season inkling that Melbourne City would be a good team but just how good would remain to be seen.
In Round 1, against the most successful club in the W-League, the community quickly had their answer; they were very, very good.
It started off well enough for Sydney FC with fast paced football in the opening 10 minutes with the Sky Blues able to match City.
However once Larissa Crummer opened the scoring in the 11th minute, City took control and never let it go.
Training under Australia's best professional environment, the visitors came into the match battle hardened, quicker and sharper than their hosts.  Crisp passing, well worked interchanges, strong runs eventually run Sydney FC ragged.
Melbourne played as a unit with the defence well drilled, the midfield connecting quickly and the attack find space in behind the Sydney defence.  As a team they pressed high and the Sky Blues cracked under that pressure.
Even when they won the ball back, the early season lack of sharpness meant passes weren't connecting for Sydney and the big holes between the lines made it easy for City to pick their way through.
Even without their internationals, it was a strong lesson on what the benchmark was for this season and the Sky Blues new they had a long way to go.  
City's best: Larissa Crummer, Lisa De Vanna, Aivi LuikSydney's best: Teresa Polias, Alanna Kennedy, Jasmyne Spencer
Written by Ann Odong
---

---
Round 14: Melbourne City 2 - Sydney FC 1
Goals: Kennedy (OG) 52',  Ibini 71', Tabain 85'
The second encounter saw a very different match at CB Smith Reserve in Victoria. Where Sydney had an admittedly a slow start to the season, they came into this game ready to put up a fight.
The Sydney side made this very clear as they got off the first real shot of the half and capitalized on the absences of De Vanna and Crummer from the City roster. These absences made it harder for Melbourne to find the rhythm that usually allows them to build up to goal after goal.
City was not without it's own highlights, Bri Davey showed up in fantastic form and it was her saves that really kept the scoreline where it was. Sydney's Simon was relentlessly trying for a goal with three of the best attempts of the match from either side. However she just couldn't find the back of the net.
Jess Fishlock was also prominent in the midfield, however without the energy and play making abilities of De Vanna her attempts often struggled to truly translate to an offensive attack. That said she provided a stability and commanding presence in the midfield that City much needed.
What made this game so different from the round one opener was the stepping up of Sydney as a whole. While every player didn't have their best match, the team had taken strides as a unit and had learned how to exploit City's weaknesses.
For City it was another game in a series of challenges. Missing key players and the pressure of a perfect season looming, they had to once again learn on the fly and rearrange to figure out how to beat a much harder Sydney FC side.
For the Grand Final, and with Fishlock in question, it certainly seems like Sydney FC is poised to make a hard run to ruin the perfect season. Thus far however City has always found a way, and they don't plan to let that up quite yet.
City's Best: Brianna Davey, Jess Fishlock, Jennifer Beattie
Sydney's Best: Michelle Betos, Kyah Simon, Leena Khamis
Written by Maisie Vachuska
General Season Statistics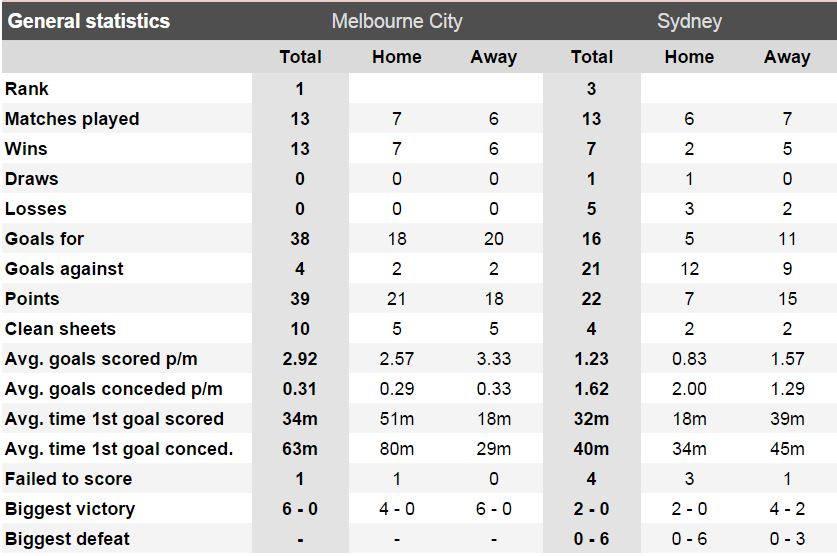 Copyright ©The Women's Game All rights reserved.