When former Matilda and Newcastle Jets captain Hayley Crawford retired in Season Five, the list for the Jets next captain was one player long; Gema Simon.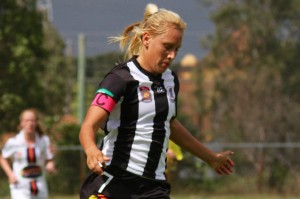 When former Matilda and Newcastle Jets captain Hayley Crawford retired in Season Five, the list for the Jets next captain was one player long; Gema Simon.
Since making her debut standing shoulder to shoulder with Australian greats including Cheryl Salisbury and Joanne Peters, Simon has developed into the heart and soul of the young Jets team.
Always one to let her football do the talking, the foundation player with over 50 games of W-League experience, has worked hard to provide on field leadership in what has been a tough season for the Hunter side.
Simon talks to TWG's Newcastle correspondent Dan Hanney to learn a bit more about her history, the importance of family, culture, footballing experiences and future ambitions.
Tell me about your first game of football, describe the first game you remember playing.
I started playing when I was about five at Arrington, out near Glendale. I remember a lot, though my first soccer photos are of me in goals! So that's interesting.
I wanted to play Rugby League but my parents wouldn't let me, they said I was too little. I had a lot of older cousins that played League so back when I was younger I used to play with the boys a lot.
What was the best thing about playing football as a kid?
"Just playing, I loved it. I'd do it every day if my body would let me."
I used to play a lot with my cousins, there was a couple of years where I was playing with my cousins as a social thing so it went from there.
Did you have any heroes growing up and how did they influence you?
I used to do cross country and little athletics so I loved Cathy Freeman.
I guess I kind of looked up to her because she's Aboriginal as well, and that was kind of a big thing for me. I don't know really I just liked her.
Your culture, family, being an Indigenous athlete how proud does that make you feel and how has it helped make you the person you are today?
Yeah of course culture and your background says a lot about a person. I've got a huge family I couldn't tell you how many cousins, aunties and uncles I have.
It's great they're always supportive. I've got a younger brother and sister as well so I try to set a good example for them and help them out as much as I can.
My parents have only missed one game in the six seasons I've been here (one home game that is) and that was this year because they went up to the Gold Coast but that was alright I let them.
How did you feel when you made your W-League debut, were you nervous?
Yeah definitely! It was exciting, it was the first time I'd ever played left back.
I was playing next to Cheryl Salisbury and had Joey Peters in front of me, had Kate Gill in the team, Rebecca Smith from New Zealand, Emily Van Egmond was playing and Amber Nielson.
We had so many quality players it was just exciting.
Do you still get nervous before games?
Yeah, probably around the five minute warning [before play], is when I get the most nervous. You get used to it I guess, but still a bit of nerves are there.
What changes have you noticed about the W-League's standard and the players that have come through?
It's definitely going forward, it's improving every year and getting quality players in.
There's a lot of quality players in Australia, and getting overseas players coming over improves the league so much more, it's definitely going in the right direction.
Who is the best player you've played with or against?
The best player… that's a hard one! I liked playing with [Lisa] De Vanna when she was here. Because she's so up front she'll tell you if you've had a bad game or you need to do something she's straight out she'll tell you.
Joey Peters and Cheryl Salisbury as well. When I was younger I watched them, Joey being left footed (like me). So probably those players.
Injuries or other setbacks you have had and how you overcame them?
I just love the game really. I think I've had seven blood injections in my right knee, had surgery where I got half my tendon and a bit of my kneecap taken out.
In my left knee, I've had three blood injections in that and oh last year when I was overseas my kneecap popped out and popped back in again, bruised the bone and did cartilage damage.
(On overcoming the setbacks) I just look forward to getting back and being better then what I was I guess. I want to be the best player that I could possibly be, and being injured gives you a chance to work on other things.
You got to play overseas for the first time in the American W-League last year. What was that experience like?
It was great, apart from getting injured.
I was over there for three months, I got injured in the first month so was over there for two months not playing and they couldn't figure out what was wrong with me until I got back to Australia and got an MRI.
"I think I learnt a lot about myself as a person and a player."
It was definitely hard being in another country where you don't really know anyone and being injured.
That helped me figure out who I was as a person and to stick through that kind of helped me as a player as well.
You are captain of the Jets this year, has that changed the way you carry yourself as a person and how you go about your football?
I don't think I've changed too much, I definitely talk more than I did the last couple of seasons.
I try and do the same things, Pete chose me to be captain for a reason, I just try to lead by example and help the girls out where I can.
What does the future hold for Gema Simon, is there anything you would like to achieve before you finish your career? 
What a question! I want to go back overseas and play. I just want to get through the next year without getting injured, to see how I will be without injuries I guess.
I want to be the best player I can possibly be and do all the right things for that to happen.
Whatever else comes along, if I get a crack at the national team, which I'd love to do that's great, but If not as long as I've done everything I possibly could to try make that happen I will be satisfied.
Copyright ©The Women's Game All rights reserved.