People say that life is about moments.
People say that life is about moments.
Sitting in the stands of Marconi Stadium for the Western Sydney Wanderers first home game of season eight it's clear that the moment belongs to one person, Ellie Carpenter.
Much has been written of Ellie Carpenter since her debut. On the surface, Ellie is the quintessential good news story; 'Kid from the country makes it in the big smoke', but the emergence of Ellie Carpenter is no coincidence.
In speaking with and subsequently learning more about the family, particularly through Ellie's mother Belinda, it's even more clear that life isn't so much about moments at all, rather the sacrifice, the resilience and the commitment that comes with earning that moment.
Since making that incredible sacrifice this 'unit', as Belinda affectionately refers to them, has continued to get stronger. Their leap of faith has paid dividends with both Ellie and Jeremy's football careers flourishing.
For Jeremy, a testament to his family's get-up-and-go and unconditional support, football has taken him from Japan to Portugal to ply his trade improving both technical ability and football discipline.
Like her brother, Ellie has been busy since the move too, "After two years Ellie cracked the NSW PSSA team and was given the captaincy for Nationals in Darwin. She was chosen for FNSW SAP girl's state team and in the same year represented NSW at Nationals for athletics and for school aerobics, winning gold and silver in both disciplines."
Ellie's emergence continued with selection for the Australian Under 17's before going on to play for the Under 20's in the Asian Qualifiers in Malaysia, Vietnam and China. Then came the call from Norm Boardman and Ellie's debut W-League season with the Western Sydney Wanderers. Despite the geographic distance the bond between Ellie and Jeremy hasn't suffered, "they may not see each other often but their competitiveness makes them fierce rivals but they are definitely each other's greatest support."
Somewhere in the trip from Cowra to Sydney Belinda has learned that in order for her children to get to where they need to be, their parents need to let them go.
One of their biggest supporters, number one fan and, in my opinion, the greatest reason for their continued success Belinda made the trip to Japan to surprise her daughter and be there as she realised one of her biggest dreams; debuting for the Matildas.
When I ask her how she felt, standing at the summit of countless hours, kilometres, sacrifice, tears and good times watching her daughter take the field she simply tells me, "I was thinking, do your thing."
Having settled, albeit temporarily and with an air of vagrancy, in their new home this unit have come a long way, done a lot of learning and look back at the experience having gained priceless life lessons. "As a unit we are committed to personal excellence in football. This means different things to everyone.
SETTING THE FOUNDATIONS
Watching Ellie play you'd be forgiven for forgetting she has just celebrated her sixteenth birthday. Her football finesse, natural ability and confidence on the ball, like many of Australia's best female footballers, far exceeds her years.
That born athletic instinct makes sense when I learn that both Ellie's parents ply their trade as PE teachers, "Ellie and her brother Jeremy were brought up on the outdoors and participating in a variety of sports, kids of two PE teachers there was never any chance they were going to be indoor children!"
A variety seems an understatement when you consider that Ellie, along with her brother, spent her primary years playing cricket, tennis, AFL, touch football, athletics, cross country, swimming, water skiing and for Ellie even competing in dance Eisteddfods across tap, ballet and jazz.
It didn't end there for the Carpenter siblings with both leaving their sporting comfort zones to get involved in public speaking, drama and even spelling bees.
The sheer scope of talent shared between the two suggests that the fundamental tools for success were engrained in them early but according to Belinda her children's success is accredited to more than just ability.
"Participating in those sports exposed the kids to losing, winning, disappointment, feeling uncomfortable, feeling sweaty, feeling pain, being criticised, being praised, receiving both positive and negative attention and also taught them about work ethic."
"They soon began to see that what they put in determined what they would get out of things. Even though they obviously possessed natural athletic ability, by far the biggest factor in determining their path was their attitude, resilience and mental approach."Like many young, female footballers Ellie was exposed to brash football realities early when she was forced to learn that, in a male dominated game, success is not always celebrated.
"When she was eight Ellie was part of an Under 8's girls' team who dominated the Cowra competition causing complaints to be made about elitist attitudes and unfairness. The actual key to this girls' team being able to mix it with the boys was the amount of time that was invested in them."
"They were a cohesive group, they had matching ribbons and socks and new jerseys. They trained three times a week because they wanted to succeed, it was a mentality and a culture that was being introduced at a young age."
Whether she's aware of it or not, sitting across from Belinda as she tells me her families' story there's no questioning where her children's positivity and mental preparedness comes from. As she continues she repeats the same words over and over, "they (Ellie and Jeremy) were supported all the way, by their parents, dedicated family and a few key mentors in the footballing community."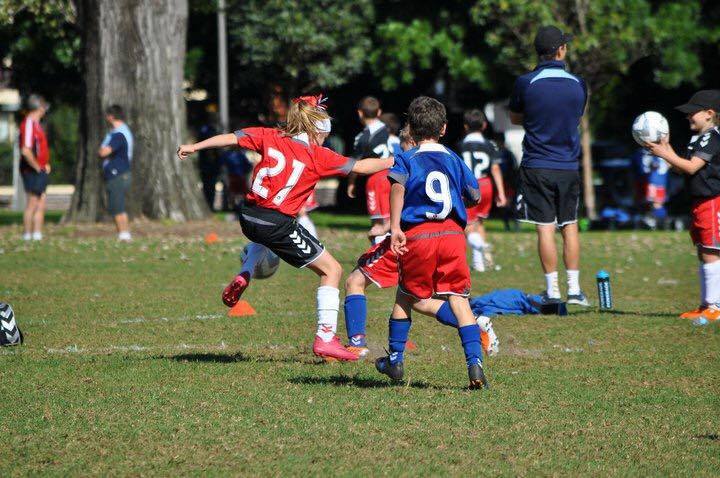 As the story takes shape, so too do the contributing factors of the Carpenters success; natural ability, mental strength and the support of a family willing to do whatever it took to give their children the best possible chance at achieving their dreams.
"After it was decided that the Under 8's team would not be able to continue together, we decided to take Ellie and Jeremy outside of the town to play.
At the age of 8 they would travel to Young three times per week to train with a Football NSW development squad, a 140km round trip. As their love for the game grew so did their desire to become more proficient. Researching for more technical coaching we found Coerver coaching in Canberra.
Whilst continuing to train in Young and play for Lachlan Lions we also travelled to Canberra two nights per week as well as one weekend day to participate in the Coerver program. This was a 400km round trip that would see us leave Cowra at 4pm to be in Canberra by 6pm. The kids would train there, eat dinner and do homework in the car and be back in Cowra by around 11pm. They did this for just over two years."
At this point some quick math brings the Carpenters odometer to 1,620km per week and that's before you factor in representative games on their one not-so-free day of the week between Parkes, Dubbo, Orange and Bathurst.
While Belinda assures me traveling and being patient had become the Carpenters norm the strain of football commitments would take an even bigger toll once Jeremy and Ellie were selected to play for the Western NSW Football P22 squads in Sydney. As the only girl in a trial of 70 boys the 7 hour round trips were well worth the exposure to next level competition and coaching proving pivotal to their football development.
After an entire year of commuting between home in Cowra and opportunity in Sydney, Jeremy was selected for a spot at Westfields Sports High and as she had always done, against the male dominated grain, Ellie worked hard to follow in her brothers footsteps.
"When Jeremy relocated to Sydney, Ellie was fortunate enough to be included in the Met West boy's squad. They were the most inclusive group of parents and players supporting the girl from the country and treating her so unbelievably well. She loved the challenge and worked hard under the eye of Tim Wilson."
"By then Westfields Sport High had encouraged Ellie to trial for a spot in their primary program in partnership with King Park primary school. When we accepted Ellie left her friends, her home and her father to pursue excellence in football."
I don't have to try to imagine how big and difficult a change this would have been for long before Belinda fills in the blanks very honestly admitting the transition was a year of "financial, emotional and mental struggle" with tears and moments of doubt.
It wasn't just their address that had changed, Belinda's infectious optimism glows as she tells me about how Ellie and Jeremy struggled with the transition from big fish in a little pond to little fish in an ocean. "They used it to drive them", this is Belinda personified, taking something scary, something difficult and turning it into a motivator.
"They started with things like trying to win the school cross country and be competitive in SSW athletics. To come down here and try to mix it in such a strong region as Sydney South West was a test. I told them eventually you'll get to the top of that pool if you persevere."
The reality of making such a drastic sacrifice to give your children every chance at the life they work so hard for took a much deeper toll on Belinda, "The hardest thing for me was losing my identity. I resigned from my job, left behind my day to day friends and family, then separation and the end of my marriage."
"We were naïve. We had coached and volunteered at every school in the town and thought that people coached for the same reasons as us. We realised quickly that people weren't all in it for the same reasons, which came as a shock. We had to learn to become more resilient, none of us were made like this."
I find it hard to believe as she adds, "we're not as nice as we used to be!"
LIGHT THROUGH THE DARK
For Ellie and Jeremy there is no Plan B. Plan B is considered to be an excuse. We all make choices. We have chosen to sacrifice a social life, certain relationships and friendships and also financial security for Ellie and Jeremy to be the best they can be in the sport of football. Right or wrong this is what it is.
They have learned that unfairness and disappointment are reality. They've learned that to achieve at a high level you have to be respectful enough to listen and learn but not respectful enough to step aside."
Speaking about how far Ellie has come in so little time we both agree that a common description of Ellie is being 'mature beyond her years'. That maturity is not too far separated from the formula to Ellie's success; understanding and accepting realities.
"You get out what you put in. You cannot have a victim mentality. If something isn't working then it is up to us to change direction. No one owes us anything. Just because you work hard doesn't mean you're entitled to it."
"You have to be determined but at the same time be grateful for the chances you are given. You need talent, work ethic and opportunity to make it and it takes a team of great people to help. From the medical team, to the coaches, to the sponsors, to the supporters, to the few advisers that we trust."
At just sixteen, Ellie Carpenter is one of the brightest sporting prospects in Australia.
Her love for them game, hunger to continue to break barriers, unbridled enthusiasm and invaluable spirit is catalyst for the growth of women's football. Belinda tells me Ellie's greatest reward from the game is meeting young girls with big dreams, a tremendous canvas for future Matildas and a testament to the wonderful person Ellie is becoming, and as I have had the pleasure of getting to know, just like her mother.
https://www.instagram.com/p/BF3el8cQ2GQ/?taken-by=elliecarpenterr
Life isn't just about moments. Life is about the sacrifice, resilience and commitment that comes with earning that moment and the Carpenter unit have well and truly earned theirs.
Copyright ©The Women's Game All rights reserved.