Matildas veteran Lisa De Vanna believes teenage South Melbourne teammate Melina Ayres needs to step out of her comfort zone.
South take on Bulleen Lions in the NPLW VIC Grand Final on Sunday at AAMI Park (3.30pm) after a 4-0 smashing over Alamein FC in the semi-final.
Ayres, 19, has shone this season for South with 42 goals from 27 games, improving from netting 39 last season.
The teenager has four goals in the W-League for both Melbourne teams but the Matildas veteran says while Ayers is one the rise, she still has a lot to learn.
"I think anyone who's scoring over 30 goals two seasons in a row sums it up," De Vanna told The Women's Game.
"She need a bit of a challenge, she's a very prolific goal scorer and if you put the ball anywhere in the 15-yard-box and she'll find it.
"Her tekkers around the 15-yard-box is amazing. In the last couple of games, if she's not scoring, she's creating something, but if she isn't, she's chasing back.
"That's something she lacked in her game in the past.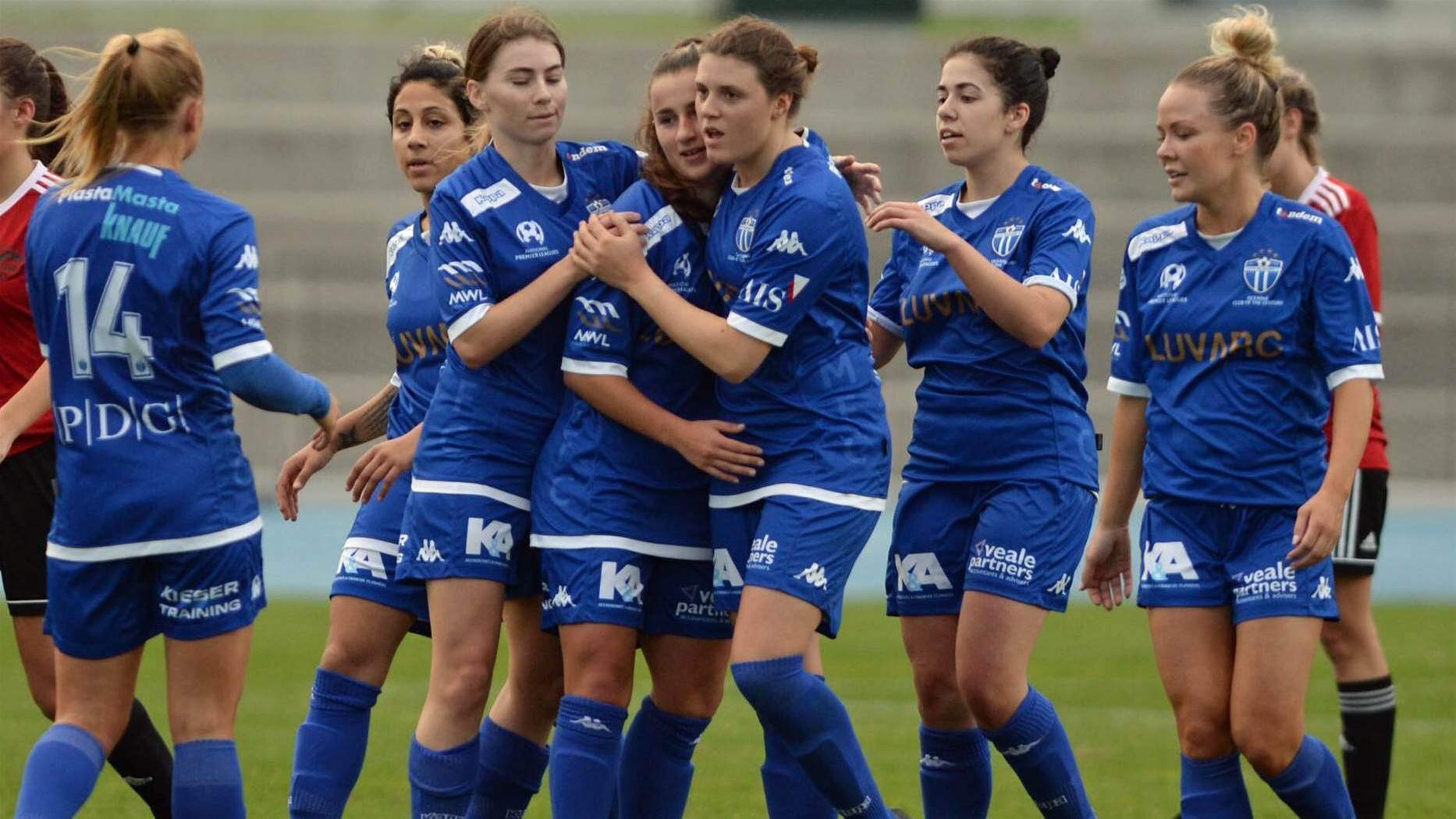 Ayres celebrating with her teammates this season. By Sam Anfield Photography
"We drilled it to her that you can bang in the goals, but what are the off things you need to do to be better? Because you can do things in the NPL, but when you get to W-League level, if you want to take it further, you have to give that extra one percent.
"She was unbelievable against Alamein FC (in the semi-final), she was getting the ball, playing players in and created all three goals. She got rewarded for one.
"Those are the things I like to see in a player and scoring 42 on paper looks great, but take it to the next level, can you do that?"
De Vanna said she would like to see the Melbourne Victory striker try her luck overseas to learn a new football culture.
"It's growing as a person first, she needs to grow as a person, learn to be independent and enjoy the culture of football," she said.
"I think that's what she'll become and she'll bloom a little bit better. I think that's the case for everybody.
"It's easy, but once you take them out of their comfort zone, they have to grow as people. That's up to her, she needs a different challenge."
De Vanna is unsure whether she'll play the full game in the Grand Final on Sunday.
The 33-year-old has played nine games for South this season and is set to rejoin Sydney FC in the W-League for the upcoming campaign.
The Matilda was flying to Sydney every week to play and train with boys to maintain her fitness after the 2018 Tournament of Nations.
Will we see LDV at the World Cup?
De Vanna is eyeing the 2019 World Cup in France, but concentrating on a good W-League season first.
"There's no such thing as definite for anybody, anything can happen with injuries and things can change," she added.
"I really enjoyed my time last year in Sydney. I also had Chloe Logarzo who's one of my best mates. I had a good support network and I really enjoyed Ante (Juric's) coaching philosophy. I just want to make sure I'm there from day one.
"Loz is a good kid, she gets confident every international game she plays. She's got a lot of heart, she's got two legs, so she can run through every body and she's the unsung hero.
"She's not that superstar where people say, 'Oh wow', but she all the hard work people don't see."
Main photo by Sam Anfield Photography
Copyright ©The Women's Game All rights reserved.