The transfer, loan and mutual termination window is wide open and the who's who of female footballing talent is once again making the trek Down Under for W-League 2019/20.
The following nine pages are your source for the latest W-League transfer and squad lists, updated daily with the latest news available.
So have a scroll through, share it with your friends and if you're a Melbourne City fan, use it to crush the hopes and dreams of any Newcastle Jets supporters you know.
But most of all, make sure you get excited. Judging by the names we've got so far, this season promises to be an absolute cracker.
SYDNEY FC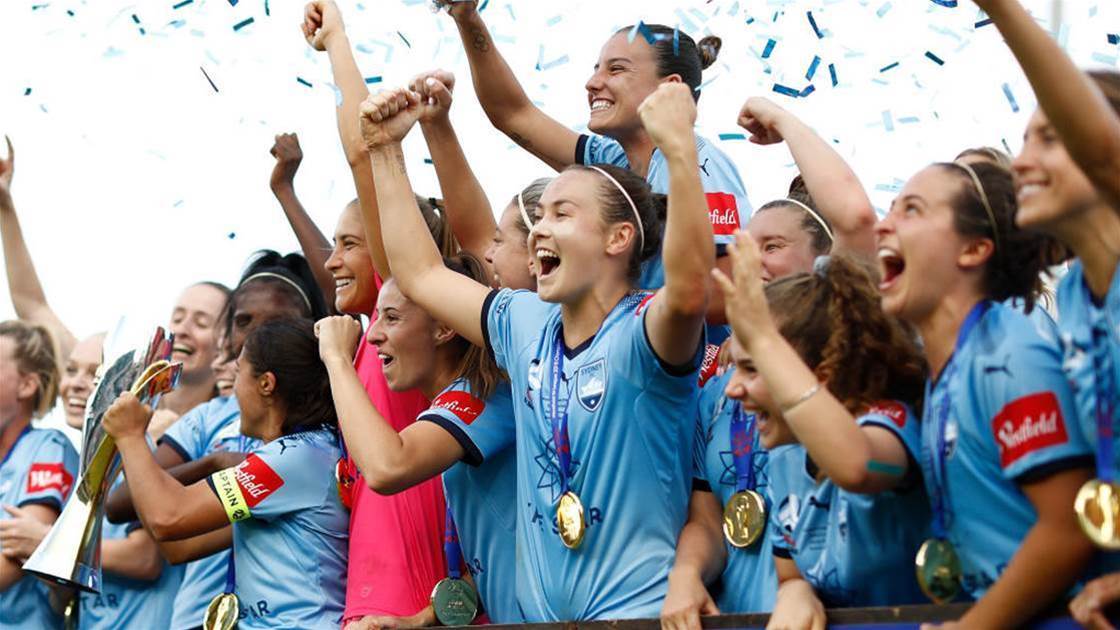 Let's start off with the champions, shall we? Sydney were first off the boat to launch their title defence with their full squad named before most W-League teams had got off the blocks.
When you look at the talent that's on offer, there's little wonder why they couldn't wait to share it with the rest of us.
Full Squad
Alanna Kennedy, Ally Green, Amy Sayer, Angelique Hristodolou, Aubrey Bledsoe (GK), Caitlin Foord, Chloe Logarzo, Ellie Brush, Elizabeth Ralston, Mackenzie Hawkesby, Natalie Tobin, Princess Ibini, Remy Siemsen, Sofia Huerta, Shadeene Evans, Taylor Ray, Teresa Polias (captain), Trudy Burke (GK), Veronica Latsko.
MELBOURNE CITY
As we hinted in the prelude, City have created one of the biggest splash of the transfer window so far by poaching the services of not only Adelaide United captain Emma Checker, but Matildas and Newcastle legend Emily van Egmond while they're at it.
Add some phenomenal Matildas names and a few under-the-radar internationals into the mix and we have a very exciting, resurgent City on our hands...
Confirmed Squad
Chelsea Blisset, Emma Checker, Melissa Barbieri (GK), Sofia Sakalis, Emily van Egmond, Kyah Simon, Nia Stamatopoulos, Rhali Dobson, Tyla-Jay Vlajnic, Ellie Carpenter, Lydia Williams, Lauren Barnes, Yukari Kinga, Steph Catley, Claire Emslie, Milica Mijatovic
ADELAIDE UNITED
Adelaide have also shown they mean business, naming 11 players as Ivan Karlovic seeks to turn around his own team's ailing fortunes after a sixth-placed result last term.
The highlight is undoubtedly the signing of Mary Fowler, the Matildas' prodigy joining alongside her sister Ciara from Bankstown City. But a few more internationals in the mix means Adelaide now have some experience to boot...
Confirmed Squad
Sarah Willacy (GK), Georgia Campagnale, Emily Hodgson, Laura Johns, Emily Condon, Chelsea Dawber, Ciara Fowler, Kahlia Hogg, Dylan Holmes, Mary Fowler, Charlotte Grant, Isabel Hodgson, Mallory Weber, Amber Brooks, Julia Ashley, Lais Araujo
CANBERRA UNITED
Canberra United are another side in-need of a reboot after Heather Garriock's team finished eighth last season and scored only 13 goals throughout the entire campaign.
They've started unsurprisingly with the signing of a striker, Norwegian international Elise Thorsnes, an international of serious pedigree who is sure to get some excitement back in the stands for Canberrans this season.
But there's a lot more to be excited about in this Canberra lineup..
Confirmed Squad
Nikola Orgill (c), Karly Roestbakken, Elise Thorsnes, Shamiran Khamis (GK) and Annalee Grove (GK), Taren King, Olivia Price, Laura Hughes, Hayley Taylor-Young, Jessie Rasschaert, Simone Charley, Katie Stengel, Leena Khamis, Patricia Charalambous, Emma Stanbury,
Ashlie Crofts, Rebekah Horsey, Kaleigh Kurtz
BRISBANE ROAR
With the re-signing of Celeste Boureille, Brisbane are well and truly Championship contenders, the cherry on the top of a massive Matildas lineup.
Roar legend Tameka Yallop returns to Bris Vegas after her Melbourne CIty soaree, while Mackenzie Arnold returns from the NWSL and Katrina Gorry will once again command that midfield.
It's promising to be another big campaign for last season's second placers.
Confirmed Squad
Mackenzie Arnold (GK), Katrina Gorry, Tameka Yallop, Leah Davidson, Indiah-Paige Riley, Hollie Palmer, Kaitlyn Torpey, Georgina Worth, Allira Toby, Natalie Tathem, Rylee Baisden and Claire Farrington, Elise Kellond-Knight, Hayley Raso, Carson Pickett, Isobel Dalton, Celeste Boureille
MELBOURNE VICTORY
Melbourne Victory have made a statement with the signing of Jenna McCormick in the off-season. Sure, she's a W-League and AFLW veteran by now, who's graced the books of several clubs across both leagues. 
However, when Victory sign her, suddenly she's putting her full attention into football and has already named her main intention this season: breaking into the Matildas.
If McCormick is going to uproot an established team and break into that talent-packed national team defence, Victory are going to have another star on their hands this season to compliment fearless forward, Natasha Dowie.
Confirmed Squad
Angie Beard, Jenna McCormick, Natasha Dowie, Melissa Maizels, Annalie Longo, Teigen Allen, Alexandra Gummer, Lia Privitelli, Melina Ayres, Grace Maher, Amy Jackson, Rosie Sutton, Polly Doran and Emma Robers, Hayley Hanson, Darian Jenkins, Emily Menges
WESTERN SYDNEY WANDERERS
We have high expectations of the perenially underachieving Western Sydney Wanderers this season.
The move into Bankwest Stadium settles the men's arm of the franchise and hopefully leads to the Wanderers' setting high aims in the W-League as well.
Massive NWSL signings highlight the lot, but there's a lot of youth on offer here as well.
Confirmed Squad
Jada Whyman (GK), Courtney Nevin, Susan Phonsongkham, Alex Huynh, Alix Roberts, Amy Harrison, Sam Staab, Lynn Williams, Kristen Hamilton, Denise O'Sullivan, Leena Danaskos, Erica Holloway, Kyra Cooney-Cross, Cortnee Vine, Vesna Milivojevic, Abby Smith
PERTH GLORY
With no Sam Kerr, Perth remain a big question mark heading into the season. But this is still the club that pushed Sydney FC to the Grand Final last season, don't forget that.
Confirmed Squad
Morgan Aquino, Eliza Campbell, Kim Carroll, Sarah Carroll, Caitlin Doeglas, Jamie-Lee Gale,
Shannon May, Lexie Moreno, Leticia McKenna, Jenna Onions, Natasha Rigby, Celia Jimenez Delgado, Morgan Andrews, Crystal Thomas, Arianna Romero.
NEWCASTLE JETS
The loss of Newcastle's favourite daughter since day-dot is going to hurt morale around the club a bit this season, but Van Egmond's departure does open the door for a brand new young gun to take her place.
We're excited to see some fresh faces in the Jets' squad this season and a few more experienced-heads after the last campaign, including the likes of Larissa Crummer, Gema Simon and Hannah Brewer.
Confirmed Squad
Claire Coelho (GK), Hannah Brewer, Cassidy Davis, Gema Simon, Tessa Tamplin, Larissa Crummer, Libby Copus-Brown, Paige Kingston-Hogg, Sophie Nenadovic, Clare Wheeler, Tara Andrews, Teigan Collister, Jenna Kingsley, Pana Petratos, Renee Pountney, Annabel Martin, Nicki Flannery, Lauren Allan, Nicole Simonsen
Copyright ©The Women's Game All rights reserved.