So you all know this Saturday is the very first W-League SYDNEY DERBY, right?!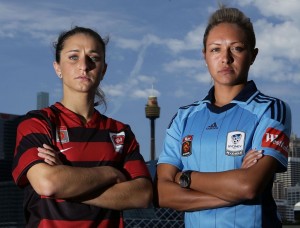 So you all know this Saturday is the very first W-League SYDNEY DERBY, right?!
Help us show the players and the Clubs just how much Sydney siders love their football and make sure you get along to Leichhardt oval this Saturday for a 2pm kick off.
Need an extra incentive?
Thanks to the folks at Sydney FC and the Western Sydney Wanderers we have a couple of fabulous prizes:
Signed Sydney FC away jersey

Signed Western Sydney Wanderers training shirt
How do you score these prizes of awesome? Simple.
Snap a photo (or two or ten) at the game of yourself or your friends either:

with your favourite player or

in your supporters gear

Post your photos to instagram and / or twitter and tag them with #TWGcomp
Make it creative! You'll get bonus marks for being extra fanatical: dress ups, signs... etc.
Your photo will be entered into a gallery on The Womens Game Facebook page for everyone to see and an 'expert' panel of judges (that'd be Ann, Dan & Shell) will pick a winner.
So, get to the game, get shooting and good luck!
Entries close: 5pm Monday 29 October.
Need more incentive?! Here:
What about fans of all the other teams?
We'll be giving away an uber awesome prize at the end of the season for the best photo of the year, so take photos at your games too. Don't forget to tag them #TWGcomp.
And fear not, we have prizes lined up in the coming weeks from all the W-League clubs, so keep an eye on the website , facebook and twitter.
Copyright ©The Women's Game All rights reserved.