The Brisbane Roar season opener against Canberra United saw a comprehensive win, but not for the team expected to win.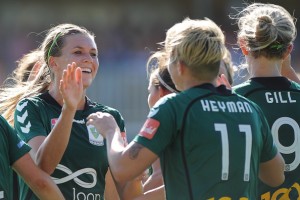 The Brisbane Roar season opener against Canberra United saw a comprehensive win, but not for the team expected to win.
There is plenty to say about how clinical Canberra were in their execution of play; from a tight defensive pack, through to a well organised midfield.  Not to mention two blindingly fast and physical forwards in the familiar form of Michelle Heyman and the not so familiar, new American import, Stephanie Ochs.
When a forward has their day it can be magic. Both Heyman and Ochs were on song offensively but defensively there was a determination to chase every ball down, tackle and harass the Roar defenders for possession before resuming the continual attack on one of the world's best goalkeepers.
You can't fault Canberra. It was their day.
On the other hand the Brisbane performance on Saturday was disjointed.  Faith in each other to get the job done in front of their home crowd, began to slip and became evident as frustration found its home in the Roar camp.  Canberra's grip on the game became vice-like.
There were some commendable individual efforts, in particular from captain Clare Polkinghorne with her bone-crunching tackles and team inspiring runs up the right flank.
However, as a unit, Roar's failure to routinely complete a decent set of passes, especially from the midfield through to the forwards, hurt them as the match went on further. Emily Gielnik's game absence as the accustomed go-to player was sorely missed as up front and the Roar were poorer for it.
They did have their moments. Tameka Butt and Amy Chapman both had a number of far post cut-ins that just saw the ball sail to the wrong side of the post.  Canberra, in the end, held their defensive line stoically and the Roar found it hard to calculate ways to get in behind towards Lydia Williams in goal.
At the other end, Nadine Angerer definitely got her first taste for the quality of Australian football. There was no shortage of Canberra players peppering the 18 yard box on a regular occasion, and many times Angerer was compelled to leave her line and charge towards the Canberra striker.
Lori Lindsey, Kendall Fletcher and Heyman looked to have already developed an understanding. Fletcher, and in particular, Lindsey frequently took advantage of misdirected passes from the Roar midfield, with the trio counter-attacking at a "lightning" pace.
Roar coach Belinda Wilson certainly has got some homework from this round. The expertise is there. The depth is there but Brisbane will agree that every other W League team also possess the talent and the drive to win.  For Elisabeth Migchelsen it was an excellent start for her side with two of her key players (Heyman and Williams) commencing the season on song.
For Brisbane supporters, it is not time to panic considering that last year the Roar also had a stumbling start to their Season 5, yet managed to regroup to take out the Premiership.
One thing has already been established; there will be no easy matches this Season Six.
Copyright ©The Women's Game All rights reserved.