Brisbane have bounced back from last week's Westfield W-League season opening loss with a shock 3-0 win over Perth at Percy Doyle Reserve on Saturday night.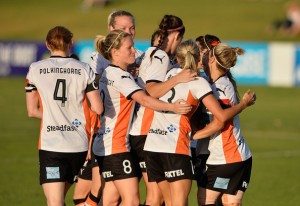 Brisbane have bounced back from last week's Westfield W-League season opening loss with a shock 3-0 win over Perth at Percy Doyle Reserve on Saturday night.
Goals to Matildas trio Tameka Butt, Clare Polkinghorne and Amy Chapman helped Brisbane consign Perth to its first regular season defeat at home in 22 months, ending an incredible unbeaten streak dating back to January 2012.
But the win came at a cost with goalkeeper Nadine Angerer suffering a quad injury.
German national captain Angerer, who is nominated for the FIFA Women's World Player of the Year award, was forced off after just 15 minutes and replaced by reserve Kate Stewart.
The Roar also lost Hayley Raso to injury after she came off second best from a hard challenge by Glory centre back Cecille Sandjev.
Brisbane was stunned last weekend by Canberra United, but Belinda Wilson's experienced side well and truly outplayed the stunned Glory.
Butt could not believe her luck just three minutes after the kick-off when she found space on the left wing and effortlessly chipped the ball over the head of hapless Glory goalkeeper Chantel Jones.
With Chapman and Katrina Gorry also looking dangerous up forward, Brisbane kept Perth's defence under constant pressure throughout the match.
Polkinghorne had an intriguing battle with her Matildas co-captain Kate Gill, but it was the Roar defender who had the better of the Glory striker on the night.
Gill looked to have levelled the scores in the 17th minute when she put the ball in the back of the net from close range, but she was ruled offside, much to her chagrin.
Canadian international Christina Julien also had Stewart and the Roar defence well beaten midway through the first half, but her shot was well wide of the goalmouth.
Butt had a late chance to extend the visitors' lead heading into the break, but her header crashed into the side netting.
Last weekend, the Glory put the ball in the back of the net five times against Newcastle, but could not buy a goal in the humid conditions.
Julien and her captain Collette McCallum both had chances early in the second half, as did Marianna Tabain, who lobbed the ball over Stewart's head only for a desperate Kim Carroll to clear the ball on the goal line.
It was a case of 'right place, right time' for Polkinghorne when she pounced on a spilled ball after a corner kick to score Brisbane's second goal in the 63rd minute.
Chapman then made it a team hat-trick in the 83rd minute when her long-range bomb from 25m sailed past Jones to put the icing on an impressive win for the visitors.
---
Perth Glory 0
Brisbane Roar 3 (Butt 3, Polkinghorne 63, Chapman 83)
At Percy Doyle Reserve
Perth Glory
1. Chantel JONES (GK), 3. Cecilie SANDVEJ, 4. Bronwyn STUDMAN, 5. Shannon MAY (2. Sarah CARROLL 82'), 6. Sasha ANDREWS, 7. Ella MASTANTONIO, 12. Kate GILL (19. Shawn BILLAM
90'), 13. Elisa D'OVIDIO (9. Rosie SUTTON 70'), 14. Collette McCALLUM, 17. Marianna TABAIN, 21. Christina JULIEN.
Unused substitute
20. Kathleen WAYCOTT (GK)
Brisbane Roar
1. Nadine ANGERER (GK) (20. Kate STEWART 15'), 2. Laura ALLEWAY, 3. Amy CHAPMAN, 4. Clare POLKINGHORNE, 5. Brooke SPENCE (14. Natasha WHEELER 67'), 7. Kim CARROLL, 8. Elise KELLOND-KNIGHT, 10. Katrina-Lee GORRY, 11. Vedrana POPOVIC, 13. Tameka BUTT, 16. Hayley RASO (9. Larissa CRUMMER 45').
Unused substitute
19. Ayesha NORRIE
Copyright ©The Women's Game All rights reserved.