Come the final whistle on Sunday, either Perth Glory or Melbourne City will be making a piece of W-League history.
Come the final whistle on Sunday, either Perth Glory or Melbourne City will be making a piece of W-League history.
For Glory, they would become the fourth team to claim a W-League championship while for City they would become the first club to win back-to-back championships.
So how do the two teams stack up across the pitch?
Goalkeepers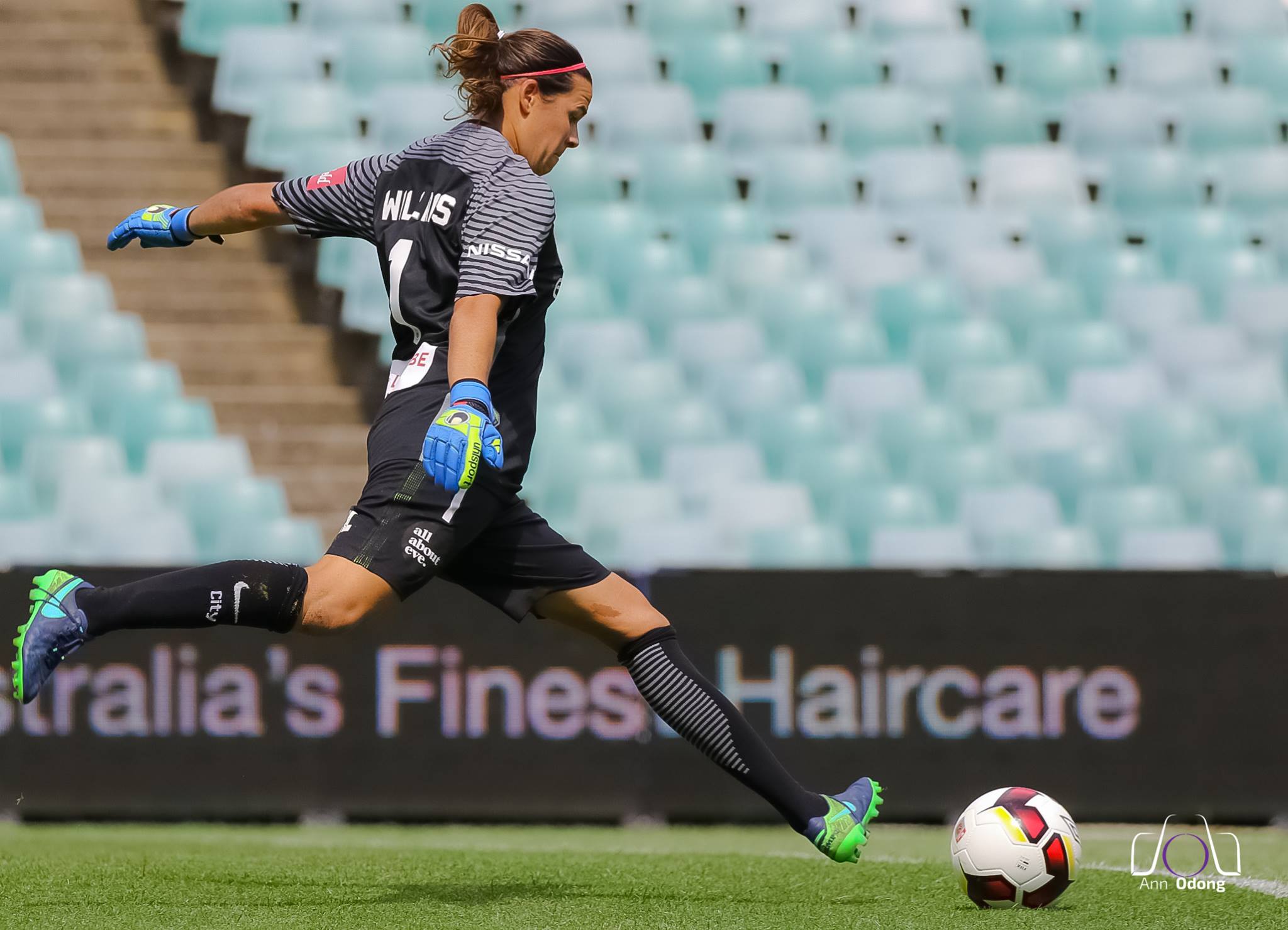 This a match up between the W-League veteran and the novice.  With over 70 appearances in the W-League, 2 Goalkeeper of the Year awards and a championship to her name, Lydia Williams has arguably been the best goalkeeper in the W-League era.  And this season has been no different with Williams acclaimed as the Goalkeeper of the Year in the PFA awards.
On the other spectrum is Young Matildas custodian Gabby Dal Busco.  Dal Busco started out the season as the reserve goalkeeper but, when Melissa Maizels went down with an injury mid-season, the teenager ably stepped up.  So much so that Bobby Despotovski has turned to her in key matches late in the season, including the semi final.  In 8 matches this season, Dal Busco has overseen 2 clean sheets and saved 70% of the shots coming her way.
ADVANTAGE: Melbourne City

KEY PLAYER: Lydia Williams
Defenders
While it wasn't quite the same defensive effort as in their first season (averaging just 0.33 goals per game), City have been reasonably hard to beat in defence, particular with Williams as the last line.
The defensive players available to City have been impressive and none more so than in their semi final against Canberra where at times they were pinned in their half.  Lauren Barnes and Laura Alleway have forged a firm centreback pairing late in the season while Rebekah Stott and Steph Catley have been solid defensively while providing width and support in attack.
Like City, a solid centre back pairing has been the basis of Perth Glory's defence this season. Former Matildas defender Kim Carroll and Mexican international Arianna Romero have been the leadership for the Glory surrounded by the younger Dal Busco and full backs Sarah Carroll and Natasha Rigby.  Sarah Carroll has once again locked down the right side of the pitch while newcomer Rigby has provided some balance for Perth.  The danger for the Glory is that they can be caught out for pace centrally or exploited out wide as evidenced in their clash with Canberra United.
ADVANTAGE: Melbourne City
KEY PLAYER: Lauren Barnes
Midfielders
The midfield battle is one that is set to be intriguing.  City have generally employed the reasonably familiar 3 in the 4-3-3 midfielders while Perth have mixed it up with 3 or 4 midfielders according to the opposition.
For City it has been a midfield rotation with Aivi Luik providing the stability at the heart while the personnel has changed around her.  Whether it has been Amy Jackson, Mariana Tabain, Beverley Yanez or, late in the season, Teigen Allen, one thing that has remained constant is City's ability to control the possession in the centre of the park.
For the Glory it has often been about efficiency.  Generally Despotovski has looked to protect his defence with the utilisation of the experienced Nikki Stanton alongside Jaymee Gibbons.  Stanton has provided the anchor that Glory lacked last season and her work as a box to box midfielder has allowed her midfield counterparts Alyssia Mautz and Vanessa DiBernardo to perform further up the pitch.
Central to both teams are their key playmakers.
With the loss of Kim Little, that role has fallen to Jessica Fishlock this season.  As well as direction, even more importantly, Fishlock has been a source of goals.  For Perth the return of Vanessa DiBernardo has been a large factor in their success this season.  Importantly, instead of a forward target, DiBernardo has been allowed to play as a traditional attacking midfielder.  The result has been 6 goals, 2 assists and 24 chances created for the team.
ADVANTAGE: Deadlock
KEY PLAYER: Vanessa DiBernardo / Jess Fishlock
Forwards
Both teams have been led by talismanic goalscorer with Sam Kerr (10) doing the damage for Glory and Fishlock (7) for City.
Glory's goalscoring load has been carried mainly by three players in Kerr, Rosie Sutton (7) and DiBernardo (6) who together have netted 23 of Perth's 27 goals. Kerr (4 assists), Sutton (3 assists), DiBernardo (2 assists) have also consistently created and provided chances for one another with their ability to interchange positions in the front third.
For City it has been a harder, more unpredictable path to goal this season.  The defending champions have had 10 different goalscorers with Marianna Tabain (3) the next highest goalscorer after Fishlock.  While Glory have been happy and even comfortable using their wings, City have preferred to go down the centre of the pitch for most of their attacking moves.  With as much ball as they have in the midfield, they will be looking to try and convert the 3-4 chances they manage to create a match.
ADVANTAGE: Perth Glory
KEY PLAYER: Samantha Kerr
A Numbers Game
5 -  Midfielder Aivi Luik is set to join elite company as she appears in her 5th W-League grand final (2009, 2011, 2012, 2016)
12 - City has 12 players who have grand final experience either in the W-League or the NWSL.  Only three players on grand final day will have never played in a final match of the season.
40 - Glory captain Sam Kerr rocketed up in the All time W-League goalscorers table (4th) this season with her 10 goals.  Kerr is just 1 goal behind former Glory striker Kate Gill (41) but 16 goals behind leader Michelle Heyman.
103 - City forward Marianna Tabain is the highest capped W-League player.  The 24 year old has played every season of the W-League and has two premierships and a championship to her name.  Tabain is also in the top 10 of all time W-League goalscorers (9th) with 30 goals.
15y 251d – If Melbourne City forward Jacynta Galabadaarachchi takes the pitch on Sunday, she would be the second youngest player to line up in a grand final.  Just four days older than current record holder and Canberra United midfielder Grace Maher who played in the 2015 grand final at 15y 247d.
7 - Between the two teams, seven players have been on the pitch for every minute this season; Alyssia Mautz, Arianna Romero and Kim Carroll for Perth Glory while Steph Catley, Lydia Williams, Rebekah Stott and Jessica Fishlock for City.
---
Grand Final squads
Perth Glory: 1.Melissa MAIZELS (gk), 2.Sarah CARROLL, 3.Kim CARROLL, 4.Alyssa MAUTZ, 5.Patricia CHARALAMBOUS, 6.Carla BENNETT, 7.Nicole STANTON, 8.Shawn BILLAM, 9.Rosie SUTTON, 10.Vanessa DIBERNARDO, 13.Jaymee GIBBONS, 14.Caitlin DOEGLAS, 17.Natasha RIGBY, 18.Gabrielle DAL BUSCO (gk), 20.Samantha KERR (c), 22.Arianna ROMERO
Ins: Nil
Outs: Nil
Unavailable: Nil
Melbourne City FC: 1.Lydia WILLIAMS (gk), 2.Teigen ALLEN, 3.Lauren BARNES, 5.Laura ALLEWAY, 6.Aivi LUIK, 7.Steph CATLEY (c), 10.Jessica FISHLOCK, 11.Erika TYMRAK, 12.Olivia ELLIS, 13.Rebekah STOTT, 14.Melina AYRES, 15.Amy JACKSON, 16.Beverly YANEZ, 17.Marianna TABAIN, 18.Jacynta GALABADAARACHCHI, 19.Tyla-Jay VLAJNIC, 20.Emily SHIELDS (gk) **two to be omitted**
Ins: 12.Olivia ELLIS, 18.Jacynta GALABADAARACHCHI (promoted)
Outs: Nil
Unavailable: 9.Larissa CRUMMER (foot - season)
Copyright ©The Women's Game All rights reserved.