Wilson aware of the big challenge ahead
Since its inception in 2008, Australia has yet to participate in the FIFA U17 Women's World Cup.
In fact, since the move into the Asian Football Confederation (AFC), only one women's youth team has qualified for a youth World Cup.  That was back in 2005 when a team littered with names like Polkinghorne, Brogan, Shipard, McCallum, Williams, Uzunlar and many others navigated the tough AFC qualifiers to book a seat on the plane for Russia 2006.
After Europe, the AFC is the toughest confederation in women's football and at youth football level it is arguably THE toughest confederation.
From the U17s age group the AFC has produced two world champions in DPR Korea (2008) and Korea Republic (2010), two second placed teams Japan (2010) and DPR Korea (2012) and a third placed team DPR Korea (2010).
That is the mammoth task facing U17's Head Coach Belinda Wilson and her charges as they depart for China early next week.
Appointed to the position after the departure of Vicki Linton earlier this year, Wilson has looked to build a squad that can finally make the breakthrough.  Comprising of footballers from the National Training Centres, the squad is dominated by players from Queensland and New South Wales with three players from Victoria, two from South Australia and ACT and one from Western Australia.
That the task will not be an easy one is something Wilson is acutely aware of.
"I think the biggest challenge for our youth teams is how to adapt the game to the Asian culture," she said when asked about Australia's absence from the major youth tournaments.
"There are a lot of things that are different and it's not just about the football; it's about everything that happens off the field as well."
One of the key differences is in the preparation time and contact hours the various AFC squads have.  The Chinese team live, breathe and sleep football as they live in camp for the three months prior to the tournament, as do DPR Korea while the Japanese and South Korean squads are in camp almost weekly.
To combat this the FFA have looked to increase the contact hours of the U17s but with the unique logistics Australia represents, it is difficult to replicate the preparation of the other AFC countries.
"We can't compete with that [the training camps].  But I think in terms of what the FFA have tried to do regarding preparation, it's not ideal, but it's the best at the moment in terms of the circumstances."
What they have been able to do is organise and play several friendlies,  To travel to South Korea for an international friendly series and recently to host New Zealand.  This preparation Wilson believes will be crucial.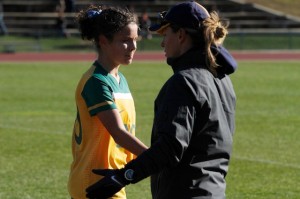 "Most of the Australian Youth Teams don't get to travel overseas, sometimes it [AFC Championships]  the first time they have traveled overseas."
"In terms of the game, thankfully most of the girls that have been selected have now had some international experience so they could see how the game is played differently."
The AFC U16 Girls Championships format is an unforgiving one.  There are four groups of three teams with only the group winner progressing through to the semi-finals.  The top three countries then progress through to the 2014 FIFA U17 Women's World Cup in Costa Rica.  
Australia have been placed in Group A along with hosts China and Bahrain.
"Bahrain are unknown in women's football," said Wilson.
"While China are quite technically gifted and they are very good on the counter as well.  These are the things we have prepared for in our training sessions since my involvement."
For Wilson the whole process is a learning curve.  Although she is no stranger to the AFC having held posts in relation to coaching education, women's football development and as the AFC Director of Women's Football.
It's this experience within the AFC that Wilson is hoping to bring to bear.
"I think knowing the environment in terms of competition mode will be helpful."
"Knowing Japan, China, Korea Republic and DPR Korea, knowing how they are within that tournament format gives me a good understanding of how approach myself and bring the squad into that environment for the first time."
The squad are currently in a pre-tournament camp in Toowoomba, Queensland with a game against Wilson's Brisbane Roar the final bit of preparation before they look to make history in Nanjing, China.
Follow us on Twitter and Facebook for full coverage of their campaign.
---
 U17WNT AFC U16 Championships Squad:
Angela BEARD (QLD) , Alexandra CHIDIAC (SA), Isobel DALTON (QLD), Eleni FAKOS (VIC), Sunny FRANCO (QLD), Tia GAVIN (NSW), Beatrice GOAD (VIC), Brooke GOODRICH (QLD), Victoria GUZMAN (NSW), Emily HENDERSON (WA), Jada MATHYSSEN-WHYMAN (gk) (NSW Country), Afrikah McGLADRIGAN (QLD), Teagan MICAH (gk) (QLD), Sophie NENADOVIC (NNSW), Ayesha NORRIE (Kirby) (QLD), Chloe O'BRIEN (NSW), Jessica PITTS (VIC), Rhianna POLLICINA (NSW), Matilda-Lee POTTER (NSW Country), Siena SENATORE (ACT), Madeline STOCKDALE (VIC), Jessica WATERHOUSE (SA), Georgina WORTH (gk) (ACT)
Match Schedule
Australia v Bahrain
Saturday, 28 September 2013
Kick Off: 6.30pm (AEST)
Jiangning Sports Centre, Nanjing
Australia v China
Monday, 30 September 2013
Kick Off: 6.30pm (AEST)
Jiangning Sports Centre, Nanjing
Group A
Group B
Group C
Group D
China

Australia

Bahrain

DPR Korea

Chinese Taipei

Jordan

Korea Republic

Thailand

Uzbekistan

Japan

Iran

Guam
Copyright ©The Women's Game All rights reserved.