Adelaide took the lead before being pipped late | (Credit: Getty Images)
The team could not have been happier than to start the season off with three points. We definitely enjoyed the win against the Wanderers last weekend, but didn't allow ourselves to get carried away.
It was back to business as usual at training this week. It was our time to shine last week, but we only shined for parts of it. We as a team expect more from ourselves and didn't play the football we want and can play.
Training this week focused on retaining possession and our decision making. During the game last week we tried to force too many passes instead of being patient and holding onto the ball.
It was a tough ask flying to Perth in the morning and having to play later that day at 3pm in 35 degree weather.
" We told ourselves that there would be no excuses." 
We made sure we gave ourselves the best possible chance and preparation by making sure we were hydrating daily starting early in the week.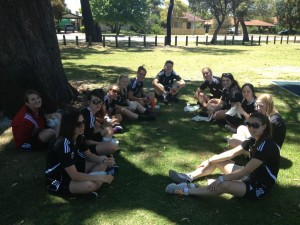 The game proved to be as tough as what we thought it would be; Perth will be a finals contender and no doubt in the top four this season.  We as the Lady Reds were disappointed with our own performance.
The Glory created a number of chances early on in the game and could have easily been ahead by a couple goals before the half.
There were quite a few questionable decisions made during the game for both teams, and one in particular was Collette's goal which was disallowed for being offside.
In saying that, after watching snippets of the game, Glory's first goal was in fact offside; making up for the other incorrect decision.
Coming into the change rooms at halftime we knew deep down that we should have easily been down by a number of goals. Instead it was 1-1 thanks to Ann Mayo and her perfectly taken free kick.
Even with a below standard display for majority of the game, we nearly pinched a point away from the Glory. If there is anything for us as a team to take away from the game; we must be switched on from the very beginning, all 11 players have to be raring to go, focusing on the task at hand and we have to continue to be brave.
Our next game is against the reigning champions Canberra away.
The Lady Reds are no doubt the underdogs but I prefer having the underdog status. I have complete faith and the belief in our team that we can pull off possibly one of the upsets of the season.
We might be a young and new side, but the lady reds want to prove to many people out there that we are a force to be reckoned with.
Copyright ©The Women's Game All rights reserved.