GEELONG, Australia — The Matildas will play their final international of 2017.
GEELONG, Australia — The Matildas will play their final international of 2017.
For Australia there are little pieces of history on offer.  Sam Kerr can become the first Matilda to score in six matches in a row and Australia could, if some international results going their way, finish the year with their highest ever world ranking.
But first they have to face China for the third time this year.
Team News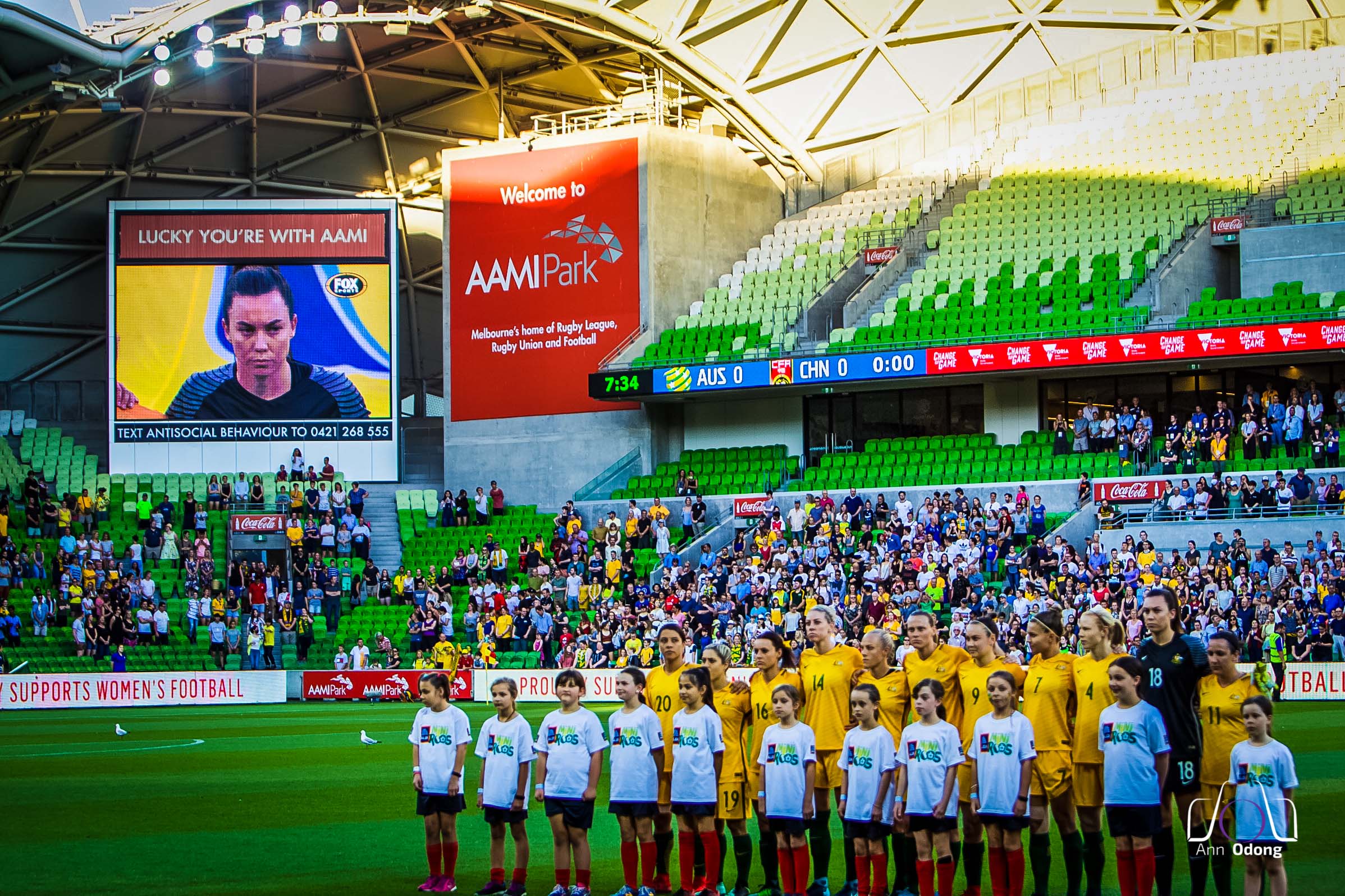 Australia came out of the opening match against China relatively unscathed. 
The one player potentially unavailable is left back Steph Catley.  The Melbourne City captain received a knock during the last round of the W-League and against China, she received another and was substituted at half time.
"She happened to get trodden on on that exact same spot as is usually the case," said Alen Stajcic.
"She'll be fine, it's just a minor injury, we just took that precaution. But I think she'll be doubtful for Geelong to be honest, I don't think she'll be right for that."
While Catley is doubtful, her City teammate Lydia Williams should be ready for the clash after jet lag saw her rested for the opening match.
International travel also saw Elise Kellond-Knight have a rare break but the holding midfielder should be also ready to return.
Stajcic has a habit of changing up his squads so it would not be surprising to see a host of changes for the starting XI.
Apart from Williams and Kellond-Knight, full back Ellie Carpenter, midfielder Chloe Logarzo and forwards Kyah Simon and Michelle Heyman may all be in line to start against China in Geelong.
Anticipating Stajcic's line up is a game of football Cluedo.
Last time they met
Wednesday night saw a dominant Australia extend their 6 match unbeaten streak against China.
From the first to the final whistle, Australia controlled the match with the 3-0 scoreline reflective of confidence.
https://www.youtube.com/watch?v=cssf9K2wECQ
Australia's Player to Watch: Emily van Egmond
A large part of the reason Australia was able to dictate terms in the opening match was due to midfielder Emily van Egmond.
Holding midfielder, defensive midfielder, deep-lying playmaker; whatever you choose to call it, for Australia, arguably the most important position on the pitch is that number 6.
For the past year Van Egmond has slowly been thrown into the position to provide an alternative to Elise Kellond-Knight. On Wednesday's evidence, it appears the increased game time in the position is beginning to bear fruit.
"She doesn't get enough recognition for what she does," said Sam Kerr post match. "She just kind of sits back and controls the game."
It wasn't just what Van Egmond did on the ball including an  but it was the defensive side of her game that also stood out.
Often times she dropped deep to sit just in front of the central defenders or she put in a crucial touch or tackle to win the ball back for Australia before redistributing.
Even if Kellond-Knight returns to the holding midfield position, Van Egmond's move sideways into the number 8 provides Australia with a stable midfield base.   
What to Expect?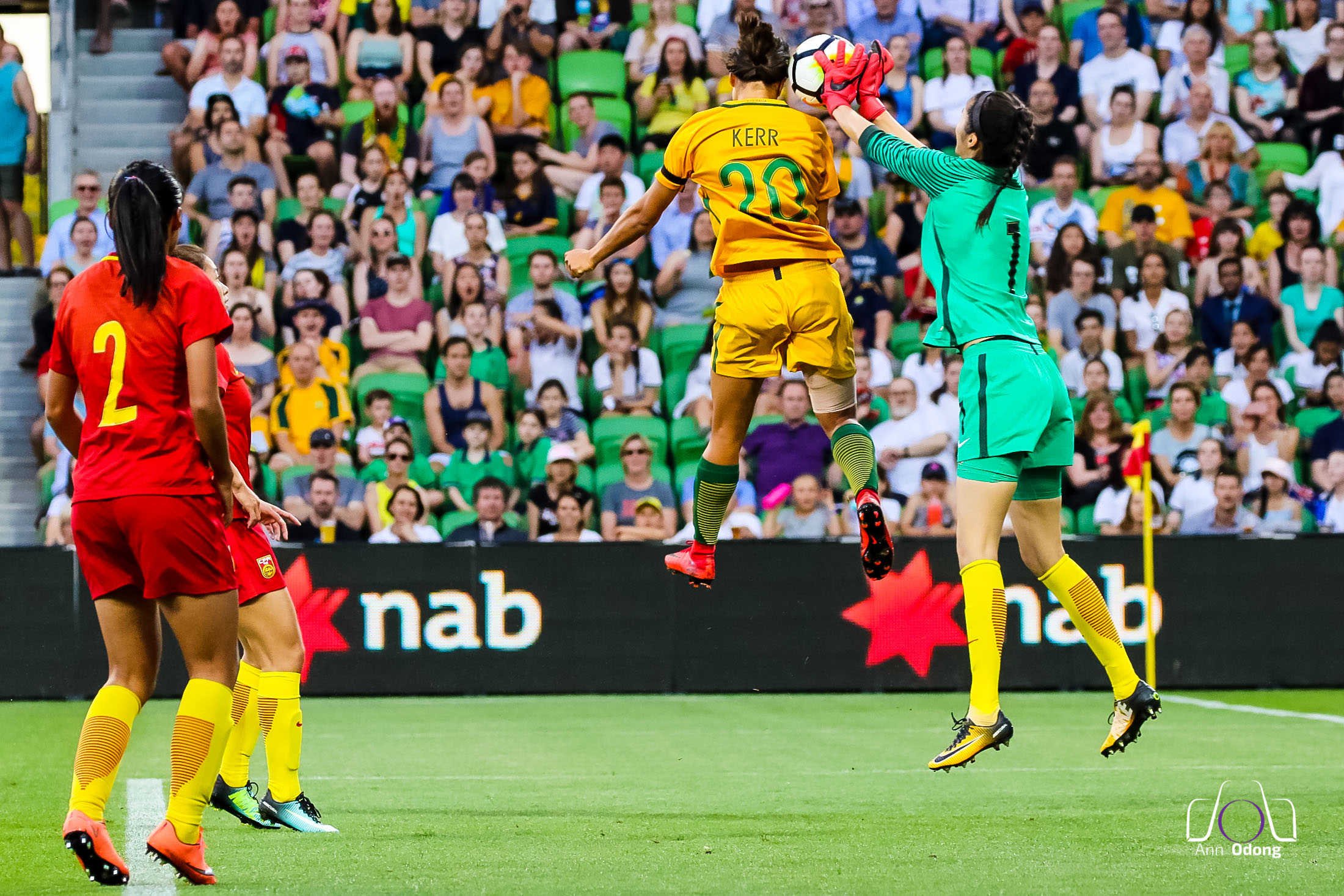 In the last year Australia has been inconsistent starters.  Some matches they managed to get out of the blocks well, others they have laboured and conceded the advantage to their opposition.
On Wednesday, Australia were slick from the opening and found their passing rhythm early in the proceedings.
"We really tried to focus on the start of our game," said Stajcic.
"We've developed a bit of a pattern over the last couple of months where we didn't start off the best and we certainly tailed off in the last 15 minutes of matches."
"I think we dominated from the outset and kept the momentum up through to the 90th minute which is something that we're aiming to do as we move forward."
Australia will also be looking to find a bit more of a cutting edge in the final third.  On several occasions they were able to open up the Chinese defence only to move the ball too slowly and allow the Steel Roses to reorganise defensively.
"I don't think we were clinical in the front third. I don't think we created enough good chances with the amount of possession and passing we actually had."
Otherwise it would be much of the same from Australia as they look to work on breaking down compact defensive units like China displayed.
To be honest, China were a little disappointing on Wednesday night considering some of the performances they have put in of late, including a 2-2 draw with Brazil.
However, the uncertainty around the team should have been anticipated with the new coaching set up.
China set up in the match as two solid banks of four with Wang Shanshan and Wang Shuang the two players given freedom to rotate.
When China looked their most dangerous in the match was during periods in the second half when full backs Liu Shanshan and Li Danyang were able to get forward and support Shanshan and Shuang.
There were also moments in the game when they were able to execute neat passes to open up the defence with only the alertness of Clare Polkinghorne and Alanna Kennedy cutting out potential danger.
Having seen what Australia can do when provided space, there would be an expectation that China will look to press higher and move the ball quicker on any counter attacks.
Tickets are still available to the final international of 2017 and can be purchased via the Matildas website.
Broadcast details
Brenton Speed and Sarah Walsh will call the action on Fox Sports.
On free to air, the Matildas will move onto the main SBS channel with the match streaming on The World Game app.
Unfortunately for international viewers, it is all geo blocked but of course, you can also follow all the pre match, match and post match action via The Women's Game twitter.
---
MATCH DETAILS
Australia v China PRGMHBA Stadium, Geelong
Sunday 26 November 2017
Kick-Off: 4:30pm (AEDT)
Last 4 fixtures
22 November 2017: Australia 3 - 0 China (Friendly)
11 March 2017: Australia 2 - 1 China (Algarve Cup)
3 March 2016: Australia 1 - 1 China (Olympic Qualifiers)
25 October 2015: China 1 - 1 Australia (Friendly)
AUSTRALIA SQUAD
GOALKEEPERS: Lydia Williams (Melbourne City / Seattle Reign), Mackenzie Arnold (Brisbane Roar), Eliza Campbell (Adelaide United)
DEFENDERS: Steph Catley (Melbourne City / Orlando Pride), Ellie Carpenter (Canberra United), Clare Polkinghorne (Brisbane Roar), Alanna Kennedy (Melbourne City / Orlando Pride), Laura Alleway (Melbourne Victory)
MIDFIELDERS: Katrina Gorry (Brisbane Roar/ Vegalta Sendai), Elise Kellond-Knight (Turbine Potsdam), Emily van Egmond (Newcastle Jets), Chloe Logarzo (Sydney FC), Tameka Butt (Brisbane Roar), Kyah Simon (Melbourne City)
FORWARDS: Lisa De Vanna (Sydney FC), Caitlin Foord (Vegalta Sendai), Sam Kerr (Perth Glory / Sky Blue FC), Hayley Raso (Brisbane Roar / Portland Thorns), Larissa Crummer (Melbourne City/Seattle Reign), Amy Harrison (Sydney FC), Michelle Heyman (Canberra United)
CHINA SQUAD
GOALKEEPERS: Zhao Lina (Shanghai), Bi Xiaolin (Dalian), Lu Feifei (Jiangsu), Li Xueyan (Changchun).
DEFENDERS: Gao Chen (Dalian), Li Dongna (Dalian), Li Danyang (Dalian), Wu Haiyan (Shandong), Ma Jun (Jiangsu), Xue Jiao (Dalian), Liu Shanshan (Hebei).
MIDFIELDERS: Ren Guixin (Changchun), Yang Lina (Shanghai), Yao Lingwei (Jiangsu), Zhu Beiyan (Shanghai), Wang Shuang (Dalian), Xu Yanlu (Jiangsu), Zhang Rui (Changchun), Han Peng (Tianjin), Li Ying (Shandong), Lou Jiahui (Henan), Xiao Yuyi (Shanghai)
FORWARDS: Jin Kun (Jiangsu), Tang Jiali (Shanghai), Song Duan (Dalian), Wang Shanshan (Tianjin)
Copyright ©The Women's Game All rights reserved.