A seven-minute first-half goal avalanche has propelled Adelaide United to a duck-breaking 3-1 triumph over the Newcastle Jets in Saturday's Westfield W-League clash at Burton Park.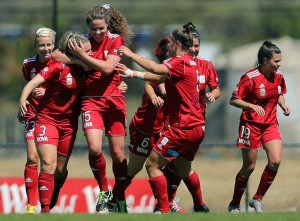 A seven-minute first-half goal avalanche has propelled Adelaide United to a duck-breaking 3-1 triumph over the Newcastle Jets in Saturday's Westfield W-League clash at Burton Park.
Tiarn Powell's brilliant brace sandwiched Alexandra Gummer's 30th minute strike to turn what had been an evenly-contested encounter into a lopsided whitewash in the blink of an eye.
The Jets remain anchored to the floor of the W-League ladder but they certainly had their chances early, looking switched on and occasionally caught the hosts napping.
Jets captain Gema Simon had a decent look in the fifth minute which was safely negotiated before Striker Rhali Dobson nodded one just wide in the 10th after getting on the end of a curling free.
Daniela Di Bartolo, in her return to the Reds' line-up, had two bites of the cherry with Adelaide finally charging in the 12th minute, forcing Jets keeper Eliza Campbell into two quick reflex stops.
The momentum had shifted into the Adelaide camp and the home side seized it completely in the 25th minute when Powell, played in by nice through-ball, used her pace to blitz past the Newcastle defence on left flank and curl the ball past Campbell.
Less than a minute later, Reds captain Kristy Moore almost doubled her side's lead when, streaming in on the left, smacked the pill into the side netting, not quite able to cut the angle enough.
It mattered little as Gummer made it 2-0 in the 30th minute when she got goalside of her defender after a Reds corner, found pole position from a header, wheeled around on left foot and slotted it into the back of the net.
The besieged Jets' defence was being inundated and it got worse for them still on 32 minutes when Powell wrapped up a personal seven-minute brace with one of the goals of the season to make it 3-0.
Lisa-Marie Woods played a skilful through-ball to Moore, who laid it off for the charging Powell.
She wound up and hammered home a sizzling thunderbolt that Campbell had no chance of getting near.
Simon almost got one back for Newcastle late in the half with a fierce strike that was spectacularly saved by the Barbieri, acrobatically diving to her left.
Moore zigzagged past two defenders in the 37th and forced Campbell into a fine save before three minutes later, again almost getting on the scoresheet, when she was denied by a sprawling Campbell deflection after the Adelaide captain had looked a stone-cold certainty to score in a one-on-one.
The frenetic pace of the first half slowed considerably after the interval in warm conditions.
The crowd afforded generous applause to Rachael Quigley, who substituted on in the 56th minute in her landmark 50th W-League appearance, and she came close to completing a fairytale within a matter of minutes.
In the 58th minute Quigley gathered a cross, spun around and rifled one that was well stopped by Campbell, before the Lady Reds games record holder had another ping four minutes later which sailed wide to the left.
Barely a minute later, Quigley fed Powell, whose fierce attempt at a stunning hat-trick, slewed just wide.
The Jets did their best to capture the momentum late in the contest and finally had their fair share of the play and were rewarded for their renewed resolve deep into stoppage time.
Jasmin Courtenay, who substituted in at half-time, capitalised on an Adelaide defensive mix-up when she goaled after an initial Barbieri save, a rare Reds blip in an otherwise commanding performance.
---
Adelaide United 3 (Powell 25, 32, Gummer 30)
Newcastle Jets 1 (Courtenay 90)
Adelaide United: 1. Melissa Barbieri (GK), 3. Alexandra Gummer, 5. Jessie Wharepouri (21. Snez Veljanovska 61'), 6. Laura Stockdale, 9. Lisa-Marie Woods, 12. Daila Tais-Borg, 14. Jayah Brown (7. Rachael Quigley 56'), 15. Jenna McCormick, 17. Tiarn Powell, 19. Daniela Di Bartolo (10. Monique Ianella 66'), 23. Kristy Moore (C)
Yellow cards: nil
Newcastle Jets: 1. Eliza Campbell (GK), 3. Stacey Day, 5. Ciara McCormack, 6. Ashley Spina, 7. Gema Simon (C), 8. Maddy Searl, 9. Tara Andrews, 10. Rhali Dobson, 12. Hannah Beard (13. Jasmin Courtenay 45'), 14. Sophie Nenadovic (4. Siahn Bozanic 89'), 19. Adriana Jones
Copyright ©The Women's Game All rights reserved.